Think twice before clicking that button.
This morning, I followed a link from one of my Twitter friends to an article on PCWorld.com about the growing popularity of ebooks. The article made a statement I didn't agree with and I wanted to comment. The comment area had two options:
Sign in to the PCWorld Web site. This requires an account on the PCWorld Web site, which I did not have or want.
Connect with Facebook. After a long internal debate, I have begun using Facebook again.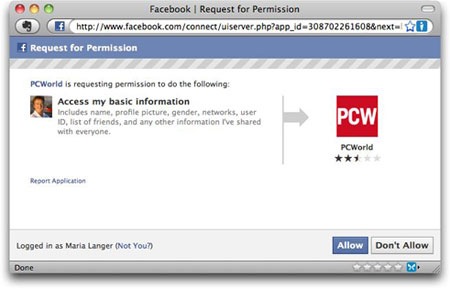 I clicked the Connect with Facebook button. A window like this one popped up in my Web browser. Since this was the first time I'd tried to connect to a site with Facebook, I decided to actually read what was in the window.
And I was appalled by what I read.
Here it is, just in case you can't read it in the screenshot:
PCWorld is requesting permission to do the following:
Access my basic information
Includes name, profile picture, gender, networks, user ID, list of friends, and any other information I've shared with everyone.


In other words, not only does PCWorld get access to my name, but it also gets access to quite a bit of personal information, including my gender, affiliations, user ID (for tracking, I wonder?), and list of friends. It can also access "any other information I've shared with everyone," which could include hobbies, interests, favorite books and movies, etc. In other words, I'd be giving PCWorld a wealth of information about me.
Whoa. Exactly why would I want to give PCWorld access to this information? Certainly not for the privilege of entering a comment on its Web site.
I clicked the Don't Allow button to get out of there, then attempted to set up an account. Apparently, it's impossible to set up an account on PCWorld without subscribing to one of its electronic magazines. It has over a dozen of them and none of them interest me in the least.
That got me wondering why I was wasting precious time from my day to add content to PCWorld's Web site.
So I closed the window and got on with my life.
At least it gave me something to blog about.
What I hope readers come away with from this story is this: think twice before "Connecting with Facebook." You may be sharing your private Facebook information with organizations that really don't need it.