One part of my current troubleshooting effort.
I'm trying very hard to create an SD DVD based on original 1080i HD footage. I have the latest version of Final Cut Studio, which should have all the tools I need to get the job done. But when I build a DVD, it looks like crap on my HD TV. Other standard DVDs look fine — actually, great — on that TV. For the past two days, I've been banging my head against the wall, trying to figure out the problem. Not having a standard TV handy for testing purposes, I have no idea what it looks like on one of those.
I hate learning by trial and error. I watched Lynda.com video courses about Final Cut Pro and DVD Studio Pro and they helped me build my movie and DVD. But they failed to explain how to get my kind of video (1920x1080i60 AVCHD) into standard DVD format. Do I convert video before bringing into FCP? If so what do I convert it to? How about interlacing? Downsizing? What compression schemes? What settings? And what about the anamorphic setting? Does that still apply with current technology?
To make matters worse, answers in forums tend to be vague. They'll recommend a compression scheme, but when you go to the menu of options, what they mentioned doesn't appear exactly as they referred to it. Instead, there are four or ten or twelve options it could be. Other times, when you make changes they recommend, the appearance of the video changes drastically; for example, turning on the anamorphic check box in FCP sequence settings squishes the picture, making everyone look short and fat. Do I need to change the shape of the pixels, too?
And what about the contradictions? One guys says do A while another guy says do B, which is completely different.
What I need is a recipe, a starting point, a list of steps that should work. Then, like a chef, I can fine-tune the recipe to see if I can make it any better.
Right now, the challenge is focusing around interlacing. Interlacing is one method of scanning video; progressive is the other. My camera shoots interlaced video. There's no progressive option. TVs supposedly can de-interlace on the fly; I don't know if modern HD TVs can, though. Computers can't. The result is a kind of flicker anywhere there's motion. Like in a video clip of a cherry orchard filled with trees that have leaves that flutter in the wind. Ugh.
One source says I must de-interlace before the video is downsized to SD for DVD. Another source, supposedly an "expert," says de-interlacing "doesn't work." (WTF does that mean?) How do I know what's right?
I decided to give it a try. FCP has a de-interlace filter. It took a while to figure out how to use it. FCP's documentation doesn't discuss all of its settings, making it just a little bit more challenging to figure out. I wound up running the filter once on the sequence and then again on the same sequence to see if there was any improvement. Here's a series of three screenshots of a full-sized clip on my iMac monitor:
This is the "before" shot. You can clearly see the interlacing in the picker's hat: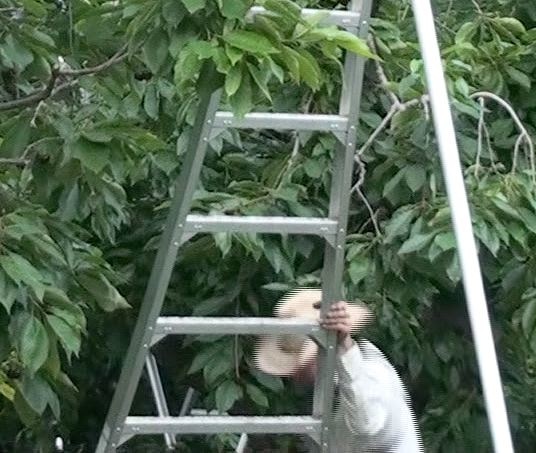 This is the first "after" shot. In this example, I've run the de-interlace filter on the video to remove interlacing. There's an immediate improvement.

This is the second "after" shot. In this example, I ran the de-interlace filter twice. The first time was to remove interlacing (as above) and the second was for "max" flicker removal.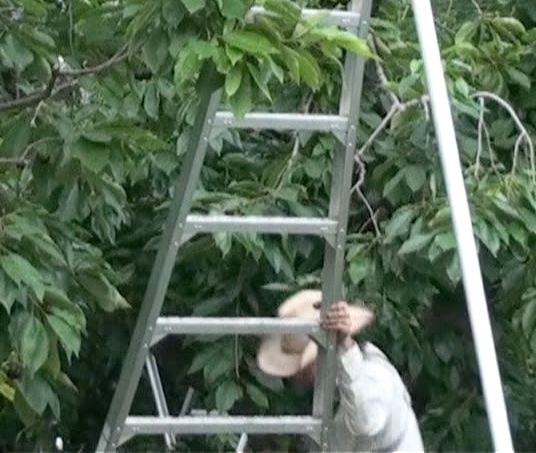 I don't see a difference between the second and third screenshots — do you? I'm assuming the difference would be in motion. But I can't view both videos at the same time; my computer chokes on the task. (Remember, they're both 1920×1080 pixels.
And, stepping back to look at the big picture, I'm not even sure I'm supposed to de-interlace this video as part of my workflow. This could be a big waste of time!
If you have experience with this and can advise me, please do. Use the comments link. Also let me know if you know of any good, recent online resources to help me understand HD to SD conversion, interlacing, and anamorphic settings. Reading "how-to" information written 5+ years ago doesn't help much, given the changes in technology and software capabilities since then.