One for sound, one for video.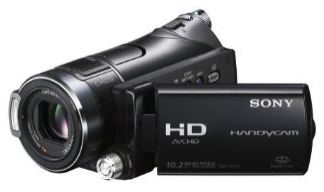 About a year and a half ago, I bought a Sony HDR-CX12 Handycam. It's a mid-range consumer model that shoots in full 1080i HD. I bought it to fill in the gaps of the video needed to finish up a video project and, since then, have been using it on and off to shoot stock video footage. The quality of the video is amazing for such a compact and relatively inexpensive device. These days, you can get something even smaller and less costly that does the same thing.
I shot all of Cherries: From Tree to Truck with this camera. Once you get past the inconvenience inherent with the AVCHD format and have the right tools to edit, it's really a pleasure to work with. One feature that few people talk about is the ability to archive the 4GB Memory Stick PRO Duo cards to DVDs. You can later mount up a DVD and import media into your computer, just as if you'd attached the camera or inserted a card into a card reader.
Last year I started a project that required me to do some interviews. I used a friend as a guinea pig (so to speak), interviewing him outdoors in front of his helicopter, using my camera on a tripod and a wireless microphone clipped onto his shirt. The result was disaster. The sound was gawdawful, rendering the "talking head" video completely worthless. Clearly, I needed a better sound solution.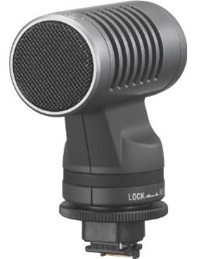 Of course, the camera is a consumer model and is extremely limited in compatible accessories. But today I poked around on the Sony Web site and tracked down a stereo microphone that might do the job — if I keep the camera out of the wind. It's a Sony ECM-HST1 microphone, which fits into the camera's hot shoe and draws power directly from the camera. It's not what I really wanted — I wanted a lapel mic — but it'll have to do.
While I was surfing around for the best price, I stumbled upon this little gem: the Opteka OPT-SC37FE Ultra Fisheye Lens for Digital Video Camcorders. I already have a wide-angle lens for my camcorder, but there's nothing like a very wide angle lens to get interesting effects or get up close and personal with your subject matter. The video clip on Opteka's Web site certainly makes it look like a useful and fun accessory. Since I owed myself a birthday present anyway, I sprung for that, too.
What's all this for? Well, in addition to finally getting to the big project I started nearly two years ago, I have a smaller, related project in mind. Both of these tools will help me capture the video I need to do it.
At least that's what I keep telling myself. We'll see.