A book review.
Last night, I stayed up late to finish reading Highest Duty by US Airways pilot Chelsey B. "Sully" Sullenberger. Captain Sullenberger was the pilot in command of US Airways Flight 1549, which landed with no loss of life in the Hudson River on January 15, 2009.
I'd been wanting to read the book for a while but I kept putting it off. I wanted it to be my first purchased ebook experience. I was supposed to get a Nook for Christmas, but the idiots at Barnes & Noble were completely clueless about customer service and timely order fulfillment, so I canceled the order. I wound up with an iPad in April. After weighing the benefits and drawbacks of ebook reader software — iBooks, Kindle Reader, and B&N Reader — I decided to go with the Kindle software and ordered the Kindle edition of the book from Amazon.com. From what I hear from Twitter friends, the iPad makes a better "Kindle" than Amazon's Kindle.
On Heroes
I've always been intrigued by Captain Sullenberger's modesty and apparent reluctance to bask in the limelight of his extraordinary experience. People call him a hero but he [rightly] refuses that title. He quotes from a letter he received after his Hudson River landing: "I see a hero as electing to enter a dangerous situation for a higher purpose, and you were not given a choice."
I agree with this definition of a hero. Captain Sullenberger did what he had to do and was fortunate enough to have the knowledge, experience, demeanor, and team to carry it off successfully. His love and respect of life — including, of course, his own — is what motivated him to do everything he could to succeed.
In many ways, that's better than being a hero. When a terrible situation was thrust upon him by circumstances he could not change, he rose to the occasion and emerged victorious, saving the lives of 105 people. Along the way, he gave the rest of us hope — after the terrorist attacks of 9/11, in the midst of a serious economic recession, with wars going on in the Mideast — he showed us what people can accomplish when put to the test. He gave us the happy ending we all needed.
It Wasn't a "Miracle"
Another thing that intrigued — and, I'll admit, pleased — me about Captain Sullenberger was his failure to credit his success to the intervention of some supernatural being. I'm talking about God.
I can't tell you how sick I am of seeing famous athletes and celebrities and just plain people thank God for something good happening to them. Scored a record number of goals in a basketball game? Thank God! Won a Grammy? Praise Jesus! Tornado took out the house next to yours but left yours unscathed? God was watching out for you!
It makes me sick. People don't want to give themselves credit where credit is due. They work hard, they train, they practice, but they give God credit for getting the ball through the hoop. They learn music, they practice singing, they get a great producer who helps package their material, but they give Jesus credit for winning that Grammy. They don't want to admit that luck has a place in our lives — good luck preserves one house while bad luck takes the one next door away. What of the people who lost the basketball game or the Grammy or their home? Did God simply not like them as much? And what about when these winners get their own dose of bad luck — injury, illness, scandal, death? Did God change his mind about them?
Captain Sullenberger, however, did not thank God or any other supernatural being for the positive outcome of his Hudson landing. At least I didn't hear him do so in any article, interview, or elsewhere. I wanted to read the book to be sure that he didn't thank God within its pages. He didn't.
And that just makes me respect him even more.
The Story
The book mingles autobiographical material with events from the day of the landing. The autobiographical material was presented in a roughly chronological order, but did bounce around a lot with side stories, including references to the Hudson landing. I'm not sure that was the best approach, but it did keep me reading.
Captain Sullenberger is clearly a true pilot. He entered aviation because of his love of flying. From his start as a teen, he took aviation seriously, learning what he could to be a better, safer pilot. He understands the importance of knowing an aircraft's systems inside and out. He understands the value of studying past accidents to prevent future ones. He also understands that all the things that happen in our lives define who we are and how we will react in a given situation.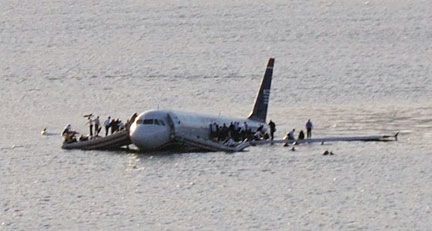 A detailed discussion of the events of January 15, 2009 begin about 60% through the book. The story is riveting. He combines his narrative of what happened with references to his past that he believes influenced him to make certain decisions. For example, his knowledge of research into why military pilots sometimes ejected too late is part of why he decided not to worry about saving the airplane by attempting an airport landing and instead concentrate on saving the people by landing in the river. (There's a lot more to his decision than that; this is just part of what went into it.)
Throughout this part of the book are bits and pieces of the cockpit transcript, recorded by microphones during the flight — the so-called "black box" data. Even though I knew how it would end — don't we all? — I found the details fascinating. It was a great example of teamwork between Captain Sullenberger and his first officer, Jeff Skiles. Later in the narrative, it was clear that the flight attendants were also part of the team, helping passengers off the plane in as orderly a manner as possible.
The aftermath of the experience also made interesting reading. Getting an inside look at the mail Captain Sullenberger received from people on the plane — as well as many people who had no direct connection to the flight or its passengers at all — revealed the psychology of people. I'm not the only one who appreciated the happy ending to that seemingly doomed flight.
The Soapbox
One of the complaints people have had about the book is the soapbox aspect. Captain Sullenberger believes that airline pilots are not treated as well as they should be by their employers considering the hours and responsibilities of their work. He believes that pay cuts and pension cuts are making it ever more difficult to attract and retain quality pilots who actually care about their work. He suggests that airline pilots are like bus drivers of the sky.
Although I don't have intimate knowledge of the airline industry, as a professional pilot who has worked for a large tour operator, I know exactly what he means. Aviation employers don't care how good a pilot is. As long as the pilot meets insurance requirements and can do the job, all that matters is how much that pilot costs. In my experience, many employers would rather hire a cheap, entry level pilot than a seasoned professional who costs more. They don't see the benefit of the experience. They're gambling, of course, on the equipment and circumstances of flight — when something goes wrong, will the entry level pilot have the experience and knowledge to bring the aircraft and passengers back safely?
In the airline industry, pilots are locked into their employers for seniority. If they leave one airline, they lose all seniority and start at the bottom at their new employer. This prevents experienced pilots from looking for better jobs. It stagnates the employee pool. And although Captain Sullenberger didn't mention this, it prevents good ideas from one airline from migrating to another.
Captain Sullenberger does discuss how many airline employees have simply stopped caring about anything other than what's in their job description. As budget cuts reduce non-essential staff, customer service suffers. Captain Sullenberger talks about his personal experiences going the "extra mile" to help passengers who can't get the help they need from other airline employees. He talks about how most airline employees are simply tired of doing other people's jobs. He doesn't blame them — he hints that they're underpaid for what they're supposed to do — but he does decry the system that results in this poor attitude.
He also believes that budget cuts have the potential to reduce safety. A good example of this is the emergency procedures book that his first officer needed to consult on the loss of both engines. In the past, the book had numbered tabs that made it easier to find content. The airline, in a cost-cutting measure, had stopped including the tabs, making it necessary to thumb through the book and look at individual page headings to find content. In the slightly more than three minutes the cockpit crew had to land the plane without engines, every second was valuable. Yes, this flight had a happy ending — but could other flights be lost due to cost cutting measures like this? It certainly makes you wonder.
My feelings about Captain Sullenberger's soapbox are mixed. I didn't like reading his complaints, but, at the same time, I knew they were valid. And I know that his experience and the interviews, articles, and books that come from it are the perfect way to get the message out.
While Captain Sullenberger was careful not to criticize his airline, it's clear that US Airways is just as bad as the others when it comes to matters of pilot compensation and cost-cutting. Perhaps his insight will help make the situation better?
Sadly, it probably won't.
Thumbs Up
In all, I give the book two thumbs up. While it's especially good reading for pilots and others interested in aviation, I also think it makes a good guide for young people who want to make something of their lives. And for the rest of the world, it's a great look at one of the most amazing emergency landings we'll likely ever see.