Bryce Canyon to Salt Lake City, UT.
I woke to a beautiful day at Bryce Canyon. Of course, I didn't know it at the time. It was still dark. The weather forecast had called for overcast, so when I looked out into the predawn sky and saw only grayness, I assumed the area was clouded over. But as the day brightened, I realized that it had been just a thin cloud that hid the stars from view. It cleared out to reveal a blue sky.
I grabbed my camera and walked from my cabin to the rim trail. A bunch of folks were there in bunches at viewpoints. Shivering against the cold, I joined a pair of Canadians with the same idea I had: shooting the rock formations in the early morning light. I spent the next hour walking the rim, photographing the view. I'll share some of those photos in another blog post.
Knowing from the previous day's experience that I wasn't likely to get a good meal at the lodge's restaurant, I went back to my cabin, packed up, and checked out. A while later, I was leaving the park and pulling into the parking lot at Ruby's Inn.
Ruby's is a tourist trap. I can't say it any other way. Every little town outside a National Park is full of them. Ruby's, like so many of the good ones, has it down to a science. Buffet breakfast designed to satisfy the Americans and awe the Europeans and Asians. Clean comfortable seating. Huge gift shop. WiFi. I settled down in a booth, got tired of waiting for a server, and just served myself from the buffet. The price was far above average so, in true American fashion, I ate a lot more than I should have to get my money's worth. Sometimes, I'm a real idiot.
After topping off the rental car's fuel tank, I drove to the airport. By that time, the morning was truly beautiful, with clear skies and light winds. To the north, I could see a hint of some clouds. The weather in Salt Lake City — which I'd checked while at Ruby's on my iPad — was overcast with showers. I wondered how long I'd be flying before I reached the southern edge of the weather.
I settled my bill with the FBO, left them the car keys, and went out to the helicopter. After a preflight that included checking for ice on the blades (some frost, but it was melting fast in the sun), I climbed aboard and started up. It took a good ten minutes to warm the engine. Then I was lifting off, heading northwest toward Panguitch.
I'd planned this leg of the flight days before and had repeatedly wondered whether It was a good route. Sometimes I do that. I decide on one thing and repeatedly have second thoughts about my decision. Is that a woman thing? I don't know. But this time, I stuck with it.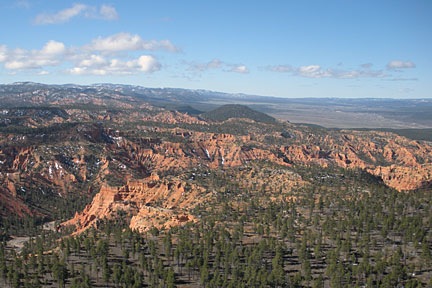 The landscape was immediately amazing. I was coming off the plateau on which Bryce "Canyon" sits. Bryce is not really a canyon at all. It's more like a mesa with incredible red rock formations around much of its exposed sides. Coming down off the northwest side, I passed over and near dozens of red rock canyons, many of them deep and narrow slot canyons. It would have been interesting to explore, but I was on a schedule and didn't have time. So I continued on.
I descended at least a thousand feet off the plateau into the valley in which Panguitch and its small airport (U55) sits. The town looked tiny from my perspective. I didn't overfly it. Instead, I turned north to join up with Highway 89. I'd follow that at least halfway to Salt Lake City.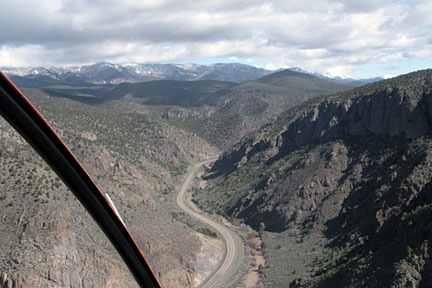 The flight took me along the Sevier River, through a narrow canyon and into a wider valley beyond. The towns along here were few and far between: Circleville, Junction, Marysvale. At Marysvale, my chart advised me that there was a Letter M visible from the sky. Sure enough, it was there, bigger than life. I wondered about the pilots who used such landmarks as navigation tools. I also thought it might be cool to display the chart and photo of this landmark side by side in a blog post, so I snapped a photo. (Sorry about the glare. And yes, I really did think about this while I was flying.)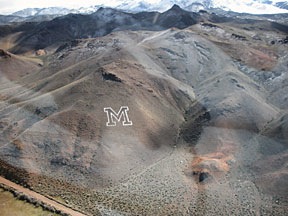 I went through another canyon. This one had some great color on one rock wall. Really pretty. I'm not sure how color like this happens, but I'm willing to bet that a geologist would really enjoy flying low-level in a helicopter through an area like this. The earth's geology is laid bare for all to see.
I should mention here that the whole time I was flying, I was in a valley between mountains 10,000 feet and taller. There was plenty of snow atop those mountains. And the clouds were beginning to gather not far above them, thickening with every mile north that I traveled. They were friendly, white, puffy clouds, the kind that get nasty on summer days when convective activity builds them taller and taller.

I flew by a number of small lakes. The wind was perfectly calm down there — it was easy to see from the quality of the reflections of the mountains and sky. I got a few shots through the bubble. This is the best of the bunch.
Not long afterward, the weather closed in. The clouds thickened and blotted out the sun and sky. They also started to drop, getting ever closer to where I was flying. By the time I got to Provo (KPVU), it was raining and I was flying only a few hundred feet below the clouds. I called the Provo tower and asked to transition along I-15. The controller cleared me for the transition and the radio settled back into unbroken silence until I reported I was clear to the north.

I shot a video in this area using my Flip video camera. It's crappy — hell, it isn't easy to take any photos while flying a helicopter so cut me some slack here. It does give you a pretty good idea of what the weather was like. The video sweeps from left to right across the cockpit, ending at my right shoulder. The weather improved somewhat as I closed in on Salt Lake City airport.
I called into Salt Lake City when I was about 11 miles out. The controller told me to call Salt Lake City approach. So I switched frequencies and repeated my call. I was told to proceed along I-15. Three minutes later, they told me to contact the tower on yet another frequency. I dialed in and wound up speaking with the original controller. "Welcome back," she said.
I told her I was unfamiliar but had a good airport diagram. I told her I was going to the Million Air FBO and had a pretty good idea of where it was. She cleared me to land when I was still a few miles out.
Salt Lake City is like two airports in one. There are two big runways for commercial airliners on the west side. And then there are two smaller runways for general aviation on the east side. My destination on the airport was on the southeast corner. I came in right of the taxiway parallel to runway 35. I weaved my way around some parked planes and came in for a landing on the ramp. A line guy came out and guided me to a spot 10 feet away from where I'd touched down. Whatever.
I'd been in the air for a full hour.
I shut down as the pilot I was meeting at Salt Lake stepped out of the FBO into the rain. A while later, we'd be starting a long flight to Seattle together.
But that's another story.