Page, AZ to Bryce Canyon, UT.
I'd flown to Lake Powell on Thursday afternoon so I could be ready for a photo flight at 6 AM on Friday.
I spent the night at the Holiday Inn Express in Page. I'd been there before and when I was there this time, I remembered why I hadn't been back: the damn walls are paper thin. My room was at the far end of the hall, adjacent to a back entrance. The ice machine was in a corridor there, up against my wall. Not only did I hear the sound of people filling their coolers at 3 AM, but I heard the sound of the machine filling with water and the damn motor running. Add the guy upstairs walking at odd hours and you can figure out why I didn't get much sleep.
But at 5:30 AM, I was at the airport, preflighting the helicopter. At 6 AM, I met my client and flew him and his wife around the lake for 1.3 hours. When he canceled his afternoon flight due to the unseasonably cold weather, I found myself done for the day at 8 AM — a full 12 hours before I expected.
I went back to the helicopter, put the door on, and tied down the blades. Then I headed back to the hotel. I was expecting the weather to deteriorate, so I didn't see any point to staying in Page. After all, I lived there for two months back in 2008 so it wasn't exactly a tourist destination for me. I started thinking about heading north, but wasn't anxious to spend the night in Salt Lake City. Then I considered flying as far as Bryce Canyon, which was on the way and less than an hour flight. I worked the phone and the Web via my iPad. A while later, I had reservations for a cabin at Bryce Canyon Lodge and a rental car at Bryce Canyon Airport.
I packed up and checked out. I had some second thoughts when I stepped outside and saw what a beautiful day it had become, but my room at Bryce was expensive and non-refundable. I was committed.
I was airborne by 10 AM.
I flew northwest at first, eager to check out the new resort that was built not far from Big Water, UT. I'd heard a lot of buzz about it and had actually met someone who worked there the night before at Blue Buddha. From the air, it didn't look like much, tucked away against some sandstone cliffs. I still don't understand what all the hoopla is about.
After flying over, I dropped down low and turned north toward Wahweap Creek. I crossed Highway 89 just east of Big Water and dropped down even lower, into the creek bed. I knew the area well. There were no wires and no homes. I great spot for some low-level canyon flying on a beautiful day with minimal winds.
I followed the course of the creek — which was mostly dry, of course — northwest, passing the famous Wahweap Hoodoos at low level. (You can see a video of one of my canyon flights here.) Then I continued up the canyon, beyond where I'd ever flown before. It twisted and turned, rising gently into the flat-topped mesas beyond it. My GPS had Bryce Canyon punched in, so when it appeared the canyon was taking me too far off course, I pulled back gently on the cyclic and began climbing out. I needed a 2000-foot climb to clear the mountains around me. That put me over some typical high-desert terrain with lots of rocks and scrubby trees. In the distance, I could see more mountains — and weather.
I didn't realize it then, but weather would haunt me for the entire flight from Wickenburg to Seattle.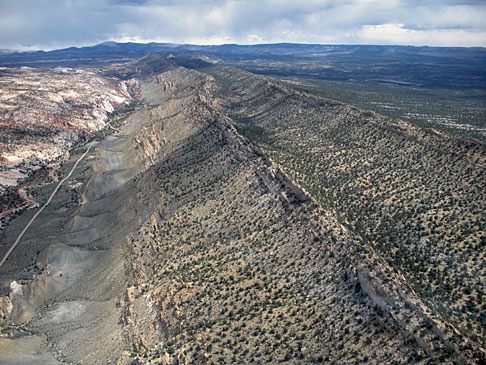 I was now squarely in the middle of my middle-of-nowhere route from Page to Bryce Canyon. There were absolutely no signs of civilization below me or anywhere within sight. Instead, an ever-changing terrain revealed itself below me. Hills and mesas were cut deeply by canyons of exposed red rock. Sedimentary rock thrust up from the ground at odd angles, forming layered ridge lines that stretched for miles. Ancient sand dunes turned to rock stood revealed by the erosive forces of wind and rain over millions of years.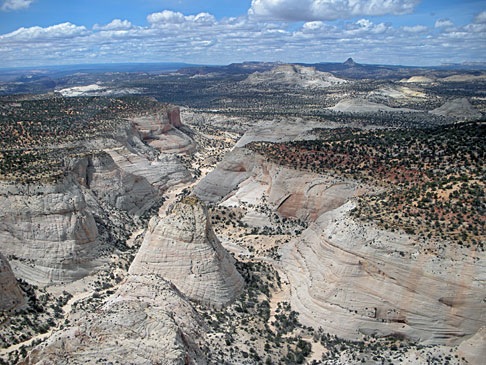 The view seemed to change every five minutes, revealing wonder after wonder. I wanted to detour and explore. I wished more than ever that I'd installed my helicopter's nose camera before departing Wickenburg the day before.
As I look at these hastily snapped photos now, while writing this blog post, I realize how truly amazing the terrain in the desert southwest is. I'm spoiled — I see this kind of stuff all the time. While dramatic rock formations still amaze me, I can compare each of these photos to a similar scene somewhere else I've flown. The tilted ridge line repeats itself over and over north of the San Juan River in southeastern Utah, not far from Mexican Hat. The solidified sand dunes can also be found near the Glen Canyon dam, atop the Paria Plateau near The Wave, and throughout Capital Reef National Park.
Discovering amazing new formations while flying from point to point is a treat. But it makes me sad that I do these flights alone. I can't seem to sell folks on the wonder of flight through this area. They'd rather spend their money being one of thousands on a cruise ship or fry on the beach at an all-inclusive resort than experience a unique, once-in-a-lifetime journey through the southwest, 500 feet above the ground in a helicopter. These photos hint at what they're missing.
But I digress.
As I flew, the clouds thickened. I saw the same signs of rain or snow in the clouds ahead of me. I was heading right for the weather. Tuned into Bryce's common traffic advisory frequency (CTAF), I heard a charter plane make a call for landing. Still 20 miles out, I asked the pilot what the conditions were. She reported that there was weather to the west of the airport but visibility at the airport was still good. I checked my power settings to make sure I was getting my best speed. I was moving at 110 knots airspeed with a slight tailwind. I wanted to be on the ground before the weather moved in. There were no airports between me and Bryce.
I finally began seeing signs of civilization: paved roads, ranches, towns. There were plenty of red rock cliffs and hoodoos with roads — paved and unpaved — winding around them. Funny how people go to National Parks to see the sights when the same sights — or better ones — can be found right down the road.
I climbed with the terrain and was finally able to pick up Bryce Airport's (KBCE) AWOS frequency. Winds 8 MPH gusting to 15, good visibility. But I could see a storm moving in from the west and wondered whether it would beat me to the airport. I looked at my GPS anxiously; I was only 4 miles out and still couldn't see the airport. But then I spotted the big old hangar and zeroed in on my landing zone on the ramp. I made my radio calls, crossed the approach end of the runway, and landed in a T-spot.
You can see my approximate route on SkyVector by clicking here.
I shut down, gathered my things together, tied down the blades, and locked up. Then I went into the terminal to place a fuel order and arrange to get my rental car.
I'd spend the rest of the day exploring Bryce Canyon National Park on horseback and by car. But that's another story.