What a difference two days and one hour makes.
Although I was very pleased with the "Desert Still Life" life photo I shot the other day, I wasn't 100% happy with it. It seemed to me that when viewed at 100%, the photo was grainy. I decided to head back out to the same spot at roughly the same time of day to shoot it again.
I couldn't do it the next day, however, so it was two days later when I pointed the Jeep down that ATV road, pulled out onto the ridge, and followed the dirt road there to the same site. When I arrived, it was a full hour later in the day than the previous shoot.
This is an amazing example of how important timing is in photography. These two photos show roughly the same image, but with a mere 49 hours of time between them. The one on the left is my original image; the one on the right is the later image.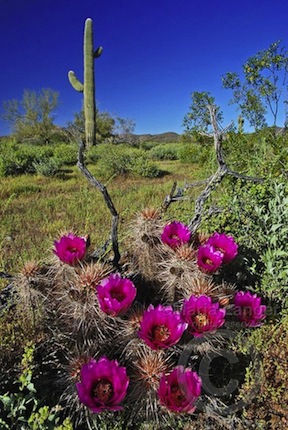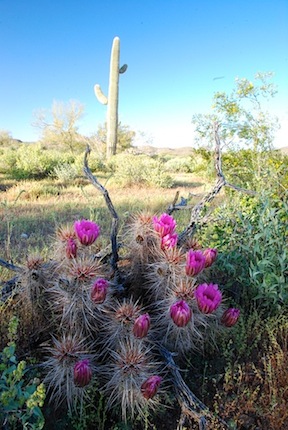 Now I know what you're going to say. The exposure is off on the second shot. It is. I exposed for the cactus flowers, which were in the shade — remember, it's one hour later. And although I probably could have fixed this shot up a bit in Photoshop, I didn't bother. Frankly, when I saw the condition of the flowers, I didn't try very hard to get a good shot. I just tried for the same angle. The only reason I made the photo on the right at all was to show it in this blog post as an example of how things change from day to day.
The biggest change was in the flowers themselves. Those bright magenta blooms had mostly closed up. I don't think this had much to do with the time of day. I just think that they were 2 days past their peak. I'd just happened to arrive on point to make the first shot when they were at their peak.
The point of this post is to clearly demonstrate that outdoor photography is all about timing. You need to get there at the right time of day when your subject matter is at its peak. If this means multiple trips to the same spot, so be it. If you're serious, you'll do it. You'll go out every single morning or afternoon during the wildflower season, toting your camera and your tripod along with you just for the possibility of making the one photo that will make all the work worthwhile.
Think photography is easy? Think again.