I'm actually starting to like it.
Way back in May 2006, I wrote a blog post about Fan Mail. In it, I voiced my embarrassment about getting it from readers.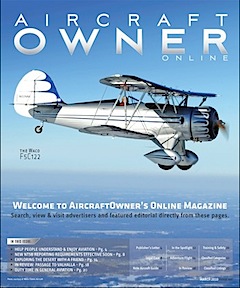 Things seem different lately, and I'm not sure why. I've begun getting fan mail from readers of my articles in Aircraft Owner Online (AOO), an online magazine for aircraft owners (duh). The articles are mostly recycled and refreshed blog posts and, to date, are all at least five years old. The folks at AOO do a great job of laying out my text with the high resolution photos I provide, making a slick presentation of my work. (They do the same for the rest of the magazine, of course.) I enjoy preparing and submitting the pieces, mostly because it gives me an excuse to dig back into my archives and relive the flying experiences I've written about. The AOO editors barely touch my prose, so I don't have any reason to complain about heavy-handed editing. It's a truly positive experience all around.
But what's most rewarding to me (beyond payment for my work) is the fan mail my monthly "Adventure Flight" column articles have garnered. I've been writing for the magazine since November 2009 and, to date, have received at least four e-mailed "fan mail" letters. The most recent came just this morning:
Just a quick note to tell you how entertaining your articles have been in Aircraft Owner online Magazine. You have a very descriptive way of writing that makes one feel (and wish) that they were there flying with you. My wife is from Nogales, Arizona and has a sister in Scottsdale presently. I looked over the map of the various places that you mentioned in your latest article and felt like I had made the flight with you. Keep up the great articles and from one pilot (SEL) to another, I wish the best to you in your various endeavors.

I just felt you should know how much your writing is appreciated.
I didn't expect any note from a reader to make me feel as good as this one did. In the past, much of my "fan mail" has been glowing praise about my achievements in general, most of which included some kind of envy or "I wish I could do that" statement. That kind of stuff embarrasses me and makes me feel bad for the writer. Most of us have the power to achieve what we want, if only we set our minds to it and do what's necessary to make it happen.
But a note like this is so different. It complements me on my writing skills rather than on the volume of my published work. (Isn't acknowledgement of quality better than acknowledgement of quantity?) It let's me know that I've made an impact in someone's life — even if it's just a small impact. After all, the note writer read my article about flying with my friend Jim and took the time to dig out a map to follow my progress. The places we flew on that trip aren't easy to find on a map, but this reader succeeded. And it prompted him to take the time to track down my contact info and send me a very nice note.
A note that pretty much made my day.
So despite what I wrote four years ago, I think I might actually like getting fan mail.