Some more good comes from a bunch of bad.
Back in October 2008, I embarked on one of Flying M Air's Southwest Circle Helicopter Adventures. But rather than paying passengers along for the six-day/five-night trip, I had a video team and a writer from Arizona Highways magazine. The trip itself went great. Good weather, great flying conditions, most accommodations right in line with my usual offerings.
It wasn't until months afterwards that I realized what a mistake I'd made.
The video company, which I'd contracted to produce three television quality documentaries with footage taken, in part, during the trip, was in way over its head. A visit to the video editing guy's "state of the art studio" — a partially refinished garage right off his kitchen — was the wake-up call. He'd never bothered to catalog any of the hours of video he and his companion had shot on my dime, using equipment I'd probably purchased with my prepayment. He was attempting to create a "trailer" video with footage shot solely with the POV camera that had been attached, at an off angle, to my helicopter's nose. His "audio recording facility" picked up the noise from his fan-cooled computers and barking dogs. He didn't understand the concept of matching music changes to scene changes. In other words, he had no clue.
I won't go into more details than that. My lawyers are dealing with it. Let's just say I got ripped off badly and have nothing to show for it but a hard disk full of mediocre video in about a dozen different formats, none of which is organized or cataloged to make scenes easy to find.
But often it takes a bunch of crap (think fertilizer) to make something good grow (think flowers). And the good thing that came from the outrageous expense of the trip was the article written by Keridwen Cornelius, the Arizona Highways writer who came along and sat taking notes for most of the trip.
But I'm getting ahead of myself here.
Before the article came out in the May 2009 issue of Arizona Highways, I was contacted by Jeff Kida, Photography Editor at Arizona Highways. I was familiar with Jeff's work from the magazine. If you've never seen Arizona Highways, you should pick up a copy. It is, by far, the most impressive look at Arizona that you're likely to see. The photography is beautiful, beyond description, and each issue of the magazine provides an in-depth look at the state that simply isn't available elsewhere. Landscape photographers — amateur or professional — should use it as a standard to achieve in their own work.
Jeff said they needed a portrait of me and my helicopter for the article. We tossed around some ideas. I mentioned that near sunset, the late afternoon light often made the Weaver Mountains north of Wickenburg turn copper colored. I suggested that we put my helicopter out on the ramp at Wickenburg Municipal Airport with those mountains as a backdrop and stick me in front of it. He seemed to like the idea and made a date to do the shoot.
Jeff arrived early that day. So early that I figured I'd take him up for a aerial shoot of Wickenburg. I still had hopes about at least one of my videos and my husband, Mike, would shoot some HD footage with our Sony Handycam to use as B-roll. I pulled another door off in back for Jeff. We flew around town. He seemed to enjoy the flight, but he didn't take many photos. It wasn't until later that I realized he was an on-the-ground kind of photographer who liked to get up-close-and-personal with his subject matter. Aerial photography — especially in less than perfect conditions — didn't interest him much.
We went back to the airport and I landed on the spot I'd envisioned. We put the doors back on. I went into the restroom to fix my hair a bit. I'd already put on makeup and a Flying M Air shirt. The sun crept lower into the horizon. The light started getting good.
The airport was deserted, which is (1) nothing unusual and (2) a good thing. Jeff had me stand at least 50 feet in front of the helicopter while he set up his tripod at least 50 feet from me. He used a long lens to frame me and the helicopter.
This is the difference between a photographer who knows what he's doing and one who doesn't. Sure, I could have stood closer to the helicopter and Jeff could have stood right in front of me. But instead, he'd decided to take advantage of the distance-compressing capabilities of a telephoto lens. By lining up his two subjects (me and the helicopter) in front of a distant background (the mountains 10 miles away) and framing us in a telephoto lens, he made everything appear much closer together. At the same time, he was able to sharply focus on me and leave the helicopter and mountains in a much softer focus.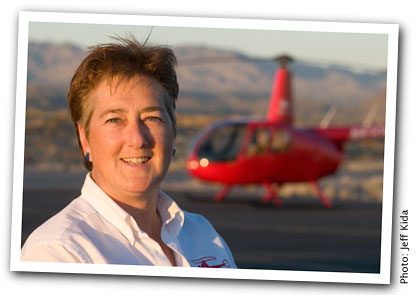 The result, as you can see here, is likely the best portrait of me that I'll ever see.
What I like about this photo — other than the simple fact that I look happy and alive and even a wee bit attractive in it — is that it tells a story about me. I'm the subject, the helicopter is the topic, and the desert mountains in the distance is the setting. It can be rewritten as a sentence: "Maria is a helicopter pilot who flies in the desert mountains." And I think that's what a good portrait should be. More than just a picture of a face. A description of that person.
Anyway, I didn't see the photo until the May 2009 issue of the magazine came out. I was thrilled with it. I wrote to Jeff to ask if I could have a copy to use elsewhere. I also asked a few other questions. He answered the other questions, but didn't send the photo. I thought perhaps the magazine had said no, so I let it go.
The article did great things for my business. I sold more excursions last year than I had in all the years I'd been offering it. While I didn't net enough to cover the cost of my huge mistake with the videographers, it was great to get out there and share the trip with other folks.
This month I started a new project and really needed a good "author photo" to go with it. I remembered the photo from the Arizona Highways article. I contacted Jeff again. He apologized, saying he'd meant to send it to me the last time I'd asked but had forgotten. And he sent a high resolution image with permission to use it anywhere I wanted to.
I'm thrilled.
So now I have a good portrait that I can use on my blog (you'll find it formatted as you see here on my Bio page) and on Flying M Air's Owner/Chief Pilot Background page. And I'm sure you'll see it elsewhere, too.
So that's two good things that came from the ill-fated trip: the great article by Keridwen Cornelius in Arizona Highways' May 2009 issue and the great photo taken by Jeff Kida for that article. Thanks again, both of you!