It might not just be cosmetic.
My helicopter's annual inspection was started yesterday. My old Robinson mechanic from Prescott came down with a knowledgeable assistant to do the job in my Wickenburg hangar.
Just for fun, I set up my old Canon G5 camera on a tripod with my Pclix timer and created a time-lapse movie of the job. The shots were taken 30 seconds apart and then compiled into a movie at 6 frames per second. Here's the resulting movie:
Kind of fun, huh?
For those who aren't familiar with the inspection requirements for aircraft in the U.S., here's a quick summary:
Every year, the aircraft is required to have an annual inspection. This inspection requires an A&P mechanic to remove various panels and inspect parts normally hidden from view. It also includes an oil change, various filter changes, and a bunch of other stuff. It's a calendar-based inspection.
Commercially operated aircraft are also required to have 100-hour inspections. These are virtually the same as annual inspections — in fact, its common for aircraft owners to substitute an annual inspection for a 100-hour inspection if it doesn't appear that they will fly another 100 hours before the annual inspection is due. My helicopters have always been operated commercially, so I've always gotten these inspections.
Other time-based inspections or maintenance. These are things like oil changes (every 25 or 50 hours), magneto inspections/rebuilds (every 300 hours), gearbox oil changes, belt changes, avionics tests, etc.
The cost of an inspection or maintenance item varies depending on the age and condition of the aircraft, the type of inspection, and the mechanic's knowledge and ability to get the job done quickly but thoroughly. The cost of an inspection can also rise considerably if the mechanic actually finds something that needs attention.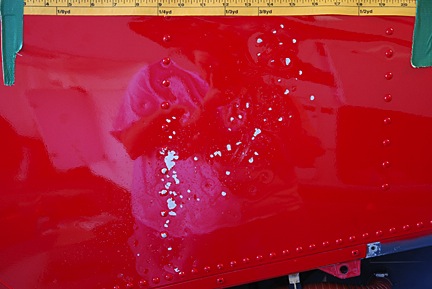 If you read about my trip to the Parker 425 this year, you may recall a certain incident involving an unbuckled seatbelt. I thought the problem was simply cosmetic — a job for a paint shop. But my mechanic believes it might be beyond just cosmetic. He thinks a few of the tiny dents may have compromised the integrity of the fuel tank behind those dents.
Keep in mind that I've flown the helicopter at least 6 hours since the event. No fuel leaks, no indication of a problem. The fuel tanks are nearly full right now — and have been full three times since then. No leaks.
But that doesn't mean the dinged tank might not develop a crack or a leak. At least that's what I've been told.
A new one from the factory will cost $3,700. Plus paint. Plus installation.
Take my advice: be a pilot but not an owner.