A nice excuse to visit Tucson.
This past weekend, Mike and I took the camper down to Tucson, parked it at Gilbert Ray Campground (highly recommended) on the west side of the city, and joined the members of Arizona West Shutterbugs for a photo outing at the San Xavier del Bac Mission just off I-19 south of Tucson.
I'll likely blog about the rest of the trip another time; for now I wanted to share some information about the photo shoot, as well as a few photos.
We were scheduled to meet the group at 7:30 AM at the mission. We'd spent the night nearby, so we were less than a half hour away when we started down there. We arrived at about 7:10; less than 15 minutes before sunrise.
The place was almost deserted. A few members of our group had arrived and were parked off to one side. We parked in the back of the parking lot so as not to block anyone else's long shot of the mission.
It's not my purpose to tell you about the mission. You can learn about it on the San Xavier del Bac Mission Web site or Wikipedia. So please don't criticize me for being short on facts here. I'm typing this in a camper and have to literally dial-up (via my cell phone and Bluetooth) to go online and check facts.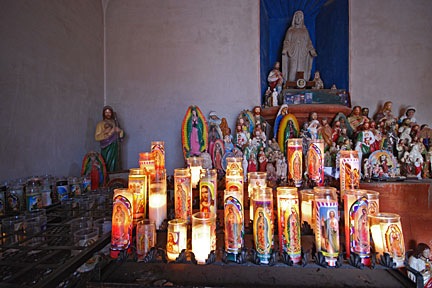 It was cloudy to the east when we arrived, so sunrise was pretty much a non-event. Although I did take some photos of the front of the building in first sun (or what we had of it), I detoured to a small shrine-like building on the west side of the main church building. My friend, photographer Ann Torrence, had suggested this. I took a number of photos of the multitude of statues in candlelight before light started creeping in through the door behind me. The one here was shot with one of the 10mm lenses we rented from BorrowLenses.com.
Only a few minutes later, a pickup truck backed up to the front of the church gates. There was a blue coffin in the back. A man set up a coffin dolly and several others carried the coffin over to it. People started assembling in front of the church. Any photographer present stopped taking photos in respect for the family and friends of the deceased. A priest in traditional Catholic priest garb came out. He spoke with the family, then stood in the doorway of the church and began the service. The sound of his voice echoed in the building behind him and for a while, I thought it was a trick of the acoustics. I later discovered that he was wearing a wireless microphone. So much for construction design miracles.
The service lasted about an hour. During that time, the rest of the photographers arrived and we swarmed all around the outside of the church, snapping photos just about everywhere. There were about a dozen of us. Most of us had tripods and digital SLRs, but there were a few folks shooting without tripods or with less sophisticated camera equipment. I'd come fully prepared with a tripod, my Nikon D80, and four lenses: 10.5mm fisheye, 10-24mm, 16-85mm, and 70-300mm. I mostly used the 10-24mm rented lens and my usual 16-85mm lens.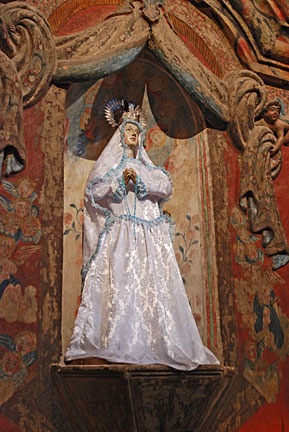 When the funeral ended, we paused as the blue coffin was loaded into the back of a Cadillac Escalade hearse — which I didn't even know existed. As the mourners departed, the photographers swarmed into the church.
The mission is beautiful in a weird old Spanish/Native American way. It's amazingly colorful and ornate, with dozens of statues of saints and angels. Spotlights are strategically placed to bring certain statues to life. Don't get me wrong: you'll need a tripod (recommended) or flash (not recommended) to get good photos in there — it's mostly pretty dark. But with the right exposure, you can get some stunning images.

The main altar area, which is shown here, is a crazy ornate masterpiece of southwestern art. Having grown up Catholic, I can't imagine sitting through a mass amid such decorations. Yet the church is active and has mass daily. (No photography allowed during church services.)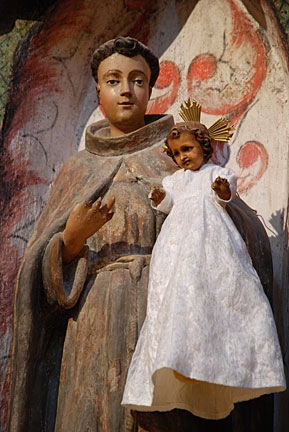 There are also candles all over the place. The sale of candles is probably the church's biggest fund-raiser. They're not expensive — only $3 each — and they're quite beautiful when lined up in racks near statues. I bought one in memory of my grandmother. I'm not religious, but she was. She would have liked the place, so I bought a candle and put in in front of Saint Anthony (or "S. Antonio," as the label at the bottom of the statue said). My grandmother used to have a Saint Anthony statue in the guest room — my mother has it now — so Saint Anthony statues remind me of her.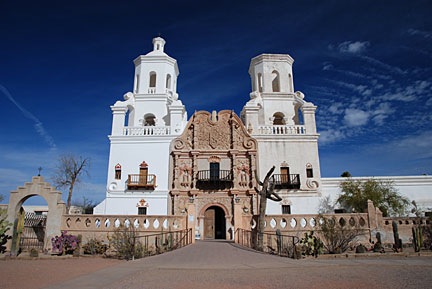 By the time we were finished inside, the sun was out and the sky was nearly clear. I shot this photo of the front of the mission, after waiting about 10 minutes for various tourists to meander in and out of my composition. This was shot at f/16 with a polarizer to enhance the color of the sky. There's definitely some distortion in this shot, but I rather like it. It'll probably end up in my photo blog.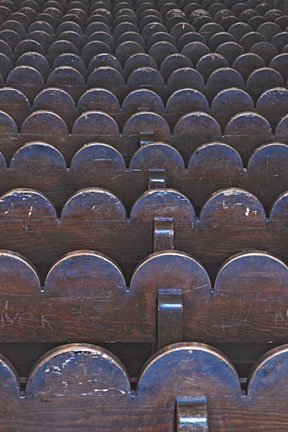 I also got a little creative, working with various elements inside and outside the main building. These two photos are examples. The first is of the backs of the church pews. They're simple carved wood with this unusual scalloped edge. It was sad to see that more than a few people had carved words into the backs of them.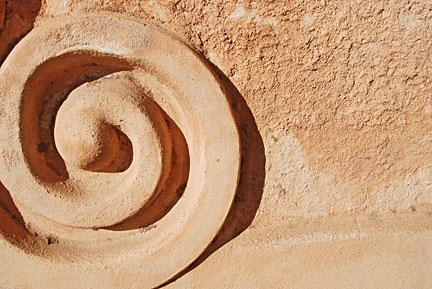 This shot is a closeup of a scroll design in the stucco finish of a wall outside. I like textures and try to experiment with them in my photography. Although not very interesting, this is a good example.
These are only a few of the 100 or so photos (not including bracketed exposures) I shot at the mission. I'd like to go back and try for a sunrise shoot again.
If you plan to go, here's some advice:
Bring a tripod. You'll need one if you plan to shoot indoors.
Leave your flash at home. All it will do is make ugly shadows behind the statues.
Don't plan on photographing any kind of church service inside the mission. It felt good when the priest came into the church a half hour after the funeral was over and thanked us for respecting the privacy of the mourners and waiting until they were gone before shooting. And there are signs outside that warn against any kind of photography during mass.
Go early. The earlier you go, the fewer people will be there to wander through your shots. And with a good sunrise, the front of the mission building would likely glow in that early morning light.
Go everywhere you can. There are lots of public areas. Explore them.
Leave behind a donation — or buy a candle in memory of a loved one. Entrance to the mission is free, but it's certainly worth your support.