When photographers get together, it's time for show and tell.
One of my Twitter friends, @anntorrence, author of U.S. Highway 89: The Scenic Route to Seven Western National Parks, rolled into town yesterday on a book signing tour. Highway 89 runs right through Wickenburg and that's where we first met, in person, about two years ago. Ann stayed overnight; later today she'll visit a few local shops and then continue her trip down to Phoenix and beyond.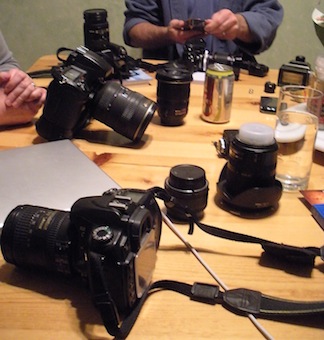 Last night, after dinner, we started pulling out our camera equipment and playing with each other's cameras and lenses. Ann told us some things about our Nikons that we didn't know. We played with her flash in "commander mode." We discovered that she and I each had the same old 50mm autofocus lens and it worked on all our cameras: my lowly D80, my husband's newer D90, and Ann's far superior D700. We also played around a bit with the two lenses I'm renting for a week from BorrowLenses.com, both of which arrived yesterday afternoon.
I snapped this photo with my Nikon Coolpix point-and-shoot to document the mess of equipment on my kitchen table. Fun stuff!