One new photo a day.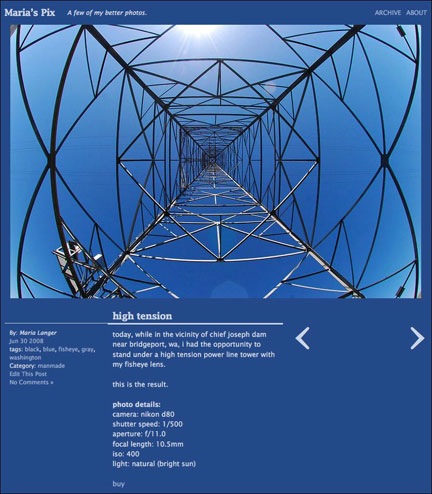 About a year and a half ago, I discovered the Monotone theme for WordPress. Monotone is a unique theme in that it can "see" the colors in a photo, choose one, and use that color as a background. The results can be quite spectacular when used as a theme for a photo blog.
Indeed, the theme is designed for just that. It's minimalistic and doesn't even support WordPress widgets. It showcases the photo, which it protects from right-click saving, and offers room beneath it for a description. There's also the usual post date, category, and tags, as well as big navigation buttons. Navigation can also be achieved by clicking the left or right side of the image.
Back in the summer of 2008, I put quite a few images online in a photo blog called Maria's Pix that I created with Monotone. But then I discovered Zenfolio as a gallery/selling tool and simply stopped posting new photos. The site languished, unchanged, for over a year. It even became inaccessible as my ISP changed my DNS record and I didn't update the subdomain to the new IP address.
But yesterday I decided to revive Maria's Pix, partly as an experiment to see if I could do what so many photographers — amateur and professional — try to do: post a photo a day.
While updating the blog to prepare it for its re-unveiling, I discovered another theme by the same theme author, Duotone. Like Monotone, Duotone matches photo colors. But it goes a step further by taking a second color and using it as a page background, thus eliminating the unimpressive white background found in Monotone. I downloaded it, installed it, and activated it.
And found that it displayed PHP errors instead of photos.
Apparently there's an incompatibility between Duotone and WordPress 2.9, which is the latest version (as I write this). While some folks more knowledgeable about PHP than I'll ever be offered some hacks to fix the problem, the only thing the hacks did for me was remove the errors. The pictures did not appear.
I switched back to Monotone.
Eventually, Duotone will be fixed and I'll begin using it. I like it because it supports widgets, so I can add a bit of other information under the photo. I believe it reads EXIF info, too, so I won't have to manually insert photo info. We'll see.
Until then, I hope you'll visit Maria's Pix — at least once in a while — to see a few of my better photos.