And in the barrels.
Welcome RVers!
Thanks for stopping by my blog. I sure do appreciate all the attention this post has been getting lately. It's helping my site gain the "Google Juice" needed to zip right to the top of search results. I couldn't do it without your help, so thanks!
Just one thing…before you place a nasty comment on this blog, you might want to read this. And then think: what would Jesus do?
Have a great day and thanks again for stopping by!
Yesterday, my husband and I continued our never-ending search for the "perfect" 5th wheel recreational vehicle. At this point, we've visited just about every RV sales lot in the Phoenix area and have seen just about every brand out there.
We visited one of the remaining RV sales lots to see one of the remaining RV brands yesterday. I won't go into details; it's not my goal to spotlight a certain dealer or brand. But the brand in question was major and well-known, although the quality of its top-of-the-line model was only about average. And the dealer was relatively large, with three different locations in the Phoenix area. This was the second location we'd visited.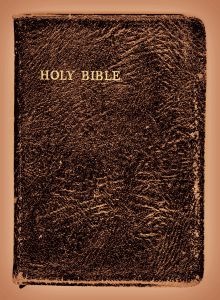 An odd thing happened when we were looking at a trailer that interested us. I opened the refrigerator to get a feel for how large it was and found a bible inside it. I commented about it, but the salesman, who turned out to be the manager at the lot, didn't appear to hear me. I closed the fridge and we continued our tour.
Later, Mike told me that there had been a whole barrel full of bibles like that inside the main sales office with a sign that said, "Free! Take One."
So apparently, this RV dealer doesn't just sell RVs. It pushes religion. Christianity, to be exact.
Am I the only one who thinks this is inappropriate?
Why would an RV dealer be giving away bibles to the point where it actually puts one in every RV it sells? What's the purpose? Is the dealership actively promoting a specific religion? Does it think that giving away bibles will help clinch sales with folks who want a bible but don't actually have one? Is it some kind of code, like the Jesus fish logo so many folks put on their cars? Look, we're Christians, too! Buy from us!
What's the purpose?
And how do you think someone who is not Christian feels about it?
I found it a real turn-off. I'd come to the dealership to look at RVs. Religion should not be a part of my shopping experience in any way, shape, or form. I feel the same way when I see businesses with that fish logo in the window (there's a gas station in Wickenburg with a neon one) or biblical quotes on any signage.
I'm actually offended when the owner or manager of a business so obviously pushes a religious agenda.
In this case, it doesn't really matter. The product line the dealer represents is not of sufficient quality to meet our needs. In other words, we wouldn't buy one of its RVs anyway.
But I don't mind admitting that I really wouldn't want to do business with anyone who can't keep personal religious matters out of everyday business. After all, if religion is that important to the sales organization, what kind of customer service can someone who rejects that religion expect to get?