Mike and I spend a beautiful day bouncing around the desert with our cameras.
Since Mike and I each visited our families earlier this year and had no other plans for Christmas Day, we decided to take our cameras and my Jeep out into the desert north of Wickenburg to explore a few roads we'd never been on. The day was crystal clear with deep blue skies and only a scattering of high cirrus clouds. We left midday, right after lunch. We'd explore, from the ground, places I'd flown over countless times by helicopter.
[A side note here: it's really unfortunate that Wickenburg's economy can't support a younger, more vibrant population. The town is absolutely surrounded by opportunities for outdoor activities — hiking, Jeeping, mountain biking, exploring ruins, digging for gold, etc. The writers at wickenburg-az.com have covered many possibilities. Although some of the retirees that dominate Wickenburg's winter population do occasionally climb into ATVs and get out to explore, the vast majority have no interest. As a result, the desert around Wickenburg remains a vast untapped resource for recreation.]
I do want to mention that all of the photos in this blog post are straight out of the camera — no Photoshopping at all. I just threw this post together on my laptop. So if colors look weird — especially that extra blue sky! — it's natural — at least as far as my Nikon D80 thinks.
Getting Started
Our journey started on Rincon Road, right off of Highway 89/30. It's a right hand turn not far from the second roundabout if you're coming from the south. The road takes you past some pasture and a roping facility, then crosses the Hassayampa River, which is usually dry there. The pavement ends and starts and ends multiple times. You'll cross the river twice. After the second crossing, you'll find yourself at the site of an old manganese mine. There's a big parking area there and it's often filled with trucks pulling trailers for ATVs or horses. Yesterday, there were two camps set up, looking out over the riverbed.
We made a sharp left to continue along Rincon Road. It climbs out of the river area into the low mountains northwest of town. At an obvious intersection, we made a right to continue on Rincon. This short piece of road is extremely rough but offers outstanding views back toward Wickenburg, as well as lots of typical Sonoran desert vegetation. And rocks — did I mention the rocks?
As we continued along this piece of road, we passed a pickup truck with a cap on top. A man was standing, shirtless, at the back. He appeared to be washing his hands. A peek inside the truck cap revealed a mattress on a platform with various supplies under it. It was clear that this was the man's "camper." Not everyone needs a 35-foot fifth wheel for living in the desert.
After another quick photo stop, we joined Scenic Loop and headed north along its maintained dirt surface. This was familiar territory for us, so we didn't remain on it long. Instead, when the road descended into a wash and turned to the east, we turned left into the wash and followed the sandy road northwest. According to our maps, this was scenic loop and the road we knew as Scenic Loop was actually called Stanton Hall Road. As if road names make a difference out there — none of the roads are marked and few people using the roads know their names.
We took our time along the drive, making a few stops along the way. At one point, we turned right off the main road and climbed up a side road covered with loose gravel. The road was steep and I think this is the only place where 4WD may have been required on the trip. Although we both expected the road to end, it continued past the top of the hill toward the east. We decided to turn back and stay on our original path.
The Photo Spots
I won't bore you with the turn by turn details beyond this point — partly because I can't remember every single turn we made as we wound down one dirt road after another, through washes, up steep grades, and around obstacles. I was glad we were in a Jeep and not something with a wider wheelbase. For most of the time, it was slow going. We didn't stop many times for photos, on the first half of the trip because there wasn't much of interest to photograph.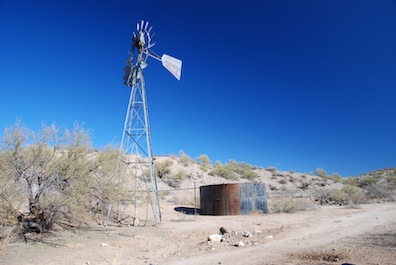 There were some exceptions, of course. One was Sand Mill, site of windmill, cattle tanks, and corral. I have a thing about windmills and did my usual study of this one. Unfortunately, it was broken, although I do think it could be repaired. What I found more interesting was the welded iron water tank behind it and the fencing around the corral — which was in unusually good shape. There had been two cows standing in the area when we drove up, but they ran off when we stopped. Cows out in the open range are funny like that. No matter how hard you try to not spook them, they get spooked anyway.
Anyway, here are three portrait view shots I took in the area. (Unlike a lot of amateur photographers, I'm not afraid to turn my cameral sideways.) These are a little more "artsy" than scenic. It was fun to play with the textures and patterns.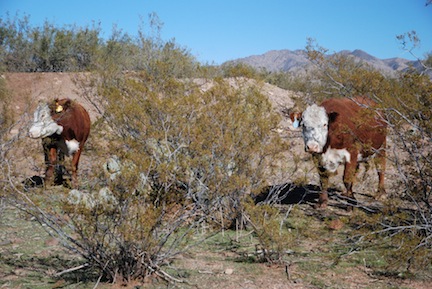 Later on, near a place called Brick Tank, I managed to get this shot of two cows. They stood there for about two minutes just staring at us as I rolled the Jeep into position and framed this shot. Then, just as I pushed down on the shutter, the smaller one (on the left) turned her head and ran off. The other followed, of course.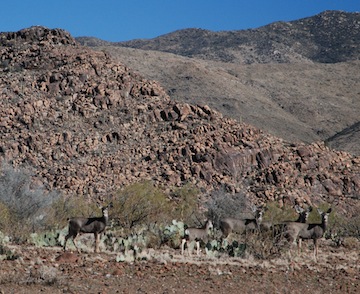 We also passed a herd of about eight mule deer along the way. I stopped while Mike tried to get some photos. They weren't quite close enough for our lenses — we hadn't brought along my 70-300mm zoom. Here's my only shot, which I admit isn't very good. I cropped it here.
As we reached Stanton, we found the road blocked by a fence and a "No Trespassing" sign. This wasn't good news; if we had to go back to find another route, it could have easily taken another hour to get to the same spot. Fortunately, two-track roads led around the fence, dumping us right outside the ghost town of Stanton on Stanton Road.
Stanton is owned by the Lost Dutchmen Mining Association (LDMA). It's always had a caretaker on duty, so the few buildings that remain of the original town — stage stop, hotel, and opera house — still stand. The LDMA offers campsites for its members. On Christmas Day, the place was crammed with RVs of all kinds, from the crappiest conversion van you could imagine to a 35-foot Cameo that looked very new. These folks spend their time panning for gold, which is kind of cool. I say "kind of" because it's a ton of work and not the easiest way to make money. But every once in a while, someone finds a gold nugget big enough to keep everyone else looking. And it's nice to be able to spend so much time outdoors with folks who share the same interest.
The Mountainous Portion of the Trip
Stanton Road meets up with Mina Road right there and that's where we headed to start the second part of the trip — the part I wanted to do. I'd seen a Jeep road up in the Weaver Mountains that I wanted to check out. It wasn't far from Stanton on the back road that went from Stanton to Yarnell: Mina Road.
Our landmark was a switchback to the left in the road. The road we wanted would go straight instead of making that left turn. But sure enough, it was blocked off with a fence and a "No Trespassing" sign. We made a U-turn and went back a short distance to another road that looked as if it might parallel the one we wanted. According to my GPS and the topo maps we'd brought along, the road we were on ended. But those maps are from the 1980s, before folks with ATVs and gold fever started exploring the area. We explored the road and its side roads until we found the place it met up with the road we wanted, beyond that private property.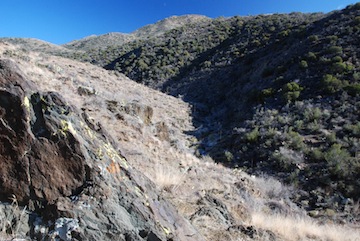 We drove across Antelope Creek, which still running as a small stream with a mix of spring water and runoff from snow and rain at higher elevations the previous week. I threw the Jeep into 4WD and powered up a steep, narrow Jeep trail with lots of loose rock. When I leveled out and could see the road beyond, I realized that I just wasn't prepared to go any farther. The road was very narrow, very steep, and covered with very loose rock. I was tired from almost 2 hours of driving on back roads. I'd had enough rough road exploring.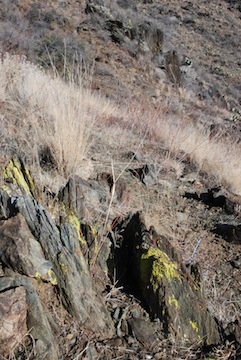 We got out for a while to take photographs in the area. There was a lot of slate-like rock, standing straight up. Much of the rock was covered with orange and yellow lichen. It made an interesting contrast to the green and brown of the desert, the blue of the sky, and the deep shadows cast by late afternoon sun. The light hadn't gotten "good" yet, but it wasn't bad — probably because of its low winter angle.
We also walked down to Antelope Creek. It was great to see so much water flowing in the desert. I knew that downstream, the flow dried up before it even reached Stanton. I tried to get some photos that showed reflections in pools of relatively smooth water. The water, in some places, was about two feet deep. Although Jack the Dog drank some of it without side effect, I wouldn't think of drinking it without treating it first; just too much open range and wildlife in the area. (That's why its best to bring your own water, even if you know you might find some along the way.)
The Way Back
We returned to Mina Road and headed back toward Wickenburg. But rather than take the fast way — Stanton Road to Route 89 — we turned left on Stanton Road and headed back on more dirt roads.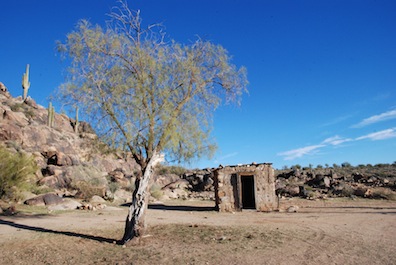 But first, we stopped at one of the few buildings that remain at Octave, another ghost town. The afternoon sun had drifted down quite low when we arrived and I think I got some of my best photos of the day. I have a thing about photographing abandoned buildings, and even though this was a small one, it kept me busy for a good 20 minutes. This is one of my favorite shots.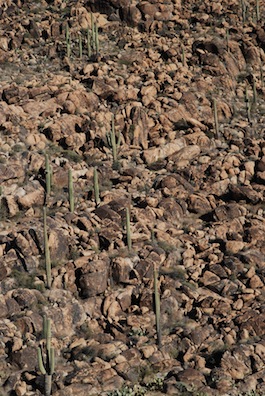 We also stopped alongside the road where the boulder-and-saguaro-strewn side of Rich Hill was illuminated by the low-lying sun. As you look at this photo, remember that each cactus stands at least 15 feet tall. Really gives you an idea of how big the boulders are, no? The horizontal version of this photo will be my desktop pattern.
We turned south toward Wickenburg a while later. Again, I can't remember where we turned; you'll need to check my GPS track log to see. The following 90 minutes was spent exploring various ways to get through the desert and back to pavement near Scenic Loop or Rincon Road. We made a lot of "wrong" turns. In looking at our track and knowing the desert from previous non-GPS-assisted trips, I know we didn't take the best path. But it was a new path, and that's all that really mattered.
We joined back up with Scenic Loop near Sand Mill and retraced our steps. By then, the light was very low and the mountains were glowing copper colored. We made one more side trip in search of a good spot to take some final photos and found ourselves quite close to the Hassayampa River on a short cliff. Although Mike took some shots, I didn't like anything I saw through the lens.
We backtracked all the way back to 89/93, drove through town, and headed home. It was a great way to spend Christmas Day.
Trace Our Treads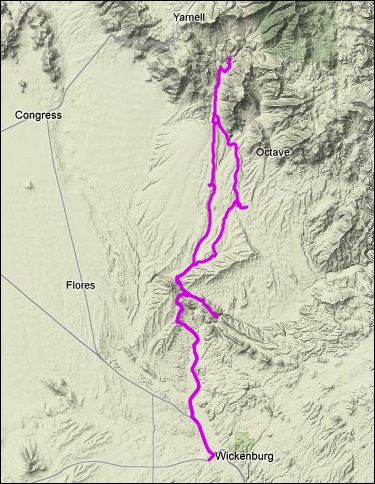 If you're interested in following our route, I offer my Garmin GPX track log file for you to load into your GPS. Once you load the track log into your GPS, you can go to the center of town in Wickenburg to pick up the track and follow it. For best results, you'll want a GPS that you can load topographic maps on; you'll see that many (but not all) of the dirt roads we followed appear on the Garmin MapSource maps — or standard USGS topographical maps. You'll also see where we made wrong turns and hit dead ends. You might want to review the track log before following it blindly; here it is on EveryTrail.com.
You'll also need a vehicle with high clearance and a relatively narrow wheelbase. Leave the Hummer or big pickup truck home. You'll do better with a Jeep or quad or some other ATV. Although we threw the Jeep into 4WD a few times, I don't think we actually needed it more than once or twice. In this area, I always recommend using 4WD when driving in deep sand (especially along the Hassayampa River, which is notorious for quicksand).
And I know I don't have to tell you to bring water, emergency gear, etc., right? Our route travelled to some pretty remote areas of the desert. If we had a breakdown, it would have been a long walk to help.