On-demand magazine publishing.
I need to start this blog post by thanking RickHap for his comment on my blog post, "Marketing Madness." My post whined a bit about the chore of putting together a 12-page package of information about Flying M Air's helicopter tours and day trips for Phoenix area concierges. Rick told me about MagCloud, an HP service that can turn a PDF into a slick, bound, full-color magazine.
The deal seemed too good to be true: only 20¢ per page for full color printouts with no minimum purchase. Just create the PDF, upload it to the site, and get a free proof. If it looks good, click the Publish button. Or, if you're confident about your PDF production skills, simply publish it without waiting for the proof.
So I tried it. I threw together a quick PDF of the files I'd been printing at my local print shop for 80¢ per page and painstakingly slipping into special binders. I went away on a trip — have you noticed how much I'm traveling lately? — and when I got home, the proof was there.
And it was pretty damn good.
The print quality was better than I'd been getting from the local print shop's fancy printer. It was smartly bound with staples, so it wouldn't fall apart. And on the back page was an address area to make it easy to mail the materials out.
Not only was I hooked, but I began to see the possibilities in using this service to meet my own publishing needs.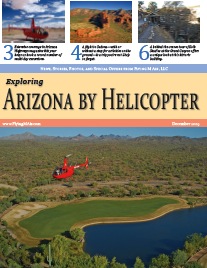 First up (after the concierge package was properly done) was a newsletter for Flying M Air that I'm calling Exploring Arizona by Helicopter. I had to come up with a new design that utilized my company colors. The resulting PDF looks pretty good for a first effort, if I do say so myself. I can't wait to see the printed version.
Although this first issue is a bit heavy on the marketing content, some comments from Miraz will help me focus on content with more universal appeal in the next issue. This issue does feature a few of my better photos, though, many of which can be found in my photo gallery. (Hey, a girl has to pay for this photo equipment, doesn't she?)
I've ordered 20 copies to send out to former clients and hopefully entice some of them to submit photos and first-person accounts of their experiences flying with me. I'll also be dropping off copies with some of the concierges I've been visiting to get them interested in what's new.
If you have a newsletter or magazine you'd like to get printed on demand, I highly recommend MagCloud. And again, I'd like to thank Rick for sharing this info with me. I think it'll really help me get the word out about all kinds of things in the future.