Reflections on traveling long distance by car.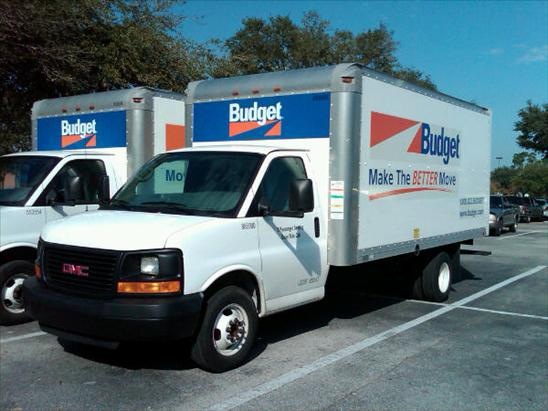 This past week, I traveled with my sister as part of a convoy of vehicles moving her from New Jersey to Florida. The other vehicles included my dad in a Budget rental truck (see photo) containing the contents of my sister's recently sold condo and my dad's wife in an SUV. We buzzed down I-95 at highway speed, stopping only for food, fuel, and bladder demands.
If you've ever driven I-95 — or most freeways, for that matter — you know how mind-numbingly boring the trip can be. You're moving at 55 to 75 miles per hour down a corridor that's often straighter than an arrow shaft. Although there are occasional scenic vistas, they're usually ruined by the tractor-trailer trucks you're passing (or passing you). The main points of interest are the billboards and the variety of fast food joints and hotel chains at exits. The only excitement comes when some jackass cuts you off or something falls off the trailer in front of you.
The benefit of the interstate highway system is speed, of course. If there's no construction or accidents or rush-hour traffic in a major metropolitan area, you can zip right along to your destination. We travelled almost exactly 1,000 miles over a day and a half. My dad routinely makes this drive to/from farther south without an overnight stop. It's a lot of driving, though. And it just isn't fun.
Each year, I drive from the Phoenix area to Central Washington State and back towing a travel trailer. It's about 1,200 miles each way. Although Google Maps tries to put me on freeways for the entire trip, I don't go that way. Instead, I take the back roads that criss-cross the western states. Last year, I was mainly on Route 93. This year, I was mainly on Route 95. These are long two-lane, so-called "blue highways" that pass through small western towns and cities. Along the way, you can get a feel for the landscape and the way folks live. There's seldom any traffic and the speed limit is often as high as 65 mph so you can move from place to place at a reasonable pace. You can stop just about anywhere along the way and although your choices for meals and fuel and hotels might be limited, they're not just the same chain establishments you'll see along the freeway. It's a whole different way to travel, a whole different experience.
What I like about the blue highways is the opportunities to stop at interesting spots along the way. Instead of pulling into a McDonald's for lunch, I might stop in a parking area with a scenic view and have a picnic lunch there. Instead of staying overnight at a Super 8 motel adjacent to a truck stop or parking my camper in a Walmart parking lot, I might roll into a state park and camp alongside a creek. If there's a historic site or roadside attraction, I can easily pull over to take some time there and enjoy it. I can change my route at any intersection. Best of all, I set the pace.
Back in 2005, I conducted what I like to call my "midlife crisis road trip." I hopped into my little red Honda S2000 with some luggage and credit cards and hit the road for 16 days. I traveled almost every day, getting as far away from Arizona as Mt. St. Helens in Washington, western Montana, and Yellowstone National Park. I had a general idea of where I wanted to go, but no reservations and no need to be anywhere on any day. I slept in motels, hotels, rustic cabins, and even a yurt. I ate all kinds of meals, from crappy fast food and terrible coffee at drive-thru joints to fine dining at the foot of Mt. Shasta. I made side trips daily, visited parks, and talked to lots of strangers. I put more than 5,000 miles on my car, got two oil changes on the road, and even replaced the rear tires after wearing them out. (Z-rated tires just don't last very long.) I had a great time — better than most vacations — and I'd do it again in a heartbeat.
While I realize that this week's trip wasn't for pleasure — the goal was to get my sister, her car, and her belongings from New Jersey to Florida in the minimum amount of time — it certainly did highlight the differences between my usual kind of road trip and motoring down the interstate between points A and B.
And it reminded me why I prefer the blue highways when enjoying the trip is more important than getting to the destination.