Wild horses, antelope, and sheep — oh, my!
I flew from Grand Canyon Airport to Page Municipal Airport (at Lake Powell) again yesterday.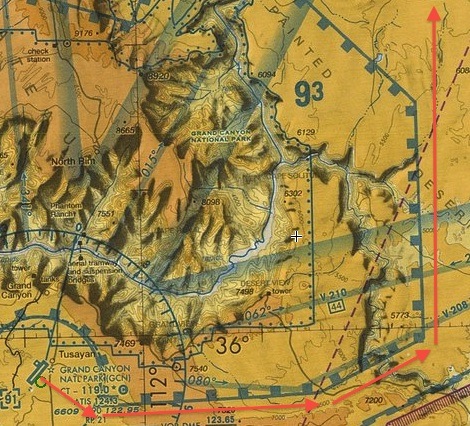 Each time I make this trip, I follow pretty much the same route, hugging the southeast corner of the Grand Canyon Special Flight Rules Area (SFRA) until I get to the Little Colorado River Gorge and then heading pretty much due north. I wind up just outside the SFRA near Marble Canyon so I can show off Navajo Bridge and Lees Ferry before a quick flight past Horseshoe Bend, the Glen Canyon Dam, and Wahweap Marina. If the wind is in my favor, I can touch down at Page within an hour of departure from Grand Canyon. The same distance by car would take about 2-1/2 to 3 hours.
The terrain for most of this flight — from the Little Colorado River Gorge north, in fact — is high desert — technically the famous "Painted Desert" — and relatively barren. There are, however, some interesting features if you look hard for them. Since I'm always trying to point out interesting things for my passengers to see, I look very hard.
Ruins are relatively common. Round rock foundations are the remains of ancient hogans. (This area is on the Navajo reservation.) There are also the remains of animal enclosures, usually build with the same rock. There are complete hogans, some of which may still be occupied for at least part of the year, and ranches with hogans, sheds, outhouses, animal enclosures, and other buildings. All of these things are scattered across an immense landscape that takes more than 30 minutes to cross at 120 miles per hour.
There are also animals.
One of the questions I'm asked quite often by passengers is whether I see wildlife from the helicopter. I do, but not so often as to make it a common occurrence. It depends on where I'm flying, what time of day it is, and how hard I'm looking for wildlife.
Take antelope, for example. There are a few "prairies" north of I-40 and west of Mt. Kendricks in northern Arizona where, if I look hard enough, I can usually spot a herd of antelope. I know where to look and I remember to look. They're hard to spot because their color matches the terrain so well. It usually takes movement to spot them. When I see them and point them out, my passengers never see them at first. I have to slow down, turn around, and drop a few hundred feet as we approach the herd. That gets them running a bit so my passengers can see them. As soon as they're spotted — and photographed, if the passengers remember to whip out a camera — I move away. It's not my goal to terrify the antelope population of northern arizona by buzzing them with a helicopter.
(When I flew at the Grand Canyon, I always saw at least one elk a day in the forest on one of my first or last flights for the day. My passengers never saw them and, since swooping around to show them wasn't possible, I simply stopped pointing them out. It would be my own private treat.)
There are wild horses in numerous places throughout Arizona. I wrote a bit about them here. They're also on the route I take from the Grand Canyon to Page. Today, my passengers and I spotted at least four herds of them — the most ever. They're a lot easier to spot than antelope because of their size and color. But they're also a lot easier to confuse with cattle. I look for long legs and long, thick tails.
There are domesticated sheep in various places throughout northern Arizona. We flew over a good-sized herd tended by four dogs today. They were a lot farther south than I expected — I usually see them farther north. This could be a different herd, of course. There were about 50 animals in that herd and the dogs did a pretty good job of keeping them together, even when my helicopter spooked them. (Yes, I had to do a circle for my passengers to see them; they were pretty small.)
In the past, I've also seen javelinas (pronounced have-a-leenas) from the air. They're usually in herds of a dozen or more animals and I've only spotted them when I was alone, flying a lot lower than I do with passengers on board.
Of course, I don't have photos of any of this. I'm flying and my hands are usually busy. My passengers never seem to remember to send me their shots. But one of these days, I'll have some photos to share.