I design and assemble 24 copies of a 12-page marketing piece for Flying M Air.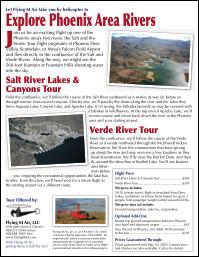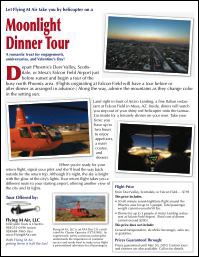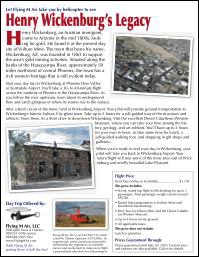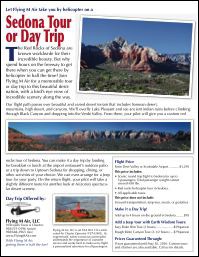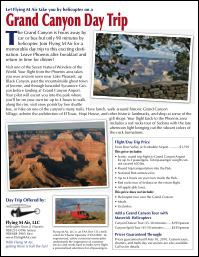 The Arizona tourist season is starting and will be in full-swing by mid November. That means it's time for me to meet with Phoenix and Scottsdale hotel and resort concierges to make sure they're aware of Flying M Air's tours and day trips and to make it easy to sell them for me.
With the relocation of my helicopter from Wickenburg to a base much closer to my customers, I was able to cut prices on all of my tours and day trips. That should make them more attractive to customers. They are not, however, cheap. My lowest price tour is a 50-60 minute trip around Phoenix that costs $495 for up to 3 people. My most expensive flight is a day-long trip to Grand Canyon West's Skywalk that includes at least four hours in the helicopter and all ground fees and costs $2,495 for up to three people. Ouch.
When you're selling services with big price tags, you can't expect a flyer printed on your Epson inkjet printer to impress anyone. You need to create marketing materials that will fully explain and illustrate what you're offering, presented in a professional-looking package.
And that's what I spent much of the past week doing.
I use plastic portfolio binders with a cover insert to prepare 12-page booklets about my company and its services. The cover has an 8×10 glossy photo of the helicopter with my company marketing design (the blue and red swirls).
Inside, there's a "Welcome" letter, mostly for the use of hotel/resort guests who might be browsing the book on their own. It provides brief information about the company and urges them to book through a concierge. If a concierge isn't available, however, they can call us directly for more information and reservations.
Next are full-color information sheets about the tours and day trips we offer. Each tour sheet includes at least two photos of the destination or route, full pricing information, and branding elements such as my logo. You can see thumbnails of these pages here, on the right side of this post. I created each of these sheets in InDesign, using photos from a collection I've been building steadily for about six years. When they were finished, I e-mailed them to the local KwikPrint. The folks there printed them out on their color laser printer. Although I have a color laser printer, their's does a better job and, given the cost of consumables on mine, is actually cheaper. As you might imagine, all of these documents are available as downloadable PDFs from the Flying M Air Web site. I figure I spent about $200 on printing.
I also included a copy of the front cover of the August 2009 issue of Arizona Highways magazine, which listed my company's Southwest Circle Helicopter Adventure as "The best way to see Arizona in a week." I clipped out the paragraph about us and pasted it onto the cover image so both the cover and the text are on the same page. The folks at KwikPrint handled the copies of these sheets,too. They look nice.
Then there's a full page summary of all tours and day trips and their prices, including optional add-ons like Jeep tours or lunch stops.
Finally, there's a page that provides information about our helicopter, including the make and model, engine specs, and passenger-friendly features.
Putting the books together was rather time consuming and tedious. We did it after dinner last night. Mike helped me. I spread piles of each page out along the table and we walked around the table, inserting pages into the booklet's plastic sheets. It took about an hour to do 24 of them. I figure that if I would have paid a marketing firm to do the same job, it would have cost me at least $5K for design and document creation and $20 to $50 per booklet.
The resulting booklets are extremely attractive and professional. They present the image I want people to have of my business. The removable pages make it easy for a concierge to pull out a page and make a copy for a guest or co-worker. Frankly, the only way I could make this any better is to print individual booklets using something like iPhoto. But if you make them too nice, people take them as souvenirs — as I discovered the expensive way with a local guest ranch a few years ago.
But what's most important about the booklets is that they provide all of the information a concierge needs to help a guest make an informed decision about a tour or day trip with Flying M Air. And that, after all, is the purpose of this exercise.
Later this week, I'll start making the rounds with my husband, Mike, who has become the company's Marketing Manager. By that time, we'll have my new business cards back from the printer.
This season, it's do or die in the Phoenix area. I'm determined to make it work.