A photographer's dilemma.
If you've been reading this blog for a while, you might be aware that I've been fooling around with panoramas. Last night, I created a panorama from 11 vertical images shot at Monument Valley:
The ability of Panorama Maker 5 to stitch these together so perfectly sold me on the product. I bought it as soon as the stitched image appeared on my laptop screen so I could save my latest creation at full-size. The resulting image is a whopping 16,724 × 3,485 pixels in size and weighs in at 37MB — as a JPEG file.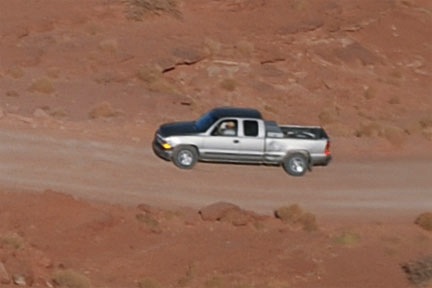 On close examination of the photo, however, I realized that there was one thing that marred it: a silver pickup truck dead center of the image (see red box above and blowup right). It wouldn't be so bad, but the darn truck is shiny and really does stand out when you look at the image in full resolution.
So the question is: Do I Photoshop it out?
I experimented with this and did a reasonably good job with the cloning tool. But then I got to thinking about it. To me, a photograph represents reality. The reality of this image is that a silver pickup truck driven by what looks like a Navajo man was there when the image was shot. Removing the truck removes part of the reality of the image.
Or am I over analyzing this? Putting ethics where they don't belong?
Are you a photographer? If so, how do you feel about modifying images to remove unsightly elements? If you're not a photographer and just like to look at photos, how do you feel about a photographer's honesty when creating and sharing photographic images?