And why I didn't finish this post right after I started it.
I'm at the Grand Canyon. Again.
I come here 20 to 30 times a year, often on helicopter charters. This time, I'm taking a couple from Montana on a Southwest Circle Helicopter Adventure. That's a 6-day/5-night excursion. The second day (and night) is spent at the South Rim of the Grand Canyon.
As usual, I have one of the tiny rooms in the Bright Angel Lodge. The historic lodge and cabin buildings were designed by Mary Colter and built in the early 1900s. My room lacks the features most guests take for granted: television, air conditioning, and shower. I don't need the first two and the third is down the hall.
I lucked out this trip and wound up with a corner room that has windows on two sides. There's even a window in the bathroom. But best of all, it's literally 100 feet from the rim of the canyon. In fact, if I look out one of my windows, I can see the wall of the North Rim 10 or 15 miles away.
Not bad for $80 a night.
My passengers are staying at the Thunderbird Lodge, with a partial view of the canyon. Their room is modern and has all amenities. It also cost $180 per night.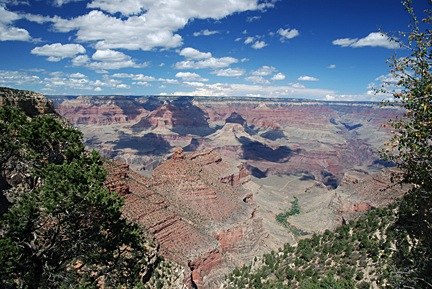 This trip, for some reason, is different than the others. I didn't feel at all motivated to walk along the rim and shoot pictures. I think I'm tired of photographing the Grand Canyon. Is that possible?
I have hundreds of photos of this place. But none of them can really capture its magnificence. Every time I try, I'm disappointed. I feel that it's time to stop trying.
So I spent most of the afternoon in my hotel room, pulling movies off SD cards to clear them for more movies, catching up on Twitter and e-mail, and putting a few videos online. By 5 PM, I realized that I was avoiding my photographic duties. And that made me wonder why I considered taking photos a "duty." Almost as if it were a chore. Was it?
I sat down to write this post. I entered the title in my offline editor. And then I stopped and scolded myself.
No, I was not going to miss a beautiful Grand Canyon sunset. I was going to get my ass outside and walk along the rim. I didn't have to take photos, but I could if I wanted to. It was more important to be outside, in the fresh air, on a beautiful late summer afternoon with one of the world's Natural Wonders in front of me.
So I went outside with my camera. Less than a minute later, I was on the Rim near the Lookout Studio, admiring the way the late afternoon sunlight played on the buttes and canyon walls right in front of my face.
There were lots of other people out there. Most were moving about, snapping photos along the way. Many spoke in languages other than English. They were all ages, although I can't say I noticed any school-age kids.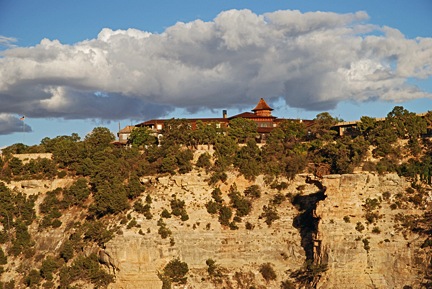 I noticed an artist sitting on a rock with an easel in front of him. This week is the Grand Canyon Celebration of Art: Plein Air Event & Modern Masters Show. The artist, Sedona-based Williamson Tapia, was using oils to paint his interpretation of the cliff on which El Tovar Hotel sits and the magnificent clouds above it. His piece was mostly clouds.
We chatted for a while about art and the Canyon as I watched the light change. The red light and deep shadows behind the buttes were calling me. I excused myself, ducked through Lookout Studio to the cliffside overlooks below it, and snapped a few photos.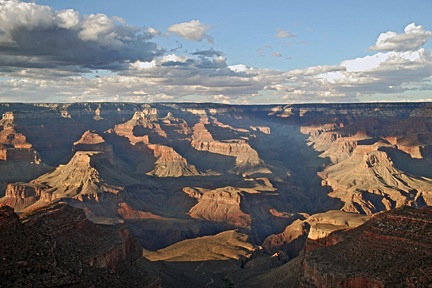 I shot RAW + JPEG Fine. I don't usually shoot RAW. I'm hoping that I can learn more about it and use it to make better photos. I figure that I can't learn more about RAW unless I have some photos to work with. So today was the day to start collecting them. The JPEG Fine will give me some thing easy to play with until I'm ready to work with the RAW format images.
When I was finished, I went back. Will claimed I'd given him good luck; that he'd found his style for the painting. We chatted some more as he worked. I watched him paint the green bushes and trees on the cliff below the hotel and then touch up the clouds with bright white tops and lavender gray bottoms. The light got softer and redder, but it didn't affect his work; he was painting something completely different, something he saw. Onlookers came and went, admiring his work. None lingered. We continued to talk, agreeing (among other things) that one day a week, there should be no television broadcasts.
Finally, the light faded to the point that he couldn't continue his work. He stepped aside and I got a good look at it. He told me he'd put it in the fridge back where he was staying so the oil would stay pliable. If those clouds were back the next day, he'd continue working on it to finish it.
We exchanged cards, shook hands, and went our different ways. I came right back to my room to finish the blog post I'd started with a title two hours before.
Now, as I listen to the crickets outside my window, I wish I'd spent the day outdoors, exploring some new part of the Rim.