Snapshots from our road trip.
As some of you may know, I just finished up a lengthy trip to the Pacific Northwest, ending it with a 2-1/2 week road trip back to Arizona by way of four national parks with my husband, dog, and parrot. I took over 1600 photos over the past three months, with about 800 of them snapped over the past three weeks.
That's a lot of photos.
I shared some of them earlier in the summer, but soon got behind in reviewing and processing the shots from my Nikon. I also shared a bunch of cell phone photos taken with my BlackBerry, on Twitter via TwitPic and ÜberTwitter. I hope to share a few more of the interesting ones over the next few months here.
That said, here are some from the start of our road trip. My husband and dog arrived on an Alaska Air flight in Seattle on August 13. I drove from Wenatchee, where I was staying, to Seattle to pick them up. Since we had some time to kill, we visited the Museum of Flight at Boeing Field.
If you're at all interested in aviation and have a chance to visit Seattle, don't miss the Museum of Flight. I can't imagine any museum with Aviation exhibits to be more exhaustive than this one — except possibly the Smithsonian Air and Space Museum in Washington.
And now, the photos. Sorry about the obnoxious copyright notice, but I don't want my work circulated all over the 'Net without permission or credit. If you want to share any of these shots to friends, link to this page.
The Main Gallery
I made this photo with my fisheye lens from the balcony of the main gallery. Those are real, full-sized airplanes on display — some hanging from the ceiling! It's a great sight to behold.
Photo Info:
Camera: Nikon D80
Aperture: f/4.5
Shutter Speed: 1/80
Focal Length: 10.5mm
SR-71 Blackbird
This is the second time I've been able to get up close and personal with an SR-71 Blackbird. (The first was at the Pima Air Museum in Tucson, where one is parked outdoors under a shade.) If you want to learn more about this incredible plane, read its Wikipedia entry.
This particular plane has an unusual feature that it shared with only one other SR-71. Can you spot it?
Photo Info:
Camera: Nikon D80
Aperture: f/4.2
Shutter Speed: 1/50
Focal Length: 26mm
Jet Engine Detail
This is a closeup shot of some of the tubing on one side of the SR-71 engine on display. You can see the display in the above photo, on the right side of the plane, just inside the white barricades.
I don't know much about this, but I like the way the tubes look.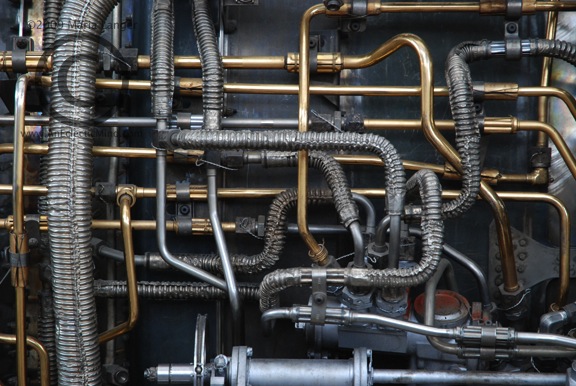 Photo Info:
Camera: Nikon D80
Aperture: f/5.6
Shutter Speed: 1/30
Focal Length: 85mm
Concorde Cockpit
One of the highlights of the museum was the outdoor displays, which included a British Airways Concorde jet. Our walk through was the closest either one of us will get to supersonic fight — and the plane was permanently parked.
A plexiglas panel separated the tourists from the cockpit instuments. But if you put the lens right up against the Plexiglass and hold the camera very still, you might get a shot like this one:
Photo Info:
Camera: Nikon D80
Aperture: f/5.6
Shutter Speed: 1/30
Focal Length: 85mm
Air Force One Cockpit
The plane that served as Air Force One from the Eisenhower through Nixon administrations was also on display outdoors. Again, the cockpit was on display, protected by a piece of Plexiglas.
There's nothing like a fisheye lens to get the details in tight spaces.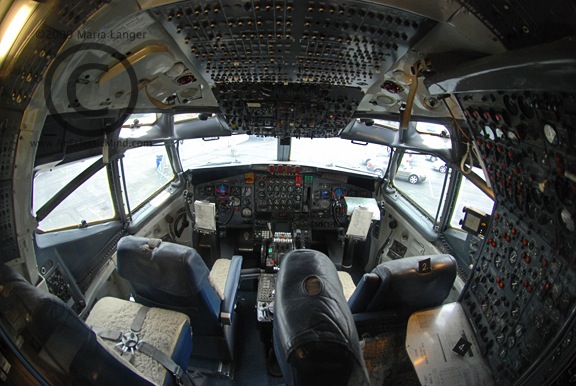 Photo Info:
Camera: Nikon D80
Aperture: f/3.5
Shutter Speed: 1/50
Focal Length: 10.5mm
That's all for this part of the trip. I hope to have some more interesting shots online soon.