Another small space.
I spent the first seven weeks of this summer living in a 21-foot travel trailer parked in a golf course RV park. When I got a late-season contract in Wenatchee, WA, I had to move. Although the folks who hired me had no problem with me parking my camper on their orchard, there was no A/C (alternating current) power and thus, no AC (air conditioning). With temperatures reaching record highs in the area, I wasn't about to rough it. So I moved into a motel.
I'm staying at the Inn at the River in East Wenatchee. The folks here gave me a good long-term rate, making it quite affordable. My room is small (see photo below), but has the features I need: WiFi, refrigerator, microwave, air conditioning, and a window that opens. There's even a pool and free breakfast (which I don't usually take advantage of). And, of course, I have the usual motel creature comforts, like a television with more channels than I can flip through.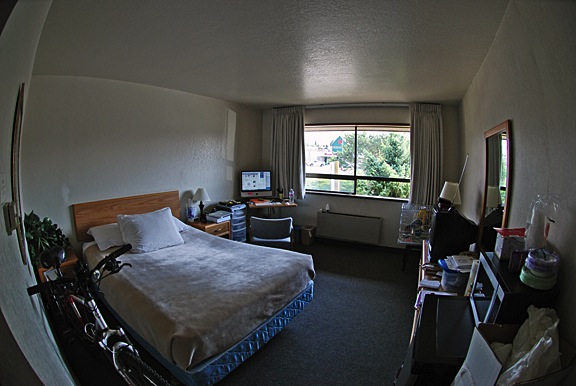 The bed does have a bedspread, but I took it off. And yes, that's my bicycle next to the bed. Every morning, I carry it down and then up the stairs for a 6-8 mile ride on the great biking/walking trail they have nearby.
The view sucks. I look out to the east at a pine tree, major roadway, and mall parking lot. Fortunately, the window has a generous overhang that shades it after 10 AM or so, so I can keep the curtains wide open. The window is pretty big and lets in lots of light most of the day. Part of the window opens, so I can get fresh air in, but I have to leave my room door open for cross-ventilation. The motel folks were thoughtful enough to provide a doorstop, so I can keep it open as much or little as I like.
I wish the view looked west so I could see the weather out toward my orchard. But then it would get brutally hot in the afternoon and I'd have to keep the curtains closed. This is probably better for me, especially since weather doesn't seem to be a factor.
I have entirely too much junk in the room. That's my fault, not the motel's. But I keep it neat and orderly.
The motel has other, bigger and nicer rooms — including rooms with private balconies. But at the rate I'm paying, I can't really expect to get one of them. As it is, I think I'm getting an excellent deal.
I'll be here at least another two weeks. Then I'll make the trip home.
And if you're ever in the Wenatchee area and need a place to stay — long or short term — I hope you'll give the Inn at the River a try.