A look at what I've been snapping.
Here's a continuation of my post of cell phone photos chronicling my summer. You can find June 2009 here; this is July 2009.
July 1, 2009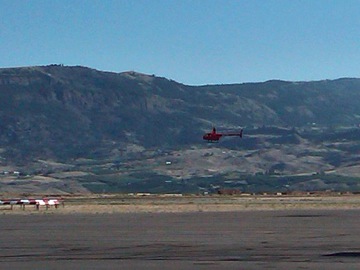 Remember Greg from Part I? Well, Mike had to get on my insurance, too, so he flew with Greg. Here they are, at Wenatchee.
Mike's check flight took a bit longer than mine. It was scary to watch them practice autorotations in my helicopter.

July 4, 2009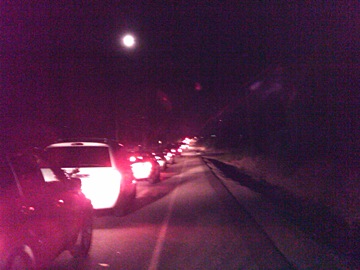 We watched the July 4 fireworks from East Wenatchee. Wenatchee puts on a good show from Walla Walla Point Park on the river. We were right across the river from there, all comfy with our good cameras. I got some decent shots, but I don't think I've put them online yet.
Afterward, we joined the flow of traffic heading south. We were clear of it once we got past the bridge; we had to drive all the way back to Quincy. It was a nice night and I'm glad we made the trip into the "big city" to see the show.

July 5, 2009
Okay, so it's a washing machine.
After dropping Mike off for his return flight to Arizona, I did my laundry. I don't know why I took a photo of this. You can see my lower body and legs in the reflection.
Oddly, I've written before about doing laundry while I'm on the road. Back in 2005, I wrote about taking my helicopter to Williams, AZ from Howard Mesa to do my laundry and run other errands. And last year I whined about the filth in the Quincy laundromat I used to frequent. Whatever.

July 10, 2009
On July 10, Mike and I celebrated 26 years together. For the second year in a row, we celebrated it apart. These are the flowers he sent me.
The flowers came in a bouquet. Generally, I don't like getting flowers that way. They're a pain in the ass to prepare — cut off the ends, arrange in a vase, etc. But this bouquet was good to go. All I had to do was fill a vase that I already had from last year, take the plastic off the flowers, and stick them in the water.
They lasted nearly two weeks and made me think of my honey every time I saw them.
You can see leftover curry in a bowl and Alex's cage in the background.

July 11, 2009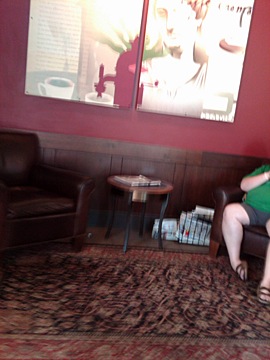 This is a failed attempt at stealth photography. You know — when you photograph someone without them knowing you're doing it. I obviously need a lot of practice.
The photos was supposed to show a woman who looked incredibly out of place in the Chelan Starbucks.
I was up in Chelan again, visiting with my friend Jim. Frankly, it rained so little in July that I could have stayed in Chelan and none of my growers would have noticed my absence. (But no, I wouldn't really do that.)

This is the best reason I can think of for avoiding a bridal shower. Give me a break! I don't like anybody enough to wear a getup like this in public.
Jim and I were at a Chelan winery, which is really dumb since it was mid-day and neither of us could drink. (Eight hours, bottle to throttle.) This group of women were going to a bridal shower at the winery's outside dining area.
Moments later, we saw someone hit the curb in the handicapped parking area so hard that he burst the tire on his car.
It was a weird scene all around.

July 13, 2009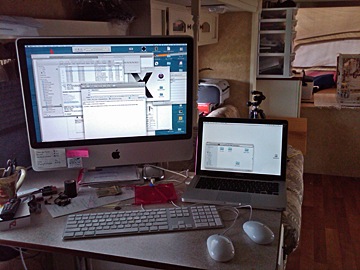 One of the things I did to fill the time between rain showers — and let me tell you, there was lots of that time — was revise my Leopard book for Snow Leopard. Since I do layout on my Visual QuickStart Guides, I brought along my 24-inch iMac (left). I also bought a 13-inch MacBook Pro (right) to run the Snow Leopard software on. These two computers, along with the usual collection of junk I seem to accumulate, filled my workspace, which was my camper's dining table.
I got the book done on time.
I'll send the iMac home via UPS to free up some space in the camper for our return trip to Arizona. Until then, I'm using it in my hotel room to blog, surf, and watch DVDs. Heck, its screen is bigger than the room's TV!

July 15, 2009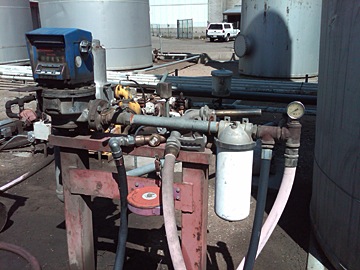 Part of my equipment for drying cherries is an 82-gallon fuel tank that I keep filled with 100LL fuel. That's the kind of fuel my helicopter takes. The tank, which is mounted on my husband's pickup truck this year, has an electric pump so I can do off-airport refueling. This saves time and money when I have to dry.
When you buy aviation fuel in any kind of quantity, you can buy from a wholesaler. I use Wenatchee Petroleum. And this is their 100LL fuel station.
I took the photo because the place is so incredibly industrial looking and filthy. It's a fuel pit. I don't expect it to be any nicer, but it certainly is a contrast to any other place you might buy fuel.

I blogged about this one and got some pretty informative comments from readers who know the area. 'Nuff said.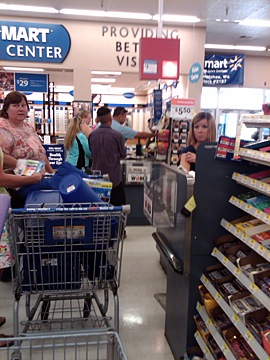 I really do hate the Wal-Mart in Wenatchee. One reason is the checkout lines. Not only are they long, but they're confusing — they're set up like flag lots and you never know what side to check out on. They're also lined with more crap ready for impulse buyers. And they have televisions playing ads all the time. Televisions I can't seem to shut off with my TV-B-Gone.

July 18, 2009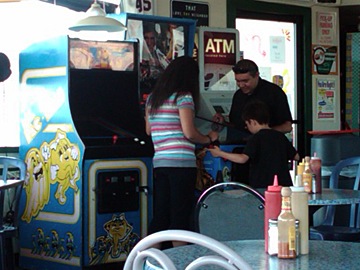 Another trip to Blustery's for another Logger Burger. This time I had it with sweet potato fries. I wrote a little about this visit here.
Yes, the kid is playing pinball. The title on the machine was Lethal Weapon 3 which, ironically, was playing on the television at my friend Jim's place when I stopped by to visit him yesterday.
And yes, that is a Ms. PacMac video game beside the pinball machine. Flashback! 1981!
I used to love playing pinball, back before video games came out. It was mechanical.
He stands like a statue
Becomes part of the machine
Feeling all the bumpers
Always playing clean
He plays by intuition
The digit counters fall
That deaf, dumb and blind kid
Sure plays a mean pinball
[Lyrics excerpted from Pinball Wizard by The Who]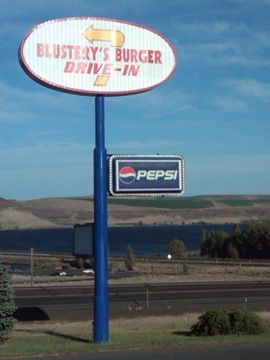 Would I be dating myself if I admitted to seeing Tommy in a movie theater when it first came out? (Yeah, I thought so.)
I also took this photo of Blustery's sign. That's the Columbia River's Wanapum Lake behind it. It was a beautiful but very windy day.

July 19, 2009
Jim and I flew down to an orchard near Othello, WA to meet another pilot and attend a party. Since we both wanted to fly, we took two helicopters.
I like this photo even though it's crappy. Why? Because you can see my shadow in the bottom corner and it looks ridiculous.
I took a number of better shots with my good camera and will be submitting them for next year's Robinson calendar. I hope we get a spot.
The two helicopters are parked on the most beautiful grass runway I've ever seen in my life. It runs between two orchard blocks — cherries on the left and apples on the right. Jim's helicopter is closer to the camera.
We gave rides to about 12 people (2 flights of 3 passengers for each of us) before landing here on the strip. I landed a bit behind him because I didn't like the spacing between our spinning blades if I parked beside him. It's very photogenic, but would have been better if the far helicopter was forward; the light was coming from the left. Whatever.

July 20, 2009
When you see two guys working on a power pole outside your door with a pair of clippers, you should not be surprised if the power fails immediately afterward.
This was shot at the Colockum Ridge Golf Course at Quincy where I spent 7 weeks this summer.

One of the first things I did when I arrived at the golf course RV park in June was to retrieve the planter I'd bought the previous summer and plant tomatoes, basil, rosemary, and some flowers in it. The tomatoes were just starting to ripen when it was time to go.
This is the first ripe tomato.
It's also a good example of why I hate taking pictures with a cell phone: damn thing never seems to focus on what you want it to.

July 23, 2009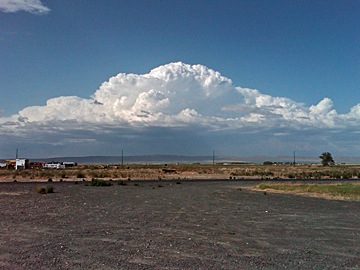 This is the honkin' huge cloud that formed over the Waterville Plateau about 20-30 miles north of my position. You should have seen it on radar. The thunderstorm moved northeast to Electric City and the Grand Coulee Dam, wreaking havoc along the way.
It stayed sunny in Quincy, though. No flying.

July 27, 2009
This is my landing zone at the Wenatchee orchard where I'm finishing up the cherry drying season. I'm parked between a dirt road and a pond in a clearing used as a staging area for cherry picking equipment. One skid is slightly lower than the other; it's a bit of a slope. I was supposed to park on the other side of the pond, but they'd stacked cherry boxes there. All I could think of was the forklifts and seasonal labor pool moving those boxes around right next to my huge investment. So I parked on the other side of the pond where I thought there would be less activity.
I had arrived earlier that morning and then returned later in the day to put on the blade covers. There had been thunderstorm activity in the Cascades each afternoon and hail was often in the forecast as part of the storms. Even though there was no rain in our forecast, storms happen. I wasn't about to leave my blades unprotected against hail overnight when I had blade covers to protect them.
Of course, I was also worried about someone driving into the helicopter. So I tied some yellow plastic Caution tape to the tie-down straps and stinger and horizontal stabilizer. Hopefully, that'll make it a bit more visible to the folks who drive equipment around the orchard.
You can see another view of my landing zone in this post.
July 31, 2009
Imagine a long, low dam across a wide river. Now imagine a walkway across the top of that dam. Both sides of the walkway have concrete walls about chest high. And on top each wall is a fat metal rail running the whole length of the wall.
This sign is on the wall.
The sign is supposed to tell people not to put their kids on the rail. But my mind saw something else and I knew one of my Twitter friends, @SonoranDragon, would also see something else. So I snapped the photo and put it on TwitPic. It got the kind of responses I expected. Probably the ones you'd expect, too.
Frankly, I feel that folks who design signs should show them to a bunch of people before finalizing them. This sign is just too damn weird.
More photos to come in August….