A look at what I've been snapping.
I need to make one thing clear: I don't do serious photography with the camera on my BlackBerry. Although the photos are far superior to the ones I made with my Treo, they're still crap.
Instead, I use my phone's camera to document the weird or funny or cool or scary things that I see when I'm out and about. The other day, when I finally synced my BlackBerry to my iMac again, nearly two months worth of photos were copied to iPhoto. I realized that they might make an interesting look back at my summer so far. So here they are, with descriptions.
June 18, 2009
This is Greg, a fellow helicopter pilot. He's posing with a kid's ride at the Wenatchee Valley Mall in East Wenatchee, WA. Greg's not a small guy. I still can't believe he crammed his body into that little ride.
Greg is my insurance check pilot. I just switched to a new insurance company and it requires that I take an annual check flight with an approved pilot every year. It doesn't matter that I take an official Part 135 check ride with an FAA inspector each year. That's not good enough. The inspector can take away my pilot certificate. Greg can tell my insurance company not to insure me.
So I met Greg and we went flying together. He put me through the drill and didn't raise any complaints. He signed the paperwork. I bought him lunch.

June 20, 2009
This is one of the windmills at the huge Wild Horse Wind Farm between Ellensburg and Vantage on the Vantage Highway in Washington State. It huge. There's a visitor's center up there that I really recommend for family outings. It's also nice and cool up there.
I wrote extensively about my visit this year and included some videos in this blog post.

On the way back to where I was staying in Quincy, WA, I stopped off in Vantage at Blustery's for a "Logger Burger." You're looking at a hamburger with bacon, cheese, ham, and fried egg. Breakfast, lunch, and dinner on one big bun!

June 23, 2009
If you're looking for seafod, you've come to the right place: Inna's in Wenatchee, WA. (Personally, I prefer seafood.)
You'd think they'd proofread this giant menu in their window before putting it on display, but I guess not. Or maybe they did and spelling isn't one of their strong suits. Whatever.
The food is supposed to be good there, but this menu error showed me that they've got no attention to detail. I haven't eaten there yet.

I did, however, treat myself to a hot fudge sundae at the Owl Soda Fountain across the street. They claim it's an authentic soda fountain, but I think it looks too new and shiny. It certainly has that feel about it.
Am I the only person who remembers real soda fountains? I mentioned the one I grew up with in this very old blog post. (I still drink egg creams regularly; got the ingredients for one in my fridge right here at the hotel.)

June 29, 2009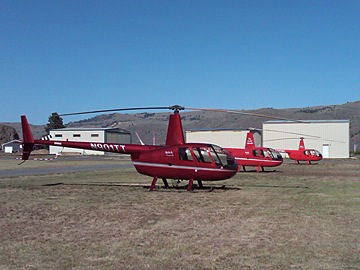 Mike came out for a visit at the end of June and we flew Zero-Mike-Lima (far right) up to Chelan. We parked in the "heli base" between the hangars there, with two other red R44s. The one in the middle belongs to my friend, Jim, who has a helicopter company a lot like mine based in Coeur d' Alene, ID. The one on the left belongs to the company his roommate was flying for — I think they're out of Spokane, WA.
Of course, we were all up here for cherry drying season. They got to live in a nice little house in a resort community. I got to live in a trailer on a golf course in the middle of farmland. (Do I sound jealous? What do you think?)
What I like about this shot is that it doesn't show the Hughes 500 parked behind the helicopter on the far left. So I can pretend it was Robinson Parking Only. Or Red Helicopter Parking Only. Whatever.
I had my good camera with me and took a bunch of much better shots. This is the one I sent to TwitPic, though.

I also sent this one to TwitPic. I thought the sign was funny. When I sent it to TwitPic, someone commented on it, thinking my helicopter was the only one there. It was actually one of four, but happened to be the one parked behind the sign.

June 30, 2009
I had my birthday lunch at the Applewood Grill in Wenatchee, WA. It's in a wonderful old stone building near the railroad tracks. I'm sure it's got all kinds of historic significance that I failed to look into while there. We sat outside on the patio in the shade. It was a nice day. The food wasn't bad, either.

Later, we went RV shopping in Wenatchee. We walked into one RV after another, going up in size and luxury with each step. This is the kind of 5th wheel model we're considering as a trade-in for our sad little camper. This one was 32-feet long, had Corian countertops in the full kitchen, two La-Z-Boy recliners, a sofa bed, a table with four chairs, desk, a flat screen television, and king-sized bed, and a full bathroom. I could live in something like this.
Afterwards, we did a little Web surfing and I found the best designed and most informative Web site I've ever visited: KeystoneRV.com. Seriously: you should check this out. It answers all the questions you might have about these RVs except for the most important one: how much will it cost?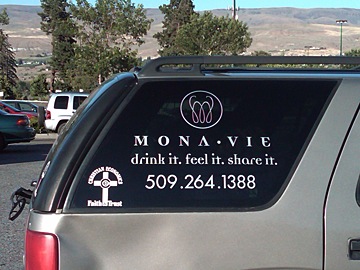 I shot this one in a Wal-Mart parking lot mostly for the amusement of my skeptic friends. You either get it or you don't. I'm not explaining the joke.

To be continued….