Just blogging so I don't forget.
For those of you who don't know, I'm living in an RV park at Quincy, WA's Colockum Ridge Golf Course. I've been here since June 8 and will likely be here until at least August 8.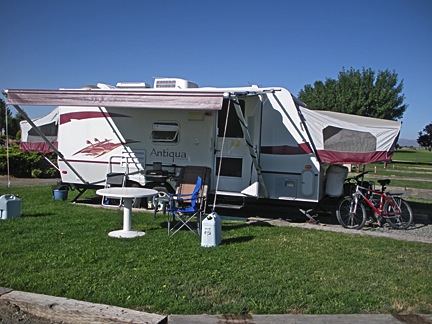 The RV park is small and not very fancy. It has five full-hookup parking spots along a gravel parking lot and at least another dozen of so with just water and power. The spots are short and you have to back into them — no pull-throughs here. There are no amenities like a pool or showers. Of course, there is an 18-hole golf course, but that's not really of much interest if you don't play golf. I don't play golf.
The campground — as I like to call it — does have one feature that I seldom see in campgrounds: thick, luxurious grass between the campsites. For me, this is a real treat. We don't have a lawn in Arizona — it's really stupid to have a lawn in the desert where water is scarce. Our "yard" is a mixture of sand and fine gravel that we spread when we did our limited landscaping and natural desert that we simply don't mess with.
At home, the very idea of walking around barefoot outdoors is silly. But here — holy cow! Brings me back to my childhood, when I rarely wore shoes in the summertime.
The grass adds a few quirky things to my stay here. The first has to do with the sprinklers. When I first arrived, the sprinklers in the campground started up every day at 4 AM. I know this because I could hear them. My camper's bed extends out over the back of my camper, right over the grass. The sprinklers come on and one of them sprays the side of the tent-like covering over my bed. There's a lot of quiet noise: the hissing of the sprinklers as they start up, the stead stream of water, the rain-like sound of the drops on the side of my bed tent. It wore me up every morning. At 4 AM.
This went on for a few days. Finally, I stopped by the golf course office and left a message for the manager. I requested a 5 AM start. After all, I'm usually up by 5 AM, which was about the time the sun rises here in the summer.
The next morning, the sprinkler didn't go on at 4 AM. It didn't go on at 5 AM either. Instead, it went on at 9:35 PM. And it stayed on until about 10 PM.
Well, at least it wouldn't interfere with my sleep. But it also ensured that I wouldn't be enjoying my lawn in the late evening, not long after sundown.
It also made for some entertainment when new neighbors arrived and attempted to enjoy their lawns in the late evening. I'd hear their squeals of alarm when the sprinkler cut short their outdoor activities.
Of course, I have to put away my canvas chair and zip up the screen on my bed tent every night.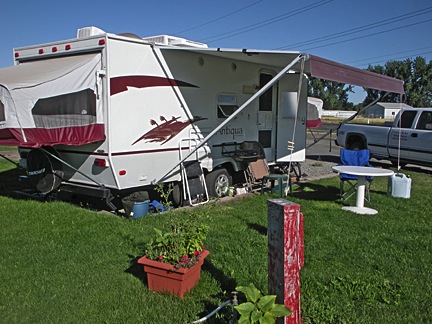 The lawn also adds responsibility regarding the grass. My site includes a flat-bottomed round table. The bottom of the table suffocates the grass. So every two days, I move it to a new spot to give the grass beneath it a chance to recover. I also use 7-gallon water jugs as tie-downs for my awning. I have to move those every two days or so, too.
Throughout the week, I pull out the dandelion flowers so they don't have a chance to go to seed. Once in a while, I weed around the electrical box for the site next door, where I've planted sunflowers. This is mostly so the weed-wacking guy doesn't cut my sunflowers down, like he did last year.
Lawn mowing day is a big deal for me. I untie and move the water jugs and move the table and any other furniture out of the way. The guys come through with a weed-wacker and a lawn mower. They usually put the table back for me — it's heavy! If it's not windy, I give the grass a rest from the water jugs.
Anyway, I made this little video this morning so you can have a better idea of what I'm talking about here. The campground may not be fancy, but it's relatively pleasant, safe, and cheap. This is my second year here and everyone knows me. I have a [barely] passable WiFi Internet connection, mail delivery, and access to a restaurant and its ice machine. My helicopter is across the street and down the block, about 1/2 mile away. (Blocks tend to be one mile square around here.) Can't get much more convenient than that.