It's picking time!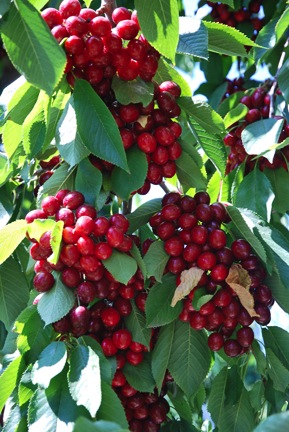 I stopped by one of the orchards I'm providing drying services for at about 2:30 PM this afternoon. A refrigerated tractor-trailer truck full of cherries was just pulling out. The grower was there, and he looked very cheerful. He told me I was too late; they start picking at 4:30 AM and finish for the day by 1:30 PM.
We talked for a while about the cherries and how they grow. He said the harvest was heavy this year and that he had about 3 times as many cherries as he'd harvested last year. He also said his cherries were, for the most part, nice and fat and that the buyers were going to love them.
He showed me how cherries have to be picked — by the stem to prevent them from going bad too quickly. He pulled a big fat bing off a nearby tree to demonstrate and handed it to me. It was beautiful.
We also talked about my flying. I'd flown over his orchard twice during our three-week contract and I wanted to make sure I'd done it the way he expected. I tend to fly a little low at times and I wanted to make sure I didn't damage the cherries. Bings are pretty sturdy — he tried to find some blemishes on the one he'd picked for me but couldn't. He said that when they're really good and red, you can't really see any damage. He said the wind damages them just as much as the helicopter most times.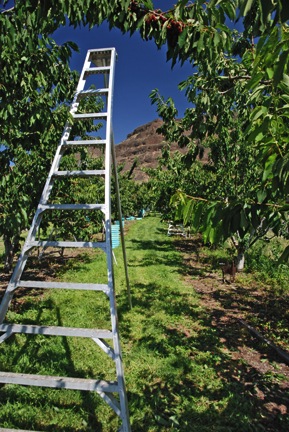 He and his pickers had begun picking on Thursday. He's got 30 acres of mostly mature cherry trees and expects to be done picking on Monday. That's when my contract with him ends.
He invited me to come back earlier tomorrow to watch them pick and then process the cherries. He has some kind of cooling bin that brings the fruit temperature down near freezing before putting them into the truck. He says this keeps them fresher longer. He also promised to give me some cherries to take with me tomorrow.
I took a few photos in the orchard before leaving.
And, of course, I ate that big, beautiful cherry.