A new meme.
This afternoon, while looking through some photos to send to an editor, I stumbled upon one I'd forgotten all about. This isn't a great photo, but it's a cool photo. The kind of photo I want to share with others. It doesn't show off my photography skills, but it tells a story all by itself.
I realized that I had a lot of photos like this. Photos that weren't good enough to make it into my Photo Gallery but were certainly worth sharing. So I figured I'd create a new meme for them in my blog: Found Photos. I'm hoping to fill it with the kind of fun photos we all have but hesitate to share because they're not quite "perfect."
The first photo in the series, Wheat Harvest, is a good example: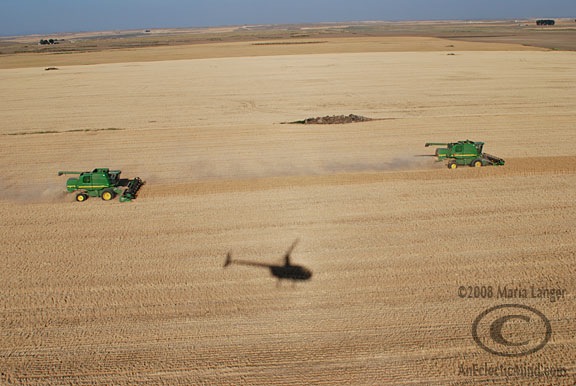 I shot this image through the plexiglas window on my friend Jim's helicopter. We were flying from Coeur d'Alene, Idaho to Chelan, Washington. It was late afternoon. Jim was at the controls and I was shooting photos. When we came upon these combines, our flight turned into an impromptu photo shoot, with Jim swooping around to put my into position to get the shots. One of the shots, "Combine in Action," ended up in my Photo Gallery. But this one seemed too goofy to include. After all, it includes the helicopter shadow and everyone knows that you don't want your shadow in your photos.
Or do you? This is kind of fun, isn't it? Seeing the helicopter's shadow on the ground with the two combines? All going the same way?
The picture has problems. Focus is off and the horizon, which I probably should have excluded, is not level. I think it also shows the curvature introduced by the camera's 28mm wide-angle lens. I could have done better if the door was off and I was trying a little harder. But we were just having fun and I think this picture shows that.
I'm back in Washington and so is Jim. Last year, we promised to take turns flying and shooting photos. Before the end of July, I'll remind him of our promise and get some new photos from the front passenger seat in his helicopter.