Huge windmills on a ridge.
The weather pattern here these days has been mostly sunny in the morning with increasing chance of showers in the afternoon. Because I have to fly after it rains (see "The Life of a Cherry Drying Pilot" for details), I need to be near the helicopter when it's most likely to rain. That means the only time free for running errands and exploring my surroundings is when it's least likely to rain. Lately, that means in the morning.
So yesterday morning I set out on a trip to the Wild Horse Wind Farm on a series of ridges northeast of Ellensburg. I can see the windmills from my camper down in Quincy and I visited them once before last year. This year, I bought along my Sony HD Handycam video camera and my new Flip Video. I wanted to capture the movement of the windmills, as well as the incredible "wooshing" sound the blades make as they cut through the air.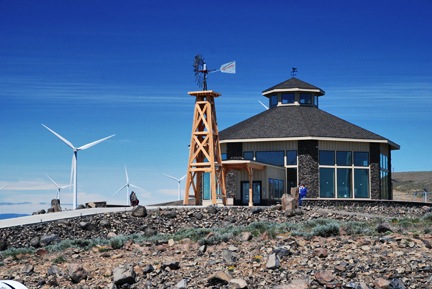 I stopped for quite a while at the Visitor Center — mostly because it was cold outside. Wild Horse Ridge is quite a bit higher than it is in Quincy and, as you can imagine, it's usually windy there. I threw a long-sleeved shirt on over my t-shirt but was still chilled. So I started out in the Visitor's Center. Last time I'd been there, it had been crowded with kids, so I'd cut my visit short. This time I was able to look at the exhibits and video clips they had playing. One of the video monitors was playing a Nova episode about the Missoula Floods; I added it to my Netflix queue this morning. I especially liked the status monitor display which showed a video screen with a map of all 127 windmills, indication of which ones weren't operating (two of them), and total power output of the operating generators.
I do recommend stopping at the Visitor's Center if you ever go up there. There are plenty of easy-to-understand exhibits about the wind farm and energy, including some hands-on exhibits for kids. It's also a great destination for school groups. The last time I was there, a busload of kids was on hand. They offer free tours of the facility that visit the controls in the base of one of the nearby windmill towers. I took the tour last time, so I skipped it this time.
When I was ready to go out and brave the wind, I took a short walk with my still camera before heading back to the truck for my Handycam and tripod. Even though the camera is tiny, I always put it on a tripod to shoot. I simply can't hold it still enough to create good video on my own. I walked along various pathways and framed up what I think might be good shots. Then I took a series of 30-second clips, using my body and top shirt to shield the camera's microphone from the wind. My goal was to capture the sound. I haven't seen the clips yet, so I don't know if I succeeded.
Afterwards, I stowed the camera back in the truck and brought out my Flip Video camera to do a few clips for use on my blog. I bought the Flip the other day as a birthday present to myself. I find that if I don't get a new toy at least once every 6 months, I go nuts. I've been fiddling around a lot with video lately. My Sony takes amazing quality shots, but getting it Web-ready is a time-consuming, grueling process. I wanted an easier way to create Web-ready video at a better quality than my Blackberry Storm offers. When I saw the Flip while wandering around a mall the other day, I sprung for it. It certainly can't be any easier to use. The video quality is so-so, but certainly good enough for the Web.
I shot the following three narrated sequences; I'll let them speak for themselves. The second one, which shows off a blade on display, can give you an idea of the real size of these things — they're huge.
Want some information about the Wild Horse Wind Farm? Here are three good links:
Or find other links by entering "Wild Horse Wind Facility" or "Wild Horse Wind Farm" in Google.