Neighborly flying service folks let me park my helicopter on one of their tie-down spots.
Last year, when I was in Quincy for cherry drying season, I was fortunate enough to get a hangar for two months. Having a hangar can be a pain in the butt when you have a helicopter, but I was prepared and had my tow bar handy. Weather was [too] good and I didn't fly much. It was nice to keep the helicopter out of the sun.
This year, I didn't bother trying to find out if the hangar was still available. I doubt it is — someone else was moving in the day I moved out. And since I don't have my tow bar with me, moving the helicopter in and out would be nearly impossible by myself anyway.
Quincy airport is about 4-1/2 miles from my living space at the Quincy Golf Course. That isn't very far. But there were other, closer options for parking the helicopter. One was the Ferguson Flying Service right across the street from the golf course. I stopped by there on Monday, before bringing the helicopter in from Seattle, to see if I could park there. They very graciously said that I could.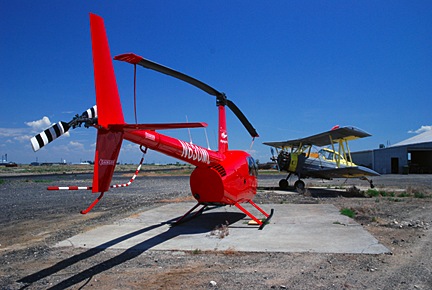 So I'm parked on one of the concrete tie-down pads they used to use for their crop dusters.
For those readers who are not familiar with agricultural aviation, i should probably explain what a flying service is. A flying service is a company that provides crop dusters and related agricultural aviation services for farmers and growers. Quincy is farm country, full of wheat, corn, alfalfa, potato, and other crop fields, as well as fruit trees and even some grape vines. There are at least two flying services in the area. Each has its own scrawny paved runway and a small handful of crop dusters.
Now, if you look closely at the biplane in these photos, you'll probably notice that it doesn't look "airworthy." It's not. For one thing, it's missing it's tail — or "tail feathers" as one of the local pilots referred to it. Its big radial engine also needs some work. It's apparently bled out, too — the engine needs some serious TLC.
But Ferguson's has other airplanes it flies. This one is parked until it's repaired and ready to fly.
I want to thank the folks at Ferguson's Flying Service for allowing me to park at their facility. It's great to have the helicopter so close and it's great to chat with the guys when I go over to check on it or prepare for a flight.