The place to stay in Monument Valley.
I need to take a moment to talk about Goulding's Lodge in Monument Valley, since so many of my Twitter friends commented on the photos I tweeted of the view from my room.
Goulding's was founded by Harry and Leona ("Mike") Goulding back in the 1920s or 30s. It was a trading post back then, where the Navajo would trade their rugs, blankets, jewelry, and other hand-made items for goods that the Gouldings stocked in their store, such as foodstuffs and items otherwise unavailable on the reservation. The trading post started as a tent and, after a while, moved into a stone building that still stands on the property, housing a museum.
The view from my room at first light. I slept with my curtains open so this is the first thing I saw when I woke up on my most recent trip.
During the depression, many of the Goulding's suppliers went out of business, making it difficult for them to get goods to trade. Harry Goulding got the idea of going to Hollywood to sell John Ford on the idea of using Monument Valley as a location for his western movies. He went out there with some photos of the place and, after some difficulty, got to show them off. Ford came east with film crews and John Wayne. The rest, as they say, is history. Many movies were filmed in Monument Valley, giving the local economy a real boost.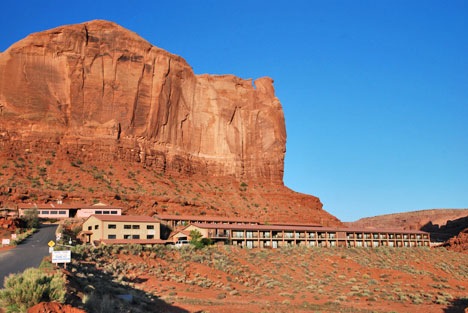 Goulding's Lodge is built into the side of a hill overlooking the west side of Monument Valley.
Goulding's Lodge is a pair of motel-like structures built on a hillside overlooking the western part of Monument Valley. Until recently, it was the only lodging in the valley — the Navajo have since built their own hotel inside the park. Just about every room at the lodge has a view of the valley from a private patio. There are also several houses that belong to the lodge that can accommodate larger parties — when I came to the valley with an Arizona Highways writer and video crew in October, we were lodged in a pair of homes that could have easily slept 10 people.

The old trading post is now a museum.
Harry and Mike are long gone but Goulding's remains privately owned. It's staffed almost entirely by local Navajo workers. In addition to the lodge and trading post museum, there's a newer "trading post" gift shop, a restaurant, and a small movie theater that shows slide shows, videos, and old John Wayne movies nightly. There's a private landing strip across the street where pilots who stay at the lodge are welcome to land and park. Goulding's also offers several different ground tours of Monument Valley; the passengers on my six-day Southwest Circle Helicopter Adventure take a 3-1/2 hour tour while we're there.
If you're interested in staying at Goulding's Lodge, reserve your room now. I book a year in advance to make sure I can get the rooms I need. I recommend two nights, if you can, so you can get into the park and enjoy both a sunrise and a sunset at your leisure. Although you can take your own vehicle into the park, you can go much deeper into the park if you go with a guide; you can arrange for one at Gouldings or inside the park.
No matter how you get there, I highly recommend a stay. You'll never forget it.