More photos from my trip.
I slept pretty crappy last night. My room got cold and I had to get up in the middle of the night to crank up the heat and throw an extra blanket on. I was very glad for the extra blanket. The heat — not so much. It was noisy and part of what kept me up was the sound of it going on and off for the rest of the night.

I woke before dawn feeling too lazy to walk out to the overlook with my camera. Later, I finally went out and managed to capture a hot air balloon in flight. It would have been a better photo about 15 minutes earlier.
I was in Sedona, of course. On the second day of a Southwest Circle Helicopter Adventure.
Once I shook the laziness out, I went over to the lookout and shot some early morning photos of Coffee Pot Rock and the neighboring red rock buttes. I was the only person up there — which really surprised me. The last time I was up there at dawn, there had been a small crowd. But tourists are weird about sunrises and sunsets. They'll stick to a sunset until the sun slips behind the horizon, often missing out on the colorful light show that often comes afterwards in the clouds. For sunrises, they'll show up before the light appears and leave just as it's starting to play on the surroundings. So perhaps I'd missed the crowd. The light was good — although it would have been better a bit earlier.

After grabbing my passenger's luggage and running them over to the airport restaurant for breakfast, I headed out to the helicopter to load it up and preflight. And take a few photos. Please don't think I'm consumed with photographing my helicopter. I'm not. But I do need a few new shots of it someplace other than parked out in the desert. And you gotta admit: it is pretty.
By the way, did you know that Sedona is listed as one of the top 10 most difficult airports to land at in the U.S.? I think it was in AOPA Pilot, but I could be wrong.
After some more running around — including finding myself a latte and putting gas in the rental car — my passengers and I took off for the Grand Canyon. I took us northwest past Sycamore Canyon and up to the Colorado Plateau. We flew over my place at Howard Mesa and past the old airport near Red Butte before coming in for landing at Grand Canyon Airport.
There was another R44 on the other transient helipad. The pilot had tied down just one blade. Not very bright unless you want to damage the droop stop. I know this from experience. On an R44, you tie down both blades if you're serious about protecting them.
I buttoned up the helicopter while my passengers waited on the ramp. It didn't take long. We were running very early. That meant we spent a lot of time waiting for their helicopter flight over the canyon with Maverick. Afterwards, we took a taxi into the park.
Now normally I'd bring my passengers in to the hotel where they'd pick up the key for their room later on, tell them where to get the key, and let them loose at the canyon. I'd check the luggage and get lunch. Later, I'd check them in and move their luggage to their room. After spending a few hours along the rim, they'd come to the desk, get their key, and go to their room.
Today it didn't work like that. When I got back from lunch and went to check on the status of the rooms, my passengers were waiting in the lobby. The rooms weren't ready. My passengers weren't interested in a stroll along the rim. So they waited.
For about 2-1/2 hours.
I felt terrible about this, but there's nothing I could do. The rooms are guaranteed for 4 PM check in. Sometimes they're ready earlier. Sometimes they're not. Today they weren't. I never in my wildest dreams expected passengers to prefer sitting in the lobby of the hotel to wait for their room instead of sitting outside on a beautiful day with the Grand Canyon in front of them.
Of course, my room was ready first, but I couldn't claim it. When theirs was finally ready — at 3:45 PM — I paid a bellman to take them and their luggage to it.
Their room is a canyon view cabin with a fireplace, television, and full bath. Mine is a tiny dorm-like room with a toilet and sink but no shower. It's cosy, but there's at least one spider living in it and the light bulb is missing from one of the two bedside lamps.
Anyway, I took a lot of photos of the canyon and the tourists and the squirrels while I was waiting. The squirrels were especially entertaining. They're not afraid of people at all. They come right up to you, especially if they smell food. I think one of them caught a whiff of the cheese and crackers in my bag. Everyone was taking photos of them, watching their antics. I was very pleased to see that no one fed them.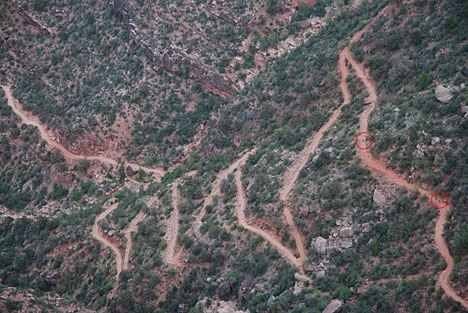 Once we were all settled into our rooms — at least I assume they're settled into their room — I caught the shuttle out on the West Rim Drive, making a few stops along the way. The light today was a bit softer than I like for a late afternoon at the canyon, but it got better (and worse) as time went on. One of the stops offered an excellent view of Bright Angel trail. This shot isn't very artistic, but it does document the zig zag nature of the trail. And the two red circles indicate where hikers were coming up. Can't see them? I'm not surprised; I had to zoom in on the full resolution photo to find them.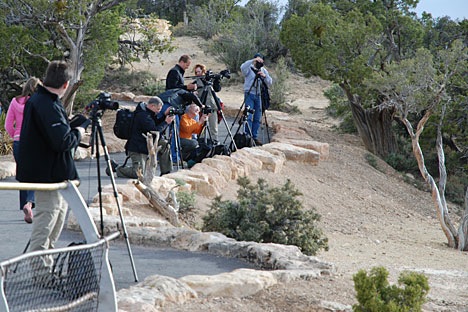 There was a group of photographers working their way to Hopi Point, which is apparently "the best" lookout for sunset photos. I got a real kick out of them when I saw them all lined up to take the same photos. If this is what "photowalking" is about, I don't think it's for me. Most of these folks had attitude written all over them. They carried backpacks full of lenses and had tripods that could have supported me. And they were hurried along by a guide — or troop leader? — who kept reminding them of the time and how important it was to reach Hopi Point by 6:15 PM.
Personally, I don't think true art can happen if it's rushed.
I stuck around at Powell Point and got all of my fading light shots from there. I could see Hopi Point out to the west — it was absolutely mobbed with people. Powell had a steady handful of people that came and went. The light got good about 15 minutes before the sun set and I got this rather nice shot. There are a few others that aren't bad; I may put them in my Photo Gallery.
I took the shuttle bus back to my room, put on comfy clothes, and started winding down for the day. And I wrote this. Next up: some cheese and crackers and a movie on my laptop.