An afternoon on Airport Mesa.
I'm in Sedona, relaxing in my room at Sedona Sky Ranch. It's the first day of my Southwest Circle Helicopter Adventure. I left Falcon Field in Mesa, AZ (near Phoenix) at 10 AM with two passengers, their luggage, and my luggage. We had a great scenic flight through downtown Phoenix, up past Lake Pleasant and the Indian ruins atop Indian Mesa, over Black Canyon City and Arcosante near Cordes Junction, past the cliffside town of Jerome, and along the red rock cliffs to Sedona. Our total flight time was around 70 minutes.
Once in Sedona, I got our rental car and took my passengers down to Uptown Sedona for the day. It was around noon and they had a Jeep tour scheduled for 3 PM. That gave them plenty of time for lunch and shopping in town. After dropping them off, I took care of some business at the Jeep tour company, grabbed a salad to go at Wildflower Bakery, and headed back to the airport to button up the helicopter for the night.
Zero Mike Lima parked at Sedona. The white stuff in the sky is mostly smoke from a burn up on the Mogollon Rim.
"Buttoning up" the helicopter consists of tying down the blades in case it gets windy — don't want the blades flopping around — doing a post-flight check, adding some oil, cleaning the windows, and locking up. I hitched a ride out to the helicopter with the fuel guy so I wouldn't have to walk or bother someone to open the gate. I like the fuel folks here. They're friendly and they give me a little discount. I topped off both tanks. I like to say that the only time you can have too much fuel is if you've got fatties on board (which I don't) or you're on fire.
I ate lunch out in front of the airport terminal on a bench, sheltered from much of the wind. Then I fetched my camera and spent some time taking photos like the one above. Afterwards, I checked in to the hotel. We're staying at Sedona Sky Ranch, which is on Airport Mesa. I managed to get an upgrade for my passenger's room so they'd have a full view. My room is one of the garden rooms.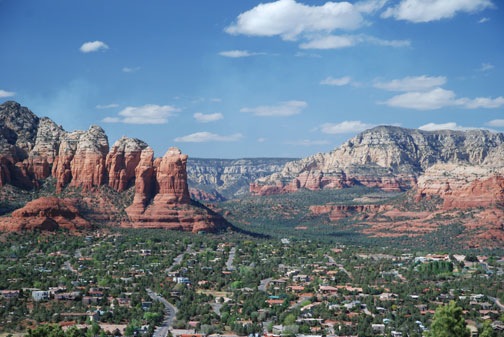 This is the view from the lookout point adjacent to Sky Ranch Lodge's Red Rock View rooms.
Sky Ranch Lodge, which I wrote about in detail here, is a weird little place. It's at the edge of the mesa and the rooms looking out to the north have amazing views from their semi private patios. The only reason I'm not recommending it so strongly to my passengers is the simple fact that the rooms could use some "freshening." (This is a word a friend used when I brought her here.) It's not that they're dirty or unpleasant in that respect — it's just that they could really benefit from some new mattresses and linens. Some of the rooms have a downright 70s motel look about them. An investment of about $500 per room would make all the difference in the world.
But you really can't beat the view. And it's so much nicer and quieter up here.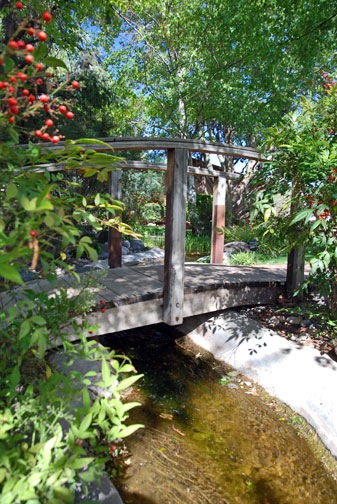 Part of the garden area at Sky Ranch Lodge.
My room is one of the garden rooms. The grounds here are beautiful and immaculately kept, with little streams and goldfish ponds under shady trees, surrounded by flowering bushes. Very pleasant. I'm thinking of grabbing my book later on and relaxing by some of that running water. Or maybe trying out the hot tub, which isn't far from my room.
After dropping off my passengers in town, I had the rest of the afternoon to myself. Although there was a slight chance my passengers could call for a lift back up to Airport Mesa, I have a feeling they'll just ask the Jeep tour people to bring them up. They're on their own until tomorrow morning. We need to be back at the helicopter by 9 AM to arrive at Grand Canyon Airport by 10:30. They have a helicopter tour with Maverick before we head into the park for our next overnight stay.
As for me, I'll probably head back down the mesa for dinner. I want to check out some of the hotels down there. I'm looking for another affordable but well-kept lodge in town to offer my Southwest Circle guests.
I'll also likely enjoy the sunset from either the trail northeast of Airport Mesa or the lookout area on the mesa. We'll see. I have more than 2 hours to plan that out.
And maybe I'll get ambitious and upload some more photos.