We spend a weekend at our "summer" place on Howard Mesa.
It's no secret that central Arizona, near Phoenix, gets brutally hot in the summer time. Daytime shade temperatures in July and August typically 110°F or above, and you can add 20 to 30°F if you happen to step out into the unyielding sun. We realized after just a few short years in Wickenburg that we'd need a place to escape to.
I heard about Howard Mesa on a radio commercial advertising 10-, 36-, and 40-acre parcels near the Grand Canyon. Mike was away at the time — he telecommuted to a job in New Jersey and spent about a week and a half each month there — so I hopped in my Toyota and made the 154-mile drive alone to check it out. I was soon seated in a big sedan beside Larry, who would be our sales guy, driving up well-maintained dirt roads to the few lots that were still available on top of the mesa. I fell love with the second lot he showed me, a pie-shaped wedge near the mesa's highest point. The wide "crust" of the pie shape was flat and bordered state land, where I was assured nothing could be built. The rest of the land dropped off gently toward the west. Every inch of the property was buildable, but the obvious building site was right before the dropoff, where an old two-track road used by ranchers and hunters led to a clearing, where a single cow rested in the shade of a pinyon pine.
The land was off-the grid — that means no electricity, water, telephone, gas, or cable television — five full miles from pavement and about ten miles from the nearest store where one could buy a quart of milk. Williams, AZ, which had a supermarket and restaurants, was 20 miles south. Valle, the crossroads of Routes 64 from Williams and 180 from Flagstaff, was 14 miles north. The entrance to Grand Canyon National Park was another 30 or so miles north of that.
It was the quiet, beauty of the place that hooked me. Not a single building was within sight — just rolling hills of golden grasses, studded with the dark green of juniper and pinyon pines. Once Larry shut off his Buick, all I could hear was the wind, with the occasional call of a crow or raven.
But it was the 360° views that sold me. To the north, is Red Butte and the North Rim of the Grand Canyon. To the west and northwest, are distant mountain ranges near Seligman, as well as Mount Trumbull on the Arizona strip 85 miles away. To the south is Bill Williams Mountain, just south of Williams. And to the east is snowcapped Mount Humphreys and the San Francisco Peaks, the tallest mountain in Arizona.
The price for all this amazing remote beauty? Less than $1,000 per acre. And our lot was priced higher than most others because of the view.
That's how it all started. And what we realized just last night is that we've owned this place for ten years now. It was the Toyota that trigged the date memory. I bought my Jeep in the summer of 1999 and I was still using my Toyota as my primary car when we bought the place. That meant April/May 1999.
Our use of the place has varied over the years. In the beginning, we camped there on weekends in a pop-up camper, which we kept folded up on the property when we weren't around. We had a round pen for the horses, which we'd bring with us. We got the entire 40 acres fenced in so the horses could run free. Then we began preliminary work on getting a house built. After a false start getting ripped off by Lindal Custom Homes — they told us we could build a home for $60/square foot but needed $600 to draw up the plans; the plans resulted in a home that would cost $120/square foot to build — we started exploring other modest custom home solutions. We had a septic system put in. I spent the summer of 2004 in a trailer up here while I flew for one of the Grand Canyon helicopter tour operators. And then, to give us a place to store our stuff while we were preparing to build, we put in what we call our "camping shed."
And that's where things got stalled.
You see, although I still love our place atop the mesa and would love to build a full-time residence up here, Mike thinks it's a bit too lonely and remote. With so much going on for us in the Phoenix area these days, we don't come up here nearly as often as we used to. To further complicate matters, the future of the area has become questionable. Much of the land up for resale and several property owners have put up commercial style buildings or trashed up their lots with a lot of junk. All this takes away much of the charm of the place. It seems senseless to pour a lot of money into a permanent residence when we're not sure whether our new home will be looking out over a bunch of used shipping containers and broken down cars or another oversized Quonset hut or a second-hand mobile home left to deteriorate in the sun and wind.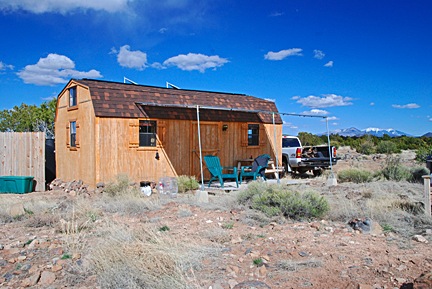 So we come up here on the occasional weekend and soak up the silence or the sound of the wind. If the nights are moonless, we can see almost as many stars as Hubble — or at least it seems that way — along with the distant glow of Las Vegas, 173 air miles away. Jack the Dog spends most of his time investigating the rocks, looking for lizards or pack rats, or chasing rabbits. Alex the Bird hangs out in his cage, playing with his toys and whistling along to the music on my iPod. Mike and I go for walks or do odd maintenance tasks to keep our camping shed in good condition. Sometimes we'll go for lunch and a walk along the rim at the Grand Canyon. Other times, we'll drive out to Flagstaff for some Thai food and to pick up some odds and ends in Home Depot or the RV repair shop. Still other times — like this weekend — we'll just lounge in the shade on the camping shed's "porch," reading or talking.
Its restful — the perfect antidote for the poisons of modern civilization.
When I'm finished with this year's cherry drying gig, I'll probably spend a month or so up here with Jack and Alex. Mike will join me on weekends. I'll work on the last of the three books I have contracted for this year. I'll make day trips to Williams or the Grand Canyon or Flagstaff. I'll enjoy the violent thunderstorms that roll through during monsoon season. I'll take my Jeep to explore the forest roads bordering Grand Canyon National Park and likely find one or two new places to look down into that vast abyss without a tourist in sight. At night, I'll look out at the stars and listen to the coyotes. It'll be a simple life — an escape from reality.
Something I need more often than most people.