Big is an understatement. It's huge.
I'm a big fan of pulp fiction — the hard-boiled detective kind. I've read just about everything I can get my hands on by the big names of the genre — Dashiell Hammett, Raymond Chandler, and James M. Cain — and lots by the lesser known names that, frankly, I can't even remember. There's something about the language used in these stories from the 20s, 30s, and 40s that I find pleasing. It's the slang, mostly, and the quick sentences and sharp dialog. The rough characters who are described by their actions, rather than a bunch of author-injected descriptive prose. The stories that suck you in in true page-turner style. The morals, which are somehow questionable and right at the same time.
I thought I was relatively alone in my taste for this kind of writing until the other day, when a Twitter friend, @MikeTRose, sent a few photos to TwitPic of a friend's pulp fiction collection. This made me feel that liking pulp fiction wasn't something to be ashamed (for lack of a better word) about. I could come out of the closet and greet other pulp fiction lovers who might drop by and visit my blog.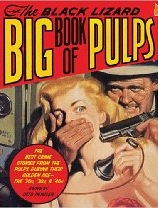 A while back, I treated myself to The Black Lizard Big Book of Pulps, edited by Otto Penzler. This huge, 1,168-page volume has dozens of classic pulp fiction stories. It's sitting on my bedside table and each night, before I go to sleep, I treat myself to some murder and mayhem where the good guys might spill a little blood, but always do the right thing.
Each story begins with a half-page introduction that tells you more about the story's author and how he — and yes, they're just about all men — got his start as a writer. A remarkable number of these authors had their books and short stories made into movies — I guess the movie industry could really churn them out in the days when plot, dialog, and acting was more important than special effects.
The mix of authors is amazing. One author might have good, tight prose and dynamic, slang-filled dialog. Another author might be long and rambling, as if he knew he were being paid by the word and wanted to stretch it out. The stories range from basic get-the-bad-guy plots where you know what the bad guy has done and follow along as the good guy gets him to plots that are true mysteries, right up to the end.
I recommend this book to anyone interested in pulp fiction who wants a compendium of stories that cover the entire range of the mystery/detective part of the genre. Although it's not the kind of book you'd want to lug around on vacation or bring to the beach, it makes a good addition to your bedside table or reading chair.
Anyone else out there enjoy pulp fiction? Use the comments link or form to share your favorite authors, stories, or compilations.