I finally have a plan for the summer.
Yesterday morning, I received a fax I'd been waiting for. It was from a helicopter services company based in central Washington state, not far from the Columbia River. I'd worked as a subcontractor to a subcontractor for them last year to dry cherries with my helicopter. This year, with the middle man out of the picture, I contacted them directly, offering my helicopter and services.
And then I waited.
Normally, cherry contracts start going out in March. This year, with the economy so questionable, the contracts went out a month late. My buddy, Jim, got his on Friday. When mine didn't arrive by Saturday, I assumed they had enough pilots. After all, there's a glut of them without jobs and plenty of flight schools that are finding themselves with plenty of helicopters and CFIs but not enough students. I assumed they'd chosen someone else — likely someone closer to the orchards — instead of me.
But on Monday morning, the fax arrived. It laid out the terms for my minimum 21-day contract. The money offered was the same as last year. If fuel prices stay stable — rather than spiking to new highs as they did last year — I'll do okay. If it rains a lot — and I have my fingers crossed — I'll actually bring home a decent amount of money. Maybe even enough to pay off my camper loan.
The Logistics
Although a specific start date wasn't mentioned, I could start the contract as soon as May 15. It's more likely, however, that I'll be starting around June 1, as I did last year. Apparently, the cherry crop is running late again.
I told them I need a week's notice to get the helicopter into position. Because of the distance involved — I'm about 1,000 miles away — it's a multiple-step process to get all my playing pieces on the board:
Ferry the helicopter from Wickenburg to Seattle's Boeing Field. I have two empty seats for this flight and am actively seeking one or two people to fill them. You can learn more about it here; I can't exaggerate what an incredible experience this flight is — especially since I let my passengers choose the route. This flight will take 2 to 4 days, depending on what my passengers have in mind.
Drop off the helicopter for its annual inspection. I use the services of Rich Carter, who is probably one of the top 5 Robinson mechanics in the country.
Fly via airline back to Phoenix.
Prepare my camper and truck.
Drive from Wickenburg to my first base of operations in Washington State. If my truck behaves and the weather holds, I can do the 1,200-mile drive in two long days.
Set up the camper in a campground or grower field.
Take an airliner from Wenatchee, WA to Seattle, WA.
Ferry my helicopter from Seattle to my first base of operations.
I figure the absolute quickest I can do all this is five days. I'm hoping I get seven.
Of course, I can do a lot of the preparations this month, so when I return from Seattle, I can just hook up the camper and go. The preparations include giving my camper a total check out, loading it up with the things I'll need to live and work in it for up to eight weeks, and fixing a few little broken things, like the DC jack in the kitchen area, which I use to power my iPod. I'm also considering the installation of a satellite dish that'll get me Internet as well as television — although I don't usually bring a TV with me.
Well, at least I can try to do the preparations. I'm working on a book this month and promised my editor I'd be done by month-end.
The Ferry Flight
The ferry flight is the part I'm looking forward to most. Last year's route took us due west across the Arizona and California deserts to the coast at San Luis Obispo. We then flew up the coast all the way to San Francisco, where the marine layer pushed us inland. We overnighted at the north end of Napa Valley, then pushed on to Portland the next day, doing a good portion of that flight over the coast, too. The last day, we made the quick flight to Seattle with a flyby of Mt. St. Helens, which was steaming. I still remember those towering waterfalls from snow melt off the cinder cone. You can read about each day of the flight and see more photos here, here, and here.
It's pretty important that I get paying passengers on board for this flight, so I've cut my usual charter rate down to below my cost in an effort to attract deal seekers who want a once-in-a-lifetime flight experience. That's my preferred approach.
Plan B is to offer the flight to helicopter pilots who want to build time in an R44. The trouble with this plan is the extra effort involved: I need to get the pilot on my insurance, which means he needs to have a certain minimum number of flight hours in R44s and has to have taken the Robinson factory safety course. The rate I offer these guys is lower than my charter rate, so I'd have to eat more of the ferry cost. And, of course, if someone is paying me for the privilege of flying my aircraft, I have to let him or her fly it. Frankly, I like to fly — even 10 hours worth — and would prefer to fly it myself. So Plan B, while certainly possible, is not my preference.
Plan C is even more distasteful. It means flying up there by myself. The good part of that is that I can do all the flying on whatever route I choose. The bad part is that I won't get any of my ferry costs covered. And since my ferry costs are significant for a 10-hour flight, I'd rather get them covered than have the pleasure of a solo flight.
Besides, it's nice to have company.
Settling In
Once all my tools are up there, I can settle in to wherever I'm based. I'll likely spend 3 weeks at the first base and, with luck, get moved to another base farther north after that. Last year I started on the Columbia River near Quincy (south of Wenatchee), moved north to Pateros and Brewster, and then moved back to the high country around Quincy. Then I was done, having been on call for seven weeks with only two days of flying.
No, last year was not profitable. I just about broke even. But it was nice to get away from Arizona's heat and do something that wasn't tourism-related.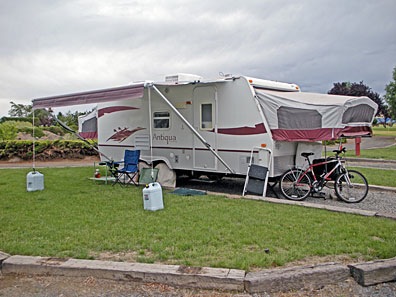 How much I "settle in" is questionable. While I had the trailer parked in the same campground spot for almost two full months last year (see photo) and spent 10 days at a motel in Pateros, this year I'm more likely to be moving the camper around. It's pretty much self-sufficient — with solar panels that should keep the batteries charged on those long, summer days — but I'd like to get a full or partial hookup. I'm not opposed to parking on a grower's property or even at an airport where the helicopter would be based.
I would like to minimize the number of times I have to move it, though. It takes about an hour to set up or break down camp, due to the nature of the pop-out beds. I don't mind doing all this work, but if it happens to be a very rainy season, I'm not sure whether I'll have time to do it. I've been told to expect 10-hour flying days if it's a wet one.
Looking Ahead
I'm looking forward to the trip and the challenges it presents. I had a pretty crappy winter here in Arizona, dealing with a lot of bull that I'll likely blog about sometime in the future, when it's all a dim memory. While my company's inclusion in the May 2009 issue of Arizona Highways magazine is already helping me book excursions for the upcoming fall flying season — and perhaps even one or two excursions before I leave for the summer — it's not going to help me in the summer months, when I really do hate flying here. You cannot imagine the heat, and escaping the heat to the high country introduces all kinds of problems because of high density altitude. Cherry drying is challenging, tedious, and dangerous work, but it's a change.
And I thrive on change.
Read More Posts about Cherry Drying: