Another stay at Ventura Harbor.
I'm back in Ventura again, working hard on a new training video for Lynda.com. The schedule is very tough this time around and at the end of the day, I'm absolutely exhausted.
But tonight, I took a few minutes to walk along the path around the harbor. I did it around sunset, waiting for a crescent moon that never appeared. And then I did it again after dinner.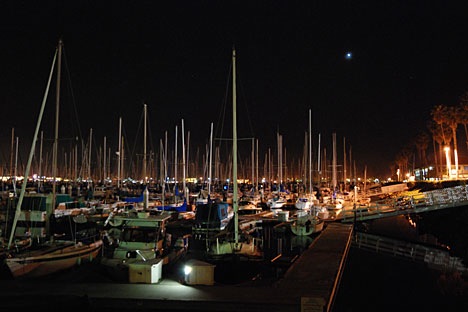 And I took some photos of the same damn boats I always take pictures of when I'm in Ventura.
This is a night shot taken not far from my room. The bright light in the sky is Venus. This was a long exposure, a full stop "overexposed" — at least as far as my camera's meter was concerned.
I used my new Slik tripod for this shot. It's designed for smaller cameras, but it held up my digital SLR with its fat lens pretty well. I like the pivoting head and really wish I'd gone the same route with the Manfrotto I got for more serious photo work.
I'll look for that crescent moon again tomorrow.
Photo Info:
Camera: Nikon D80
Focal Length: 19mm
Aperture: f/3.8
Exposure: 3 seconds