I get ready for my sixth Part 135 check ride.
Some of you may know that I hold what's called a "Single Pilot Part 135" certificate. This is an FAA certificate that allows me to perform operations that a regular Part 91 pilot can't perform. For example, I can pick you up at Airport A and drop you off at Airport B. I can also take you for a sightseeing tour more than 25 miles from our starting point. This might not seem like a big deal, but it's very difficult — if not downright impossible — to build a business in aviation without the capabilities offered by Part 135.
There are three kinds of Part 135 certificate: Single Pilot, Single PIC (I think that's what it's called), and Basic. Single Pilot means there's just one pilot doing all the Part 135 work. I can have two pilots in my company, but only one of them — me — would be able to do Part 135 flying. The other would have Part 91 limitations. A Single PIC is for companies with aircraft that require two pilots; one is always the pilot in command, but the second officer could be any qualified pilot. A Basic Part 135 certificate is not very basic at all. It allows multiple pilots in a company to operate under Part 135. It also requires all kinds of paperwork, training programs, and personnel.
I was a Part 135 pilot when I worked at the Grand Canyon. The company I worked for did all operations under Part 135 and had a basic certificate. I took my first Part 135 check ride with their check pilot. It wasn't a huge deal.
When I ordered my R44, I applied for a Single Pilot Part 135 certificate. In February 2005, I took my first check ride for that certificate. Since then, I've taken a check ride with an FAA inspector every February. My 2009 check ride is tomorrow.
The check ride is like any other commercial check ride. There's an oral part that lasts 1-2 hours. Then there's a flight part that lasts about an hour. I'm expected to get all the important questions right and to fly safely, to commercial helicopter pilot standards.
Every year, the flights get easier. I don't think it's because they're going easy on me. I think it's because I'm getting to be a better, more confident pilot.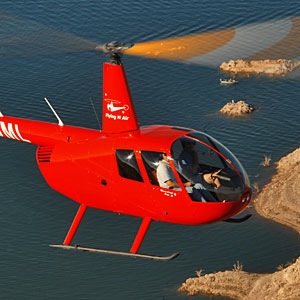 I now have over 800 hours on my R44 and I've flown just about every one of them. There's something magical about flying the same aircraft all the time. You get to know its little quirks. And you can fly it without thinking — it's as if it's an extension of my hands and feet. I climb in, strap myself in, start the engine, and fly. It does what I tell it to do without me laboring over it. That's a really great feeling.
Anyway, one of the reasons I haven't been blogging as regularly as I usually do lately is because I'm prepping for my check ride. Cramming. I can never remember weather minimums — we don't have much weather here in AZ — and I have to try again to remember them for tomorrow. Not that it matters much. The rules for airplanes don't apply the same way for helicopters. But I'll try to remember and hopefully get it right when I'm asked.
The rest should be pretty easy.
I'll let you know how I did tomorrow afternoon.