A shot from over Lake Powell.
My husband and I flew up to Lake Powell the other day to take care of some business. Among our chores was a photo flight up the lake as far as The Rincon (about 79 miles uplake from the dam at Page).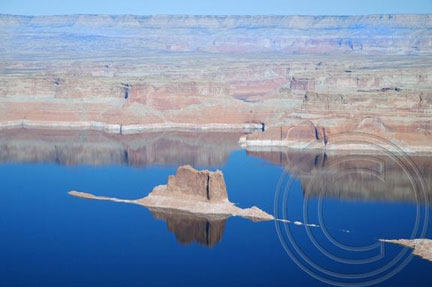 Mike took this shot as we began our flight uplake. It features Padres Butte, which is known by local tour pilots as "submarine" because it looks like a submarine conning tower. There was very little wind on the lake the reflections were outrageous. The lake is as blue as ever, but if we'd taken this shot later in the afternoon, the buttes and surrounding cliffs would have looked much redder. This shot was taken around 1:30 PM.
Mike was shooting still photos while I shot video. He's a pilot now, so we had the dual controls in. When he shot, I'd fly. When I shot, he'd fly. It worked out pretty well. We had both our doors off, so there's no glare. We were, however, pretty darn cold — it was only 50°F up there and when you're cruising at 80 knots with the doors off, you can't help but get cold.
I have more photos from this trip and I'll be uploading them to my photo gallery as I share them here.