Putting Netflix on your TV without a DVD.
My husband and I have a part-time residence in the Phoenix area, affectionately known as "Rear Window." In putting together this home-away-from-home, we decided to do what we could to cut living expenses there. This meant not getting cable/satelite television or telephone service.
We do have Internet, however. We have to. It's quite fast, although not as fast as the provider promised. (Bet you've heard that one before.) But it's way faster than at home. And it's fast enough for viewing Netflix content, as well as Hulu and other streaming video.

I have a Netflix account. After a rocky start, we settled in and I think it's a great service. Not long ago, Netflix added the ability to view certain titles immediately, on your computer. Although it was very slow in enabling this feature for Mac users, it also added the ability to stream video from the Internet to a computer, provided that you have a Netflix-compatible device. (I wrote a little about this here.)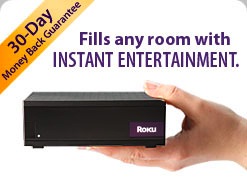 I bought the Roku Netflix Player. Yesterday, we plugged it in and gave it a whirl.
Setting Up
Setting up the device meant plugging it into a wall outlet (or power strip) and connecting it to the television. It came with all the cables we needed. We have WiFi at Rear Window and Roku had no trouble finding our AirPort Express network and logging in.
All the configuration is menu-driven right on the TV screen, using a remote that comes with the device. It was pretty intuitive. There was one point when it looked as if we were repeating steps we'd already done, but the process was slightly different. The only thing I think people might find baffling is how to get the activation code they need to enter into Netflix to connect their account to the device. I guessed at what to do and got it right. I think a lot of folks probably pick up the phone and call for help at this point.
Watching Movies
Once your Roku activation code has been entered into Netflix, the device is connected to your account. Any movies you have listed in your Instant Queue will appear on Roku's main menu. It takes about 60 seconds for a movie you add to appear on Roku, but you can have any number of movies listed there.
To add a movie to your Instant Queue, you must find a Netflix title that has both an Add and Play button. There are supposed 12,000 of these titles as I write this. One way to zip to the titles that can be viewed immediately is to click the Watch Instantly tab on the Netflix site. This displays only those titles you can watch online or via a Roku-like device.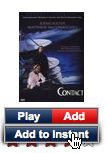 To add the title to your Instant Queue, point to the Play button and choose Add to Instant from the menu that appears. You can add a bunch at a time so Roku offers a good selection to choose from if you don't have a computer handy when it's time to watch.
When the popcorn has been popped and you're ready to watch a movie, use your TV's Input button to switch to the input you assigned to Roku. Then use Roku's remote to scroll through the movies you've added to your queue. Press the Select button to play a movie. There's about a minute of buffering and then the movie starts.
Quality, etc.
Quality depends on your Internet connection. Netflix recommends at least 3 Mbps or better for DVD quality. Our speed is supposed to be 9 Mbps, but I clocked it yesterday at about 4.5 Mbps. (You can test your speed for Netflix purposes and learn more about how speed affects quality here.) The movie we watched, Contact, played well with no skipping and very few digital artifacts. If I didn't know better, I'd think we were watching a DVD.
The TV we used it on is a 25-inch standard television. My husband has his eye on a large HDTV; it will be interesting to see how it works with that if he does buy it.
The Roku device supports all the usual video streaming controls, including pause/play, fast forward, and rewind. We played with this a bit. Each time you change the play point, there's a bit of buffering before the movie resumes. I don't think that's either unexpected or unacceptable.
Conclusion
I'm pleased with my $100 investment in Roku. I think it'll help us fill a gap in entertainment needs. Although there is a one-time investment in the device, there's no additional fee through Netflix to watch streaming content. The fact that the device is wireless makes it easy to move from one room to another. The device also supports Amazon Video on Demand (or will do so soon), so if you like to spend extra money on video, that's an option, too.
Personally, I hope they begin supporting content from other "free" sources such as Hulu and network television Web sites. It would be nice to get my Daily Show fix on a regular TV screen.