Adding to my flight journal.
It was 1 PM yesterday afternoon when the Concierge of a downtown Phoenix resort confirmed a Phoenix tour for two at 3 PM, departing from Scottsdale Airport. The helicopter and I were in Wickenburg.
I took down the particulars, hung up, and went into my office. I created a flight plan and the weight and balance I needed to be legal for my Part 135 charter work. Then I took a very quick shower, dressed in black jeans with a button-down Flying M Air logo shirt and black shoes, and fled to the airport with my paper work.
The Flight Down
Things were quiet (as usual) at Wickenburg Airport when I arrived. I opened my hangar and did a preflight. Everything looked fine, but I was low on fuel. I swapped out the old Airport/Facilities Directory with the current one — again, required to be on board for all Part 135 flights — got in the golf cart, and towed the helicopter out to the fuel island. A while later, I had 3/4 tanks of fuel and was warming the engine on one of the "helipads" on the west end of the ramp.
The tow cart owned by one of Wickenburg's other helicopter owners — there are four of us here — was on the pad beside mine. I wondered where he'd gone and whether he was having fun. Unlike me, he can afford to fly anytime he likes. Flying is costly and I've gotten to the point where I only fly when I have to — or have someone else picking up the tab.
That day's flight was out of Scottsdale Airport, which was about 35 minutes away by helicopter. I wished they'd chosen Deer Valley Airport, which was 10 minutes closer, but I offered the option of Scottsdale and they'd taken it.
[This map, which I created at the request of one of the concierges, shows my Phoenix-area pickup locations. It's interactive, so you can click a blue bubble to learn more about a location or zoom in to see the exact pickup location.]
There was no one in the pattern when I brought the rotors up to 100% RPM and made my departure call. I took off over the ramp, followed the taxiway parallel to Runway 05, and climbed out quickly. I dialed Deer Valley (DVT) into my GPS as I turned to the southeast. Soon I was flying over town and past my friend Tom's ridgetop home just south of town on my way to the city.
Flying conditions were good. Very little wind, a few high, thin clouds. I'd checked the weather as part of my flight plan and knew the winds were light and variable all over the valley. It was also warm — 75°F. It would be an easy and comfortable flight.
I flew at about 400 AGL over rolling cactus-covered hills. Down below me, here and there, were RVs and ATVs making the most of our public land. The dust from a dirt bike traced the line of a trail in the near distance.
I was halfway to Deer Valley when my TIS woke up and began picking up signals from Sky Harbor. I was very surprised to see a target at my altitude just a few miles away. I looked but didn't see anyone in the sky there. I was tuned into the Northwest/Northeast practice area frequency (122.75), as I'd be passing right through the Northwest practice area. A flight instructor made a radio call to announce that he was doing ground reference work over the Quintero Golf Course at 2800 feet. My altitude. What the hell was a plane doing down in helicopter territory?
I made a call with my location and altitude about a minute later. I got a bit of pleasure when I saw the altitude indication for his target on my GPS climb several hundred feet. Scared ya.
I didn't have to worry about airplane traffic as I passed between the hills on the southwest side of Lake Pleasant. None of the training airplanes would dream about being that low. A rocky desert terrain, surprisingly green from winter rains and studded with tall saguaro cacti passed beneath me in a blur. Out on the lake, there were dozens of sailboats — not very common on a lake normally filled with motorboats and jet skis. I descended with the terrain, made another call as I passed south of the New Waddell Dam and Lake Pleasant, and continued southeast.
I tuned my GPS's comm to the Deer Valley ATIS and listened for the altimeter and runway in use. I wasn't landing, but I wanted to know what the other traffic would be doing. When I cleared the area near Pleasant Valley Glider Port (P48), I turned more southbound toward Deer Valley. I crossed Carefree Highway a second time and tuned in Deer Valley's North Tower.
"Deer Valley Tower, Helicopter Six-Three-Zero-Mike-Lima, nine to the northwest with Gulf, request transition along the canal toward Scottsdale."
"Helicopter Six-Three-Zero Mike-Lima, Deer Valley Tower. Proceed as requested at or below two thousand. Deer Valley altimeter Three-Zero-One-Four. Report over the canal abeam the tower."
I repeated the altitude restriction and headed toward where the Central Arizona Project canal crosses I-17, just inside Deer Valley's airspace. The canal crosses both runway centerlines remarkably close to runway ends, but the altitude restriction put me below the landing traffic. It wasn't that busy at Deer Valley anyway — probably fewer than four planes in the north traffic pattern.
I dropped down to 1800 feet as I hooked up with the canal and began following it southeast bound. The water was glass-like and reflected the few clouds high overhead. I wondered whether the people whose homes backed up against the canal were bothered by a helicopter flying past their backyards.
I made my call abeam the new tower. It's been in operation about a year now and is huge, towering over the desert floor on the north side of the airport, midfield. I was told to monitor the south frequency. I'd already dialed it in and pushed the radio's switch button.
I popped up about 100 feet to give myself extra space as I crossed some high tension power lines, then dropped back down to 1800 feet again. By then, I was crossing the runway center lines. Once clear, I called the south tower, requested a frequency change, and got it.
I listened to the Scottsdale ATIS on my GPS comm while I tuned into the tower frequency on my main comm. They were landing on runway 21 and the altimeter was the same. I punched Scottsdale (SDL) into my GPS.
I keyed my mic. "Scottsdale Tower, Helicopter Six-Three-Zero Mike-Lima, six to the northwest over the canal, request landing at the terminal with Alpha."
The controller was a woman. Although I think I recognized her voice, she obviously didn't recognize my N-number. She asked if I was familiar and I told her I was. Then she told me to continue inbound and report 2 miles west.
I left the canal and steered more southbound so I could come in more from the west. Now I was passing over homes and freeways, a good 500-700 feet off the ground. I heard the controller talking to another helicopter landing at Westworld for the Barrett-Jackson auction going on there. Then a jet getting an IFR clearance. Then I was about 2-1/2 miles to the northwest.
I called in. The controller cleared me to land, instructing me to stay east of the runway and taxiway. I repeated the landing clearance and restriction back to her. It was only after I'd released the mic button that I realized we both meant west. I debated calling her to clarify, but I knew that she meant west because to remain east, I'd have to cross the runway to the side opposite the terminal. So I didn't call her. Instead, I just came in over the air park buildings, turning to parallel the runway on the west side for landing. A while later, I was setting down on the ramp with a Landmark Aviation guy in front of me, directing me as if I were some kind of commercial airliner. Silly.
The Tour
My passengers showed up a while later. I was waiting in the terminal for them. I'd wiped down the cockpit bubble to get the few bugs off before going inside to meet them.
They were a pair of newlyweds, in town for the big football game. Cardinals against Philadelphia, I think. He was in real estate and had been in helicopters a few times before. He was also a fixed wing pilot. She'd been in a helicopter only once before. I gave them the safety briefing and loaded them on board. He let her sit up front while he sat behind her.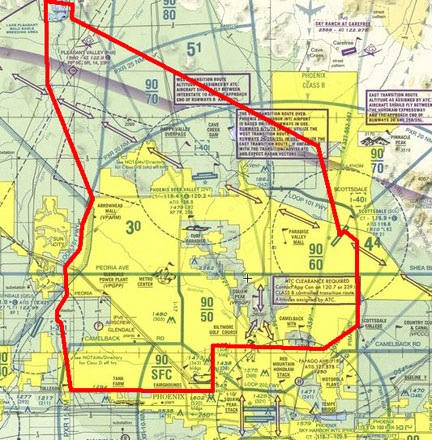 My passengers wanted to see a mix of desert beauty with cacti and city. I had already planned to take them up to Lake Pleasant and the flight out there would give them all the desert they wanted — and more. Then I planned to take them south, past the Cardinals Stadium. We'd finish up with a flight up Central Avenue, then right on Camelback so they could see their hotel from the air. From there, we'd return to Scottsdale Airport.
The flight was supposed to take 50 to 60 minutes. That's how I advertise it. I don't do the same route each time. It really depends on the passengers and the weather and the time of day. Since these folks were staying in a hotel on Camelback, I figured I'd stay north of Sky Harbor so I could easily fit an overflight into my plan. Since I was shorting up the distance that way, I'd have to lengthen it with a flight up to the lake.
Timing is always tricky. You come in too short and the passengers could get pissed off. You come in too long and you're throwing money away. The trick is finding that happy medium — and being smart enough to adjust speed along the way to make it work.
This particular plan required me to talk to Scottsdale, Glendale (GEU), Sky Harbor (PHX), and Scottsdale airports' control towers. I had to use six different radio frequencies and change my transponder squawk code twice. It was almost choreographed, like a dance, with very little time between communications points to change frequencies, think of what to say, say it, listen for the response, and react accordingly. All the time, I was narrating a tour, pointing our places of interest, and answering questions. My passengers were very talkative and I had to isolate them three times to hear instructions from a controller.
I like talkative passengers. It gives me a way to read their satisfaction about a flight. I really hate passengers who just sit there quietly. You never know if they're happy.
Main highlights on this flight included horses in people's backyards in Scottsdale, open range cattle and cattle ponds, dirt bikers, the lake and sailboats, the canal, Cardinals Stadium, mobile homes on the west side of Phoenix, Central Avenue "skyscrapers," Camelback Mountain, the resort where they were staying, the mall where they'd used their American Express card the night before, and pools.
The flight took about 52 minutes. I consider that short, but my passengers were happy. I think they had something scheduled afterwards. I walked them back into the terminal, got paid, and left.
The Flight Home
The flight home was about the same as the flight out, but in reverse. I managed to screw up the frequency for the north tower at Deer Valley (should have been 120.2 but I was listening to silence on 122.2) and was off-radio for about 2 minutes. I realized the error and fixed it just as the controller was trying to raise me. I got scolded and felt like an idiot — especially since one of my friends was flying in and probably heard the whole exchange. Sheesh.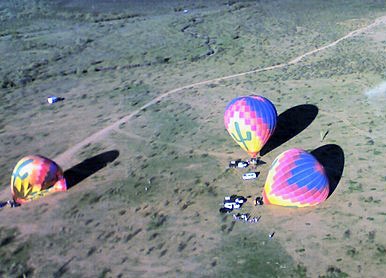 Northwest of there, I passed some hot air balloons being inflated. Since one was already fully inflated and I worried about the effect of my downwash, I kept my distance as I circled to take this shot with my Treo. Then I dropped down and skirted the empty desert, low level. I passed by some horses that may or may not have been wild — they didn't seem the least bit interested in me. More campers, more quads, more lines of dust in the distance. I climbed back up to 500 feet AGL when I reached the homes on the outskirts of Wickenburg. I overflew my house and saw Mike on the driveway, waving up at me, before landing at the airport.
I put the helicopter away, feeling tired, hungry, and thirsty. I'd flown 2.2 hours and had earned enough to make one half of a helicopter loan payment.