Jack the Dog is bored and confused.
One of the things that's new about my life this year is our place in Phoenix, nicknamed "Rear Window." You can read more about it here.
When Mike and I go to Rear Window, we bring along Alex the Bird and Jack the Dog.
Alex is easy. We set up his old cage in the living room by the window, stocked it with toys and food, and let him do his thing. He's not particularly happy to be here — he likes his cage at home better, even though it's smaller — and he doesn't seem to want to come out of his cage in the strange surroundings. But at least he does his bird thing and doesn't seem distressed.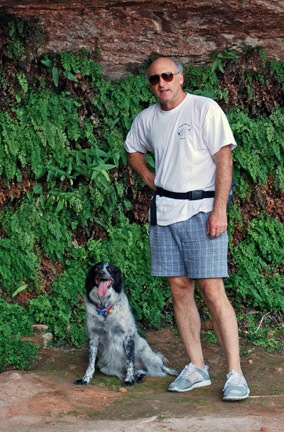 Jack is another story. At home in Wickenburg, he spends most of the day outside, loose. He hangs out on the back patio to watch the cars and trucks coming down the road so he knows when a strange vehicle needs barking at. (We're at the end of the road and there are only three houses down here, so any strange vehicle qualifies.) He stretches out in the yard to soak up some sun while napping. He patrols the yard for mice or rabbits or, in warmer weather, lizards, and chases them accordingly. Once in a while, his friend, Charlotte, from the house across the wash, comes over and they chase each other for a while. When the weather is good, he often spends the whole day outside, on his own, to do whatever he likes. He never does anything that bothers us or our neighbors. He rarely leaves the property. And, of course, we take him with us for more off-leash fun on hikes all over Arizona.
It's an idyllic life for a dog.
But in Phoenix, things are different. The apartment is in a complex where people come and go. He can't see them, but he can hear their noises and he wants to bark. But we need to keep him quiet because we don't want to annoy our neighbors, so we're shushing him all the time. Rear Window has two patios, but they're both too small for him to get any pleasure out of them — and certainly too small for him to do his business, even though they both have untiled dirt patches. Because he's rarely on a leash at home, his leash skills are very limited. He also doesn't like to do his business on a leash. In fact, the only way we can get him to do #2 is to let him loose.
Needless to say, this is quite a challenge for all of us. I feel bad for him because I can tell that he's bored silly in the apartment, even with toys to play with. And I feel bad for all of us because this walking on a leash thing is a real pain in the ass.
And it makes me wonder why people in cities bother having dogs at all.
Anyway, I got a lead on a dog park about 2 miles from here. I figured I'd take him out and give it a try. It might be within walking distance — I have to drive it once to see. I'd hate to walk all the way out there to see a No Dogs sign.
One more thing I need to mention here…one reason there are so many No Dogs signs in parks is because so many people fail to clean up after their dogs. What's the big deal here? Bring along a plastic grocery bag. When the dog does his business, use the bag to pick it up and seal it. Then drop it in the nearest garbage bin. If everyone did this, we wouldn't have a need for so many No Dogs signs.