Kind of takes the fun out of it.
A while back, I wrote a blog entry about my foray into the world of tilt-shift photography. Although I have no interest in investing cold, hard cash in the hardware to do real tilt-shift photography, I learned how to fake in in Photoshop by reading "Tilt Shift Photography in Photoshop Tutorial." I was pleased with the results and found the whole thing fun and rather addictive.
Today, I stumbled upon a site that fully automates the entire process: TiltShiftMaker. You upload a photo and it applies the unfocus mask, which you can adjust. You toggle a check box to determine whether you want colors enhanced. It then spits out a photo with the effect applied, as shown below. Any idiot can do it. Even me.
The photo I started with was an aerial shot of the Grand Coulee Dam, taken this summer when my husband and I flew down the Columbia River. There's nothing special about this shot; I didn't even bother to spruce it up for this experiment. So the colors are a bit washed out and the framing is far from perfect: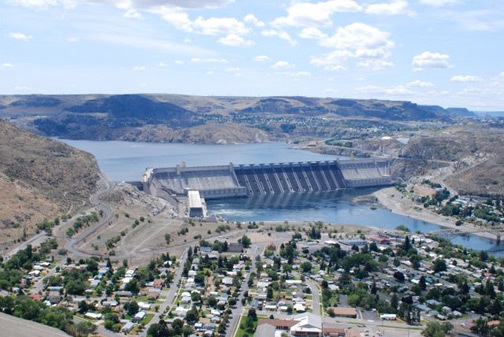 After processing with TiltShiftMaker's default settings, it looks like this: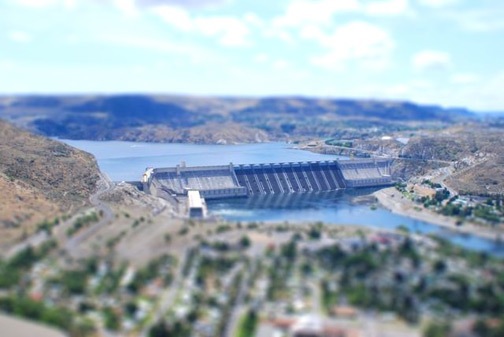 For a quick and dirty tilt-shift, it ain't bad. I tried to manually modify the original image using Photoshop and my results weren't significantly better. Sure, I had a lot more control over the amount of blur, the size of the in-focus area, and the amount of saturation to give it those punched-up colors, but when I compared my final product to the automatically generated one, I had to admit that the automatically generated one looked more like a photography of a model scene.
But it certainly does take the fun out of playing around with this technique.
To me, the real challenge of faking tilt-shift photos comes from trying to take photos that would work well as fake tilt-shift miniatures. Aerial photos are great for this, especially if they include buildings and/or cars. They can't be straight-down images, though. They need to be shot at an angle, so there's an obvious reason for one portion of the photo to be in focus while the other parts are not.
Anyway, if you're interested in this sort of thing, give TiltShiftMaker try.