A story and a few photos.
I was driving down the California coast, looking for a place to stop for breakfast — preferably with a view of the ocean — when I saw a sign for Paradise Cove. I followed the arrow down a narrow road that wound down to the ocean. There was a right turn into a trailer park, but if I went straight, I'd end up in a parking lot on the ocean. A sign warned that parking was $20, but only $3 if you got your parking ticket validated in the restaurant and stayed for less than 4 hours. Ahead of me was a funky little oceanfront restaurant with a handful of cars parked in front of it. I drove through the gate and parked.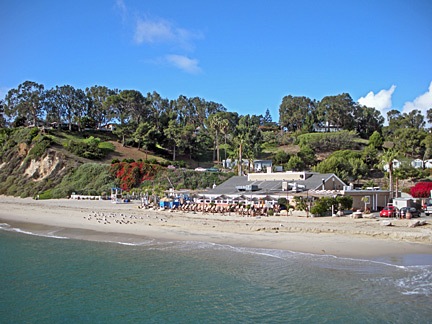 And went inside the Paradise Cove Beach Cafe.
It was a typical seaside restaurant — the kind you can imagine filled with people in bathing suits, eating fried clams, with sand and flip-flops on their feet. (That's my east coast seaside experience talking.) But that Saturday morning was partly cloudy and unseasonably cool for southern California. The main dining room was empty. I was escorted into a kind of sundeck room with big windows facing the ocean. Although all the window tables were full, the waiter kindly sat me at a huge table nearby, where I could enjoy the view as well as the activity going on around me.
I checked out the menu, eager for a big, hot breakfast. I didn't plan to eat again until after my flight arrived in Phoenix later that evening. Some items on the menu interested me, but it was the eggs benedict I asked the waiter about.
"Are they good?" There's nothing worse than bad eggs benedict when you're expecting decent eggs benedict.
"Very good," he assured me.
I settled down to wait for my breakfast. There was nothing much going on outside the window. Gulls flying around, a few people walking out on the obligatory but short pier. It was mostly dark and cloudy over the ocean, but the sun was breaking through here and there. I watched my fellow diners get their breakfasts delivered. Everything looked outrageously good.
When my breakfast arrived, it looked good. On the plate were two eggs benedict, a good sized portion of roasted potatoes, and some melon slices. I nibbled a potato. It was cooked to perfection. And then I tasted the eggs benedict.
I've had eggs benedict in a lot of places — including a lot of fancy and expensive hotel restaurants. But these eggs benedict were the best I'd ever had in my life. It may have been the fact that the eggs were cooked perfectly — whites cooked, yolks still runny. Or the fact that the english muffins beneath them were fresh and not over-toasted. But it was probably because the hollandaise sauce was light and airy and obviously freshly prepared from scratch — not some thick yellow crap from a mix.
You like eggs benedict? Go on out to the Paradise Cove Cafe in Malibu and get some.
I was just finishing up my breakfast when a man about my age came in with two elderly ladies. They got a table by the window near where I was sitting. I watched them, trying not to look obvious about it, recognizing something about them. It came to me slowly. He was the grandson taking his grandmother and her friend out to breakfast.
They reminded me so much of all the times I'd taken my grandmother out to breakfast. This may have been because the woman had the same New York accent my grandmother had. She also spoke rather loudly, had trouble hearing her grandson, and asked the waiter all kinds of questions. She was concerned about whether she'd have to pay for a refill of her "mocha" — a simple mix of coffee and hot chocolate prepared by the waiter. She praised the waiter extensively about how well he'd prepared that mocha for her. The other woman was quieter but seemed to have the same accent. The grandson was attentive but, on more than one occasion, obviously embarrassed.
I knew exactly how he felt.
Before I left, I got up to say hello to them. I discovered that the women were from the Bronx — the same area as my grandmother. The quiet woman was the grandmother's sister. She complemented me on the way my blue earrings made my eyes look bluer. I could easily have chatted with them all day.

Afterwards, I went outside and took a walk on the pier. I took a photo looking up the coast (shown here) and another looking down the coast (shown below). Amazing that these two photos were taken only moments apart, isn't it? But the weather was variable and moving quickly. A huge storm front was moving into southern California that would dump rain on the low elevations and snow on the higher ones.
Paradise Cove and places like it are part of the reason I like to travel alone. When you're traveling with companions, every stop has to be debated and measured. No one ever wants to say, "Let's stop here and check it out," because no one wants to be responsible if the place turns out to be rat hole. As a result, opportunities to visit interesting places are missed. Instead, a trip is a long string of predetermined "must see" places, visited one after another with few spontaneous stops along the way.

There was magic at the Paradise Cove Cafe — at least for me that morning. If I'd been with someone else — someone anxious to eat breakfast before starting the drive or satisfied with a chain restaurant for a meal — I would have missed that magic.
I also would have missed out on photo opportunities. When I'm on the road by myself, I stop more often to look at what's around me and, if I can, take pictures. On this particular Saturday, all I had with me was my little Nikon CoolPix point-and-shoot, but I put it to good use. The weather was a mixture of thick clouds and blue sky. It was the kind of place and day that calls out to photographers. The photos I'm able to include with this blog entry will help me remember this day. (I even took a stealth photo of the grandson/grandmother/aunt outing with my Treo, although I won't publish it here.)
Anyway, I walked back to my rental car, fired it up, and paid my $3 parking fee on the way out. It had been well worth the money.