A quick shot or two…or three.
The other day, I blogged about Thanksgiving and the fog we experienced the following morning. I even included a photo of the foggy morning.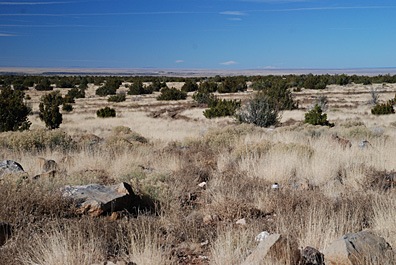 Here's almost the same view today. This is normal weather here — blue skies and almost unlimited visibility. Although this photo is a bit too small to see it, Mount Trumbull, which is about 80 miles away, is visible just left of center on the horizon. We can also see the North Rim of the Grand Canyon (which is higher than the South Rim) about 40 miles away.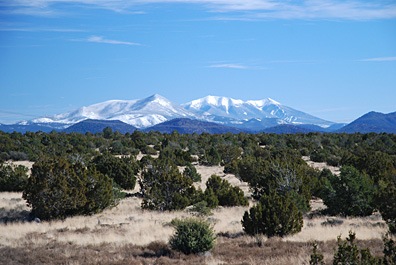 Mike shot this photo of Mount Kendricks (left) and the San Francisco Peaks (right) a little while ago. Both mountains got snow yesterday, although kendricks only got a dusting of it. If you're not familiar with the San Francisco Peaks, Mount Humphreys, which is the tallest of the peaks, is the tallest mountain in Arizona. Don't quote me, but I believe it's somewhere around 12,000 feet. (No access to the 'Net right now, so I can't look it up).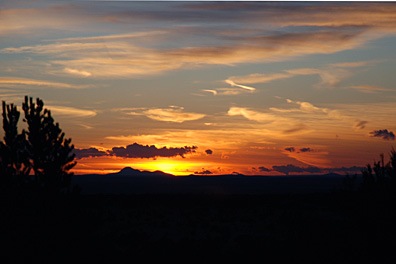 And because I can't resist, here's a sunset photo taken on Friday evening. Clouds (or particulates in the air) are what makes for nice sunset photos. I rarely get an opportunity to take a decent sunset photo because there are rarely any clouds in the sky in Arizona. But there were clouds Friday and I snapped a few shots from right outside the camping shed. The mountains silhouetted on the horizon are about 50 miles away, near Seligman, AZ.