A more targeted approach to advertising?
The other day I discovered Facebook ads.
Let me take a few steps back before I move forward.
I have a Facebook account. I even have 50+ friends on that account. But I don't use Facebook. Frankly, I feel that I have far better ways to spend my time than "writing on walls" of my friends, playing online games, and browsing a social networking site for social interaction.
The only reason I ever go to Facebook is to respond to friend requests. If I personally know the requesters or interact with them on Twitter, I accept the request. Otherwise, I ignore it. I also ignore invitations to most groups. After all, if I'm not there, why join a group?
Every once in a while, I come really close to killing my Facebook account. Then I figure, what the heck? It doesn't cost anything and I have most of the notifications turned off so it doesn't even bother me much.
But the other day, when I was on Facebook responding to a request from someone I don't know who happened to go to the same high school as me (I can't make this stuff up), I noticed the ad column on the right side of the page. At the very top was an "Advertise" link. Since I'm always looking for new, affordable ways to advertise my helicopter tour and charter business, I clicked the link.
I won't bore you with the details. Simply said, the advertising feature makes it very easy to create targeted text/image ads that link to a site or page. You can pay per impression or per click. You can set per click and per day maximum budgets, so you don't have to worry about going broke. And, since the only place these ads appear is on Facebook, you don't have to worry about some Webmaster clicking up a link to squeeze a few more pennies (or dollars) out of you.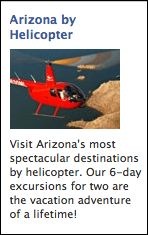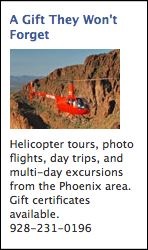 I set up two ads. One (left) is for my multi-day excursions. It's displayed to male college graduates throughout the US, aged 25-50 who like helicopters, adventure, etc. My logic is that this is the kind of trip that would appeal to men and since it's not exactly cheap, the college graduate and age requirements may limit the impressions to folks who have more money to spend. (Although who has any money to spend these days?) The other (right) is for Christmas gift giving. I targeted that geographically to the Phoenix area, with no other limitations. Clicking either link takes you to Flying M Air's Web site where the clicker can find more information and pricing.
Facebook has some good management tools to help you see how many times each ad has appeared and has been clicked. For example, on the first two days my ads were online — and that's not even 2 full days — they appeared a total of 60,000 times and were clicked 16 times. While you might not think that's very good, I'm thrilled. I don't want people to click if they're not interested, since I have to pay for each click. The campaign is under its daily budget (so far) and I can remove or suspend either (or both) ads any time I like.
So I've set up two ads to run for a full month. Let's see where it takes me.
Comments? Want to share your experiences with Facebook advertising or some other pay-per-click system? Use the comments link or form for this post. Please limit your responses to experiences as an advertiser, though. I'm not interested in reading about the success or failure of someone's get-rich-quick on Web advertising scheme.