My first full-length, destined for electronic publication ebook.
In the spring, I was approached by one of my regular publishers to do a new title for them. This was a surprise. After all, as the computer user base is getting ever more sophisticated, sales of print computer how-to books for the beginner to intermediate market I write for are getting ever smaller. I honestly don't expect to sell titles on new computer topics anymore.
But this book was different in two respects:
It would be published as an ebook only.
It would be handled as a work for hire.
An Ebook only in Publication
I should start by saying that everything about the book would be handled just like any other book I wrote for that publisher. I'd have to use a special Word template that I don't particularly care for but have plenty of practice using. The book would go through the usual collection of editors and production staff: tech editor, copy editor, production editor, proofreader. I'd review the manuscript after each editor was finished with it and mark up my comments and corrections. I still had to get the book done more than a month before it was due to be released.
It was just like writing any other book.
The only difference is, at the end of the process, a case of books didn't arrive on my doorstep. In fact, it wasn't until yesterday — nearly two months after the book's release — that I finally tracked down and downloaded my own copy.

The book, which is titled QuickBooks Accounting 2009: The Official Guide for Mac Users, looks good. It's in standard page size and orientation (which is something I don't agree with for ebooks, as I discuss in "Thinking Outside the Book"), with a very pleasant layout and design.
The book is an easy onscreen read on my 24" iMac monitor, but I suspect it might be a little tougher on a smaller monitor if the reader can't see a full page at a time. It looks to me like they thought readers might want to print it out. (I hope they don't. It would be a terrible waste of paper.) There are plenty of color screenshots (they got that right) although for some reason they didn't use color graphic elements, as they do in my other books, which are printed. (Still can't figure that one out.)
The book uses Adobe Reader's Bookmarks feature to link to headings from a sidebar and the index's page number references link back to individual pages. There aren't any in-text cross-reference links, but part of the reason for that is that I couldn't use page references as I wrote, so I never referred to specific pages in the text. (FrameMaker was an excellent publishing tool for this sort of thing.)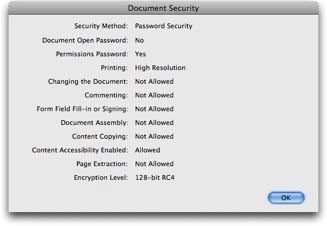 Distribution of the book is apparently limited to folks who buy QuickBooks 2009 for Mac and somehow get a special code with a Web address. They go to the URL, enter their name, e-mail address, and the code, and the book is downloaded. It opens right up in Acrobat, without the need to enter any special codes, but the word SECURED appears in parentheses in the title bar. A peek at the Security settings for the document shows that certain actions are not allowed, but they aren't the kind of actions that would prevent anyone from getting the most of the book. In fact, they're the same settings I would have used if I'd released the book as a PDF.
So I'd venture to say that anyone who downloaded the book would be satisfied with the way it was published. Sure, it's not in print, but at the same time, it's also not costing them a penny to obtain.
Thoughts on Piracy
Of course, limited distribution of this ebook will not remain limited. In fact, I'm sure it's already out there on pirate sites, like all other ebooks eventually are.
It may seem odd to readers to learn that I really don't care how this book is distributed or who "steals" it. But that's got to do with the way I was paid for it. I wrote it as a work for hire. That means I got paid a flat fee and handed over all rights to the work. There are no royalties to worry about, so sales is not an issue. I negotiated a price I could live with up front, got my money, and did my job. Even though the book has my name on the cover, it's not really something I have any kind of ownership of.
I'm pretty sure my publisher had the same deal for the book, but their number was bigger. So they may not care about this book hitting the pirate sites, either.
Lessons Learned
The goal of the publishing project was to create a user guide for QuickBooks 2009 for Mac. To keep costs down and prevent readers from having to buy a printed book, the powers that be decided to go with an ebook. This may reduce revenues all around, but it also saves a lot of money and the bother that goes with print publishing.
I think that's what ebooks should do: put quality information into the hands of the folks that need it without wasting resources while sufficiently compensating authors for their knowledge and efforts.
I look forward to the next edition of this book.