I finally make time to do a photo walk in the sandstone canyon.
For the past month and a half, I have been living less than two miles from Antelope Canyon in Page, AZ.
If you don't know what Antelope Canyon is, you've probably never read Arizona Highways or seen any of the "typical" Arizona photos out there on the Web. As Wikipedia states, "Antelope Canyon is the most-visited and most-photographed slot canyon in the American Southwest." Its reddish sandstone walls glow with direct and reflected light at midday, emphasizing the texture of the swirling patterns on the walls.
There are actually two Antelope Canyons: Upper and Lower. Most people go to the Upper canyon, which is upstream (south) of the other area. Upper Antelope Canyon is a short 1/4 mile stretch of slot canyon cut into a huge sandstone rock in the middle of Antelope Wash. It features cool, swirling sandstone walls and hard-packed, almost level sandy floor. I've written about it at least twice in this blog: "Antelope Canyon" (September 2006) and "Four Tips for Great Antelope Canyon Photos" (April 2007).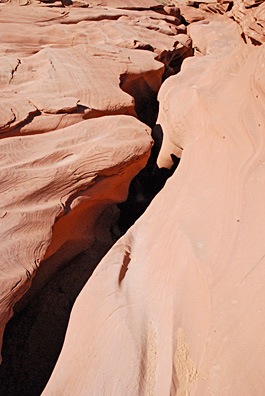 Lower Antelope Canyon is downstream from upper. It has far fewer visitors. I think it's more spectacular — with corkscrew-like carvings and at least two arches — but I also think it's harder to photograph. It's also far more difficult to traverse, requiring climbing up and down iron stairs erected at various places inside the canyon, clambering over rocks, and squeezing through narrow passages. For this reason, the Navajo caretakers don't really limit your time in Lower Antelope Canyon. You slip through a crack in the ground — and I do mean that literally (see photo left) — and are on your own until you emerge from where you descended or from the long, steep staircase (shown later) that climbs out before the canyon becomes impossible to pass.

I went to Lower Antelope Canyon with my next door neighbor and fellow pilot, Robert, today. It had been a whole year since my only other visit. After paying the $26/person entrance fee, I told the woman in the booth that I'd been there before. She told us to go on down, without waiting for a guide.
I had a few things with me that I didn't have on my last visit. First and foremost was a tripod. I'd left my tripod behind on my last visit, thinking the light would be bright enough not to need it. Wrong. This time, I had a sturdy tripod I'd borrowed from Mike just for this trip. The only problem was, the tripod was old, its legs could not be spread independently, and the tripod was stiff from age or disuse. I also had two lenses I didn't own last year: my 10.5 mm fisheye lens and my new 16-70 mm zoom lens. I packed light, bringing just the tripod and the camera with those two lenses. Rather than use my camera bag, I put the lens that wasn' ton the camera in a fanny pack, along with a bottle of water and a lens brush.

We arrived at about 11:20 AM and the place was unusually crowded. But Lower Antelope Canyon is large and everyone spread out. Most folks only made the walk one way, taking the stairs up and hiking back on the surface. We would have done the same, but we ran out of time. We were in there until 2:30 PM; Robert had to be at work by 4 PM.

We made our way through the canyon slowly, stopping to take photos along the way. Positioning the tripods was extremely difficult sometimes, as the canyon floor was often only wide enough for a single foot to stand in it. My tripod really hindered me, but I made it work. I think Robert (shown here) had an easier time with his. We were two of dozens of photographers, most of which were very polite and stayed clear of other photographer's frames. This is the biggest challenge at Upper Antelope Canyon. I find it stressful up there, as I told a trio of photographers from Utah. Lower Antelope Canyon is much more relaxing.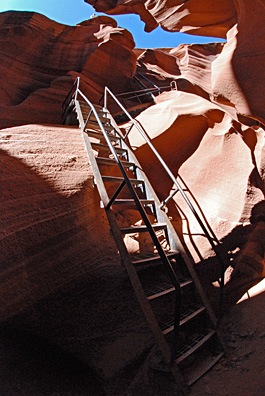 Near the end of the canyon walk, I was worn out. It wasn't the hike as much as the struggle to find the right shots and get the tripod into position. I felt as if I'd had enough. So when we reached the last chamber before the canyon got very narrow (and muddy) and I laid eyes on those stairs, I realized it would definitely be better to take the easier route back. I took this shot with my fisheye lens, which was the only way to get the entire staircase in the shot. If you look closely, you can see Robert's head poking out near the top.

I took about 95 photos while in the canyon. Some of the better ones — along with some to illustrate the story — are here. There's a better collection in my Photo Gallery's new Arizona section. I'll probably add others — as well as shots I've taken around Lake Powell lately — soon.
If you're ever in or near Page, AZ, I highly recommend taking the time to visit one of the Antelope Canyons. Even if you don't take a single photo, a walk through the canyon is something you'll remember for a lifetime.