We make it official.
Today, I created a flyer to sell my horse, Cherokee. Here's the text and photo:
Paint Quarter Horse for Sale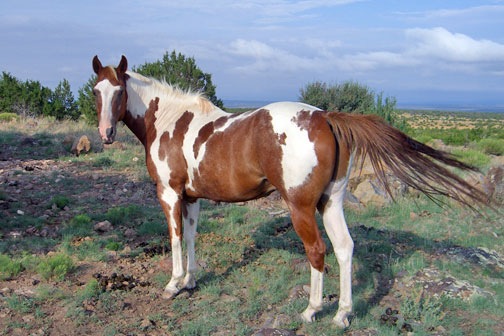 Cherokee is an approximately 18-year-old registered Paint Quarter Horse gelding. (We don't have his papers, but can get them; his registered name is "Up Steps a Devil.")
He is well-behaved and extremely friendly. He's a good trail horse with plenty of experience riding alone and with large groups. If you ride with the Wickenburg Horsemen's Association, you may have seen him on some of the rides or in the Gold Rush Days Parade. He's been trained for a rider to open gates while on horseback. He loads well, has no known health problems, and is really beautiful.
We're selling Cherokee because we've recently had to put down his stall mate, Jake, who was about 30 years old and had developed age-related health problems. We've made the decision to do more traveling and have decided to get out of horse ownership for a while.
January 2009 Update: Cherokee has been sold. His new owners live in Wickenburg, so if you ride here in town, you may see him out on the trail once in a while. We'll miss him terribly, but it's better for him to get out and ride and for us to shed excess responsibilities at this time.