Farewell to a good horse.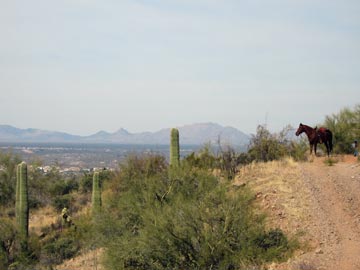 One of my two horses, Jake, will be slipping into the forever sleep later today. We don't know his exact age, but we think he's about 30. He developed some serious and painful foot problems this past spring and we've been unable to reverse the process. Rather than subject him to more pain with a questionable quality of life, we've decided to put him to sleep.
I bought Jake as a second horse about 10 years ago. I had just one horse and Mike and I could never ride together. So I went with a friend to a local horse trader to see what he'd brought back from his ranch up north that spring. He was offering Jake, a sorrel Quarter Horse gelding. Jake had a swayback — his back dipped down and then back up to his hind quarters — and really high withers. The horsetrader claimed Jake was 11 — a magic age for horses because it's neither too old nor too young — but the vet later said he was at least 17. I saddled him up and went for a ride with my friend and the horsetrader's wife. Jake was extremely well behaved. At one point, the horsetrader's wife said, "I wouldn't be ashamed to ride that horse." I thought it was a weird comment. I wasn't ashamed at all. I bought him.
I could tell at once that Jake was very different from Misty, my other horse. While Misty was friendly and would come up to you to be petted or brushed, Jake was far more aloof. He'd obviously been struck around the face — if you approached him with your hand up, he'd run away in sheer terror. It took a long time to build trust in him. But as soon as you put him on a lead rope or put a saddle on him, he was yours. He had a ranch horse work ethic and would do whatever you told him to, without hesitation.
Jake became Mike's horse. My horse, Misty, another sorrel Quarter Horse, later developed serious front foot and leg problems. After months of pain, I made the decision to put her down. It was heart-wrenching. She was only 19.
I got another horse, a pretty paint Quarter Horse named Cherokee. Cherokee was a spoiled brat who really make Jake look like a prize. Jake was alpha male — the boss — who protected his food and space from Cherokee with pinned back ears and bites. Cherokee never gave up trying to steal Jake's food. Recently, he was starting to succeed.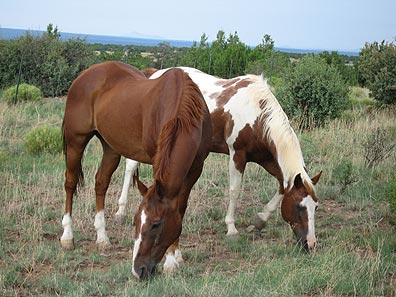 We'd often bring them to our summer place on Howard Mesa, where we'd set them loose in our 40-acre fenced-in lot. When there was good grass, they'd graze together. Sometimes, Jake would wander off without Cherokee noticing. When Cherokee realized he was alone, he'd call out to his friend and prance around until he found him. We'd ride around the mesa on the two of them, enjoying the warm sunlight and high desert terrain so different from the Sonoran desert at home. Jake was always at ease and never spooked; Cherokee was always freaked out and, in those early days, taught me how to fall off a horse.
Jake's teeth were the first to go. They got to the point where no amount of equine dentistry could fix them. We switched his diet to mostly pellets that we'd soak down with water. One vet told us that was keeping him alive.
Then he started coming up lame. We took him to the vet and had his front feet X-rayed. Navicular disease. It's caused when the navicular bone gets kind of porous and puts additional pressure on the nerves in the horse's foot. ALthough there's surgery that could ease the pain — I know it well because Misty had it not long after I bought her — Jake was too old for that. We decided to go with pain medicine and special shoeing to ease the pain. But nothing really seemed to help and yesterday, Mike made the big decision, which I know was hard for him.
Animals are lucky. They have us to spare them from a long, painful, lingering death. Jake will go to sleep later today and not wake up. His pain will be over.
And we'll miss him.